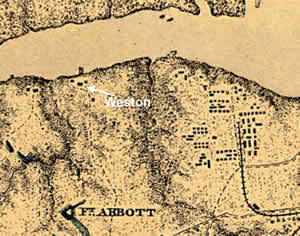 Historical research has yielded some interesting new sources on Weston Manor, with clues about the layout of the grounds, life at Weston during the early nineteenth century, and perhaps most intriguing, a list of slaves who may have worked there. The most spectacular evidence comes from two photographs of large outbuildings symmetrically situated on either side of the mansion. The first photograph (from a negative at the Virginia Historical Society) was probably taken in the 1870s. A large gable-roofed outbuilding is shown just east of the mansion. According to an architectural historian who examined the photograph for us, the outbuilding appears to be contemporary with the mansion and probably served as a kitchen. Although no chimney is visible in the photograph, a settlement of accounts between William Gilliam and Richard Eppes in 1791 shows that Eppes sent 4,000 bricks to Weston for building a kitchen chimney. An undated entry in the 1792–1860 commonplace book (a kind of catchall notebook) of Benjamin Friend also notes that Weston included a kitchen, barn, and overseer's house. A second photograph, taken about 1900–1920, shows a matching building on the west end of the mansion. Besides lending us this important photograph, Esther Dolin Charvat shared memories of Weston from her childhood in the 1920s and even earlier details going back to the Dolin family's purchase of the property in 1869. By the time Mrs. Charvat could remember, the old outbuildings shown in the photos had been torn down, but her aunt Mary had told her the western structure once served as a schoolhouse. Mrs. Charvat also helped us better pinpoint the locations of a two graves, a garage, two old factory guardhouses her uncle used for mixing gas lamp fuel, and most intriguing, an old well.
Several written documents at the Virginia Historical Society are providing scattered details of daily life at Weston during the late eighteenth and early nineteenth centuries. William Gilliam and then his widow Christian not only made their income from agriculture, but also from the river, possibly a ferry boat—and slaves were key to the success of both enterprises. Benjamin Friend's commonplace book records the names, ages, and monterary values of some 43 slaves owned by William Gilliam and his son John. Although many of the slaves probably worked on other Gilliam properties, William Gilliam's will mentions an unspecified number of slaves at Weston, including Paul and Tom, his "watermen." While we now associate watermen with shellfish, in the early nineteenth century it may still have meant ferrymen. We know from the statutes of the General Assembly that a ferry crossed from Gilliam's lot upriver at Broadway over to Chesterfield County. Perhaps the ferry continued after Gilliam's death, as his widow Christian mentioned caulkers and carpenters working a vessel called the Sally. While these records provide only a tantalizing glimpse of the African-American presence, we are hopeful of finding further sources that will help flesh out this crucial part of Weston's history.
Historical research for the Weston property continued with a review of land tax lists, often the best source for counties with incomplete records. Prince George County (from which Hopewell was formed) has the unfortunate distinction of losing most of its records twice. Records were looted and destroyed when Cornwallis' troops moved through the county in 1781 and again during the Union army's occupation of the area. With the loss of so many pre-Civil War deeds and wills prior to the Civil War, land tax records often provide a useful alternative. In Prince George, they are especially informative because they are quite legible and thorough, with entries for transfers of properties the previous year.
William Gilliam is said to have built Weston with his wife Christian Eppes shortly after their marriage in 1789. William first appears in the land tax records in 1784, when he began acquiring lots in Blandford. Eventually those properties were worth a total of £136. By 1796, William Gilliam also owned a Broadway town lot worth £50, though there may have been a lapse in recording his ownership. Already in 1780, an act of the General Assembly referred to a ferry that sailed across the Appomattox River between Thomas Batte's land in Chesterfield County and a "lot of land the property of William Gilliam, in the town of Broadway." William's relatives also owned lots there, Elizabeth taxed with one £50 lot beginning with the first year of land tax records in 1782 and John with five lots worth only £51 10 shillings.
The 1788 list is the first where William Gilliam's name appears to be associated with the Weston tract. Gilliam paid tax on 273 acres with a total property value of £208 1 shilling 6 pence. Unfortunately, at this early date the commissioners did not record building values. The tax commissioner seems to have made an error in the column recording change of ownership the previous year: grantor and grantee have been reversed, as "Gilliam William To R Bolling." Given that William Gilliam was taxed for 273 acres for the rest of the century, he must have bought the tract from Robert Bolling. If Weston is indeed derived from "western," the name would then refer to that portion of Cawsons rather than the Eppes' plantations, as previously thought.
In 1800 the commissioners wrote "William Gilliam's Est" next to his former properties, indicating he had died by the time of that year's assessment. Curiously, though, family histories put his death at 1801.