Intensive Excavation: Data Recovery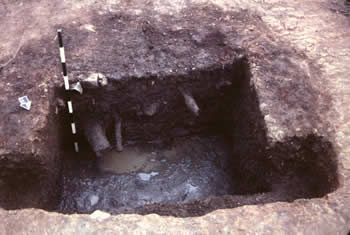 This most intensive stage of excavation requires careful planning. A detailed treatment plan details how the archaeological work will "mitigate" the damage caused to the site by construction. The plan will include a research design with research questions best suited to that particular site. Methods of excavation and lab analysis are also outlined.
Some sites with very little disturbance to the upper levels of soil will proceed exclusively by hand excavation with shovels and trowels. Connected blocks of test units allow exact plotting of artifacts in the various strata (layers) of soil over large areas.
Often in Virginia, the upper soil has been plowed or otherwise disturbed, and the artifacts moved around and mixed. In that case, the most valuable information comes from the untouched features below the disturbed upper level. On such sites (like the ones at Front Street), archaeologists sometimes use heavy machinery like a Gradall.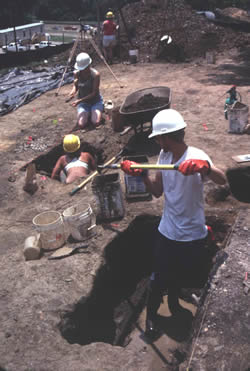 This kind of equipment is very helpful if used properly. The greatest advantage it offers is efficiency. In a given amount of time these machines can move much more soil than several people can with shovels. Under the constant watch of an archaeologist, an operator strips away the upper foot or so of soil. Loose soil is then scraped away by hand with sharpened, flat shovels. At this point, the tops of features appear, contrasting in color and texture with the surrounding subsoil. Before further hand excavation, a detail plan is drawn of the stripped area.
Feature excavation almost always proceeds in sections, revealing a profile view of soils within the feature. One archaeologist digs while another passes the excavated soil through wire mesh to recover artifacts. Several samples of soil are set aside for water screening process called flotation to recover seeds and pollen. Other soil samples from the Front Street sites also underwent a less common filtering process to recover any intestinal parasites that might have been present in privy deposits.
Following excavation, features are measured and recorded with drawings and photographs. These detailed excavation records and careful recovery of artifacts supply the raw materials for the steps of analysis and interpretation of the site that follow.
Photo right: If the top soil layers of a site have been mixed by more modern activity, heavy machinery can be used to more efficiently expose the deeper deposits and features.
Photos below: (left) A Gradall operator carefully peels back the upper layers while an archaeologist watches closely for signs of features. (right) Once a suitable amount of overburden has been removed, the field crew uses a hand excavation technique called 'schnitting.' They scrape away loose soil with flat shovels, revealing features that contrast with the surrounding subsoil.