World Minded: Mark Zimmer '99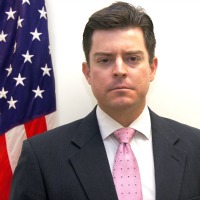 W&M Major:
International Relations
Current Employment:
Foreign Service Officer, United States Department of State
Hometown:
Front Royal, VA

What was your career path after leaving William & Mary?
I spent a little over two years with a government contractor in the Washington, D.C. area after graduation. I gained a lot of good experience in project management and leadership. I entered the Foreign Service in June 2002. I have been posted to Shenyang, China, Washington, D.C., Singapore, and Nairobi, Kenya, where I was part of our Somalia Unit. I am now the Spokesperson at the American Institute in Taiwan.
How did your time at William & Mary prepare you for a career in the Foreign Service?
I would cite critical thinking as the most valuable skill I developed at the College. While the process was not always painless, the analytical skills I honed in Williamsburg have served me well as a Foreign Service Officer.
In the course of an assignment as a Political Officer, I was required to independently determine what information is most valuable to the policymaking community, and then discern how best to acquire and report that information. As a Consular Officer, I was required to quickly decide which visa cases needed more analysis, and which did not present a potential threat to our national interests. In my Public Diplomacy assignments, I am charged with figuring out which audiences are the most crucial, and how best to deliver messages to those audiences.
No day as a Foreign Service Officer is ever the same, and development of my analytical skills is something for which I thank the professors at William & Mary.
What was your favorite international experience at William & Mary?
My most remarkable experience was not overseas but in Williamsburg, where I took a course on the disintegration of Yugoslavia, taught by Dr. Mihailo Crnobrnja. Dr. Crnobrnja, who had been a Yugoslavian official, was the Borgenicht Scholar-in-Residence during the 1998-1999 school year.
The opportunity to study a developing crisis in real-time, under the tutelage of a true subject matter expert, was tremendous. I remember vividly Dr. Crnobrnja coming into class bleary-eyed and upset, having been up all night monitoring developments, mostly negative, in the former Yugoslavia. This was not a history course, but a discussion of this far-reaching crisis, as it broke, seen through the eyes of someone deeply involved in the event.
William & Mary's ability to attract that caliber of instructor was something for which I am grateful.
What is the most fulfilling aspect of working with international audiences?
In addition to the privilege of serving our country, I would point to the gratification I get when, in the course of my Public Diplomacy work, I am able to truly make inroads with foreign audiences.
I find that a large percentage of the negative perceptions of the United States are based not on fact and actual disagreements with our policy, but on misunderstandings of what the U.S. is doing and why we're doing it. Those "Aha!" moments, whether they come after a conversation with a Somali youth in the desert in northern Kenya or an intellectual in Taiwan, affirm the value of the outreach on which we spend a great deal of time and effort.

What advice would you give to current students interested in an international career?
I always highlight the fact that the Foreign Service is not necessarily looking for scholars of international relations, but for well-rounded people who can perform in a wide variety of environments and contexts.
I would encourage current students to ensure they are pursuing a diverse set of interests, both inside and outside of the classroom.
This interview has been reprinted from the Spring 2013 issue of the World Minded magazine.