International relations: The Smith family business
Connor Smith '14, an international relations major and marketing minor, has spent much of his time at William & Mary with his eyes fixed firmly on international vistas. 
In addition to his studies, Smith will be serving as the Secretary-General of William & Mary's first intercollegiate Model United Nations (MUN) conference April 11-14.  According to Smith, at the conclusion of the conference, W&M will be the only American university to host MUN conferences at the middle school, high school and college levels. 
"Since last March, we've been working to plan the conference with a lot of help from the Professional Development Center at the School of Education, the Roy R. Charles Center, the Student Activities office, and of course, the Reves Center for International Studies," Smith said. 
The conference will include 150 delegates from universities nationwide. Former U.S. Ambassador to the United Nations Thomas R. Pickering is expected to speak. So is former U.S. Ambassador to Haiti and Algeria and former Deputy Under-Secretary for Near East Affairs Janet Sanderson.
International Involvement
Smith's interest in MUN can be traced back to high school, when he joined the MUN team in hopes of attending a conference in Bangkok, Thailand at the UN ESCAP (Economic and Social Commission for Asia and the Pacific) secretariat. 
"I thought getting to go to a conference in a real UN building was reason enough to work hard to make the team," said Smith. "I ended up really enjoying the conference." 
At W&M, Smith began competing on the intercollegiate MUN circuit with the university's International Relations (IR) Club, travelling to conferences as close as Washington, D.C. and far as Singapore. 
In addition to the MUN circuit and the IR Club, Connor credits Department of Government Professor Paula Pickering with his continued involvement with the IR Club and deepening academic interest in international relations.
"Since freshmen year, I have taken professor Pickering's classes, worked as her research assistant and sought her advice about everything from my academic path to the development of MUN," explained Smith.  "She has been a huge part of my William & Mary experience."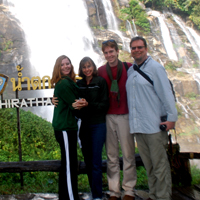 In addition to internationally focused course work, Smith's W&M experience has included a wide range of opportunities to engage with the wider world. With the support of a James Monroe scholarship, in May 2012 he conducted fieldwork on the governance structure called "Local Community" in Macedonia.  He has also conducted research with the Project on International Peace and Security (PIPS) and serves as the director of public relations for the Monitor, William & Mary's student-run journal of international studies.  
International Relations: The Family Business
The roots of international service run deep in Smith's family.
His maternal grandfather served abroad with Naval Intelligence, and later as a regional inspector general for USAID.  Due to his grandfather's work, Smith's mother spent most of her childhood in Taipei, Taiwan, her teenage years in Cairo, Egypt, and her first post-college years in Manila, Philippines. 
Smith's father, a former member of the United States Air Force and current member of the United States Foreign Service, has an aptitude for languages, speaking Russian, French, German, Spanish, Serbo-Croatian and Macedonian, among others.
Smith attended high school in Skopje, Macedonia, and Kuala Lumpur, Malaysia.  His parents are currently posted to Bangkok, Thailand, where he visits them during university breaks. 
"With my family, I've had the great fortune to travel all over Europe, Asia and Australia," Smith noted.  "In Kuala Lumpur, I was able to work as a U.S. embassy summer hire in the political section, and my incredible supervisors made a huge effort to involve me in U.S.-Malaysian relations. 
"With all of my family's experience, it's pretty hard for me to imagine a career without some dimension of international experience," he continued.  "I see (majoring in) international relations as an extension of my family's work." 
From Williamsburg to the World
This summer, Smith will return to Southeast Asia to work as a State Department intern at the U.S. Embassy in Vientiane, Laos. After graduation, Smith plans to continue working internationally, with a long-term career goal of entering the foreign service. 
"In a world where you can board a plane in Virginia, eat sushi in the Tokyo airport, and thread through the crowds on the sweltering streets of Bangkok -- all within one 24-hour period -- it's beyond important to be internationally-minded," Smith said.
"More and more, our lives are impacted by our choices in the United States and the choices of others in far-flung places.  With civil communication and understanding, it's possible to be successful anywhere and to help harmonize our interests."