Stern '12 dedicated to making foreign aid more effective
A high school teacher once told Alena Stern '12 that the prospects for sustainable development in Sub-Saharan Africa were "hopeless." Stern's unwillingness to accept this statement sparked an interest in international development that has come to define her undergraduate career.
Stern is an International Relations and Economics double major at the College of William & Mary.  The Denver, Col., native applied to work for the Institute for the Theory and Practice of International Relations (ITPIR) her freshman year because she wanted to learn about development while working on a project with real-world impact.
Through ITPIR she became involved with AidData -- a partnership between William & Mary, Brigham Young University, and Development Gateway to improve the quality of aid allocation and aid effectiveness research and to create innovative tools that increase transparency and accountability in the foreign aid sector. AidData has created the world's most comprehensive source of project-level information about foreign assistance flows. It tracks more than $4.2 trillion dollars and 957,000 projects from 79 donor agencies.
Stern has been working to increase foreign aid effectiveness ever since. She first worked for the Mapping for Results (M4R) initiative, which is a partnership between AidData and the World Bank that seeks to geographically pinpoint and visualize individual aid projects. The purpose of M4R is to improve aid coordination, assess whether funding is flowing to the areas of greatest need, and help citizens hold local governments and donor agencies accountable for results. 
Following her geo-coding work, Stern traveled to Uganda in fall 2010 both to study abroad and deepen her understanding of international development with first-hand experiences. She worked on the SIT Uganda: Development Studies program.
"Part of the program was a research practicum undertaken during the last six weeks of the semester," Stern recalled. "I spent my practicum working in the UNICEF Uganda office in Kampala interning for the Technology Development Department. I worked with them on how to integrate their project information into an existing technology platform to better track and monitor their aid expenditures."
Stern returne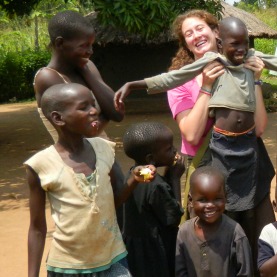 d to Uganda in summer 2011 to work on an AidData crowd-sourcing randomized control trial, in partnership with UNICEF and Ushahidi, a non-profit technology company that develops free and open-source software for information collecting, visualization and interactive mapping.
The project investigated whether crowd-sourcing can enable citizens to provide direct feedback on how aid monies are being used in their local communities.
Stern has already begun sharing her research with others. In addition to presenting "Following the Crowd: Herding Behavior and Aid Allocation in the European Union" at an 2009 conference in Washington, D.C., she recently co-authored and presented a paper at a conference in Montreal on how exposure to the policy-making process influences the way international relations scholars conduct research.
After graduation, Alena would like to continue her work in international aid, first by finding employment in the field and later by obtaining a Master's degree in international development.
"My passion is trying to make foreign aid more effective," says Stern. "I hope to find an opportunity to do that."