Duo Two-Factor Authentication
Duo Two-Factor Authentication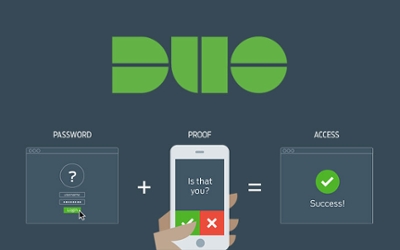 Duo is William & Mary's two-factor authentication service. It provides an additional level of security to prevent unauthorized access to a variety of systems.  Two-factor authentication helps protect against increasingly sophisticated security threats, like phishing, and thwarts unauthorized use of your login credentials.
How it works
Duo, as a two-factor authentication system, has two distinct login steps.
Step 1)  Sign-in with your W&M Username and password.
Step 2) Confirm your login by entering a code sent to an enrolled device.
Find more details about how Duo works in the Duo Guide.

Enrolling In Duo
Before you can use W&M services that require Duo authentication, you need to enroll. The enrollment process is pretty simple. 
Start by checking out Duo's Enrollment Instructions.  Or you can use these W&M specific instructions:
Then go to our W&M Duo Management Site (https://2f.wm.edu) to enroll. 
We recommend you register at least two devices, like your mobile device and your office phone. A desktop/laptop computer can not be used as the authentication device.
Enrollment from a Mobile Device
You can also enroll in Duo on your mobile device!  In the browser of your mobile device, go to 2f.wm.edu (the W&M Duo Management Site).  You will need to download the Duo Mobile App (iOS or Android) before or during the enrollment process.

Making Changes
If you need to add a new device or change your Duo settings use the W&M Duo Management site.
{{youtube:large:center|EMj89Ulpx6c, Check out this Duo enrollment video!}}

Questions? Contact the Technology Support Center (TSC)
757-221-4357 (HELP) | [[support]] | Jones 201, Monday - Friday, 8:00 am - 5:00 pm