New director of engagement joins Muscarelle
Steve Prince's past projects already have left an imprint on William & Mary.
But the artist and teacher will be making an even more indelible mark after joining the Muscarelle Museum of Art in the fall as its first director of engagement and distinguished artist in residence. Prince has worked in numerous roles in art and education at all levels, with a special focus on community art projects. The 2010 Hampton City Schools Teacher of the Year, he has worked as a university professor as well as a K-12 teacher and church youth director.
"The main thing is about me working with the museum as a representative of it, but going out in the community, very much like being an art evangelist and spreading the word about the Muscarelle, spreading information about the university and being an ambassador for it," Prince said.
"But by the same token, using the arts as a means of fostering healing, using it to speak about really tough topics that maybe happened here."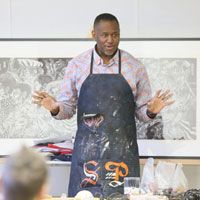 Prince, who works across multiple media and has numerous permanent pieces displayed in Virginia, first came to W&M in 2009 to show his work at the Andrews Gallery. Muscarelle officials purchased pieces for the museum collection and later asked Prince to work with their summer youth cultural arts experience program, which is run by the Greater Williamsburg Women's Association. He did so for four years.
In the summer of 2017, Prince directed a class in which a cross-section of the community helped him create a mural that kicked off the yearlong commemoration of the 50th anniversary of W&M's first African-American residential students. The piece is permanently displayed in Swem Library. In March, Prince's work was displayed in the special exhibition "Communal Resurrection" at the Andrews Gallery, and he gave a talk and directed a hands-on workshop as part of the Lemon Project Symposium.
Prince's approach of making art while interacting with and involving those around him is what makes him a self-described "art evangelist." He engages others in an entire process around what he does, often referencing his native New Orleans, and themes of reconciliation and healing using the locality's jazz funeral tradition known as the dirge and second line.
Prince's new role with the Muscarelle will involve fostering its outreach and educational programs, as well as functioning as an in-house artist. He plans to go out and work with community groups, collaborate across campus and manage community art projects in Williamsburg.
He is creating a series of workshops about the first enslaved people to arrive in this area in 1619.
"I'm going to be engaging the population and creating a community-based project that will openly speak about that, and then give people an opportunity to create artwork about it and create this way in which we can mesh those pieces together," Prince said.
Prince has done individual projects in various cities, universities, churches of different denominations and with other groups. But he has done so as a visitor with no continuing mission in one place.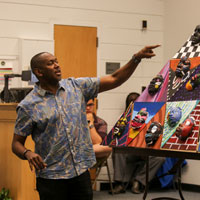 As the Muscarelle goes into a temporary relocation phase this semester in Merchants Square for construction of The Martha Wren Briggs Center for the Visual Arts, Prince will work with museum docents and interns to keep its work going in the community.
Prince will work in a studio on the museum site, and visitors will be able to talk to him about his current projects making prints, drawings, sculptures or paintings as they progress. He likens it to inviting someone to sit at the kitchen table to share all manner of topics, as he works on his expressions of what he's currently thinking about socially and societally.
"It's a space where we can be free," Prince said. "And so as a visual artist, that's one of the things I try to foster in my work because my work is very thematic. And it's layered with so much history, so many symbols; and it's a poly-narrative.
"And so this is a perfect opportunity for me to continue to be as an artist, but allow people to enter into that world where I don't create this kind of third wall that separates us. I'd like to dissolve that wall and let you come into my space, and you can see how I work and see how I'm thinking or how I'm constructing ideas."
Not only trying to draw people into the Muscarelle, Prince will be taking art out to people as well.
"I see my role as expressing and exposing people to the power and the beauty and the importance of the arts in our life, period, in everything," he said. "But I'm also a champion of the fact that that experience is not just confined to here. That experience can just be in your own backyard, your own bedroom, your own house, at your kitchen table. But this space here is a space that is open for everybody to come and enjoy."