50th Anniversary of African Americans in Residence
Celebrating Diversity
50th Anniversary of African Americans in Residence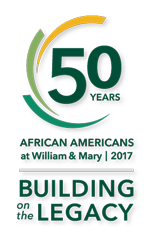 William & Mary commemorated the fiftieth anniversary of the first African American students in residence — Lynn Briley, Janet Brown and Karen Ely (class of 1971) — with a yearlong series of special events, guest speakers and performances, beginning with Convocation weekend in August, 2017, and continuing through Commencement in May, 2018.
Our theme was Sankofa, which, in the Akan Language of West Africa, reflects the idea that "it is not taboo to go back and fetch what you forgot," a philosophy represented by various Adinkra symbols, among them a bird with its head turned backwards taking an egg from its back.
Our commemoration slogan, "Building on the Legacy," derives from the Sankofa teaching that we must know and understand our past in order to move forward and make the most of our future.