Commemoration Events
June 2017 - May 2018
William & Mary is marking its fifty-year anniversary of the first African American students in residence with a yearlong series of events.
Past Event Highlights:
Black Student Organization Founder's Celebration Dinner
On Tuesday, September 12, 2017, the Black Student Organization (BSO) held a Founder's Celebration Dinner, honoring guest speaker and founding president of the BSO, Dr. Warren Buck M.S. '70, Ph.D. '76, D.Sc. '13. Current BSO president Niya Gray and other members organized a wonderful event, featuring entertainment by Ka'myia Gunn, Neonna Ferebee, and Flow and acknowledging all of the past BSO presidents, many of whom attended the dinner. Also among the more than 100 guests in attendance were Provost Michael Halleran, William & Mary's first residential undergraduates, class of 1971 — Lynn Briley, Karen Ely, Janet Brown Strafer — and several members of the Board of Visitors.
images from the Founder's Celebration Dinner
Brown Bag: Dr. Dijanna Figueroa "Journey to the Deep"
Dr. Dijanna Figueroa is a marine scientist and Science, Technology, Engineering, Art and Mathematics (S.T.E.A.M.) education specialist. On September 27, 2017, during her three-day visit to the Virginia Institute of Marine Science (VIMS), she came to main campus to give a brownbag talk titled "Journey to the Deep: Exploring the Biology of Animals that Live in Extreme Environments," in which she shared her science experience story and highlights of her deep sea hydrothermal vent research. Dr. Figueroa's research on the thermal physiology of hydrothermal vent animals was featured in James Cameron's ocean exploration documentary, Aliens of the Deep. 
Images from Dr. Figueroa's seminar
Artist Talk and Performance: Pamela Z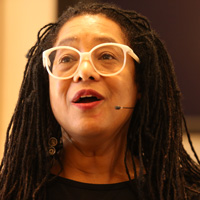 Pamela Z gave an artist talk and a solo performance as part of the "Race, Memory, and the Digital Humanities" symposium held here at William & Mary, October 26-28, 2017. Pamela Z is a San Francisco-based composer/performer and media artist who works primarily with voice, live electronic processing, sampled sound and video. Her performances range in scale from small concerts in galleries to large-scale multi-media works in flexible black-box venues and proscenium halls. In addition to her performance work, she has a growing body of inter-media gallery works including multi-channel sound and video installations. Pamela Z has toured extensively throughout the United States, Europe and Japan, and we were fortunate and delighted to have her at William & Mary to demonstrate her work and to perform in concert.
Images from Pamela Z's Performance
Homecoming & Reunion Weekend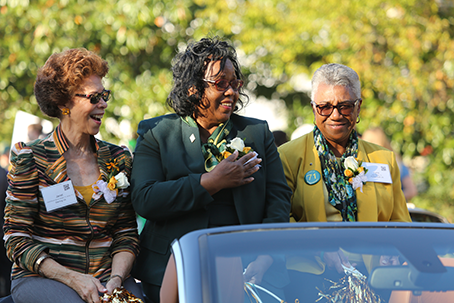 Homecoming & Reunion Weekend 2017 was the perfect time to continue promoting a sense of belonging for Black alumni/ae and to strengthen their ties to the university. It was also a time to celebrate the 50-year anniversary of the first African American students in residence, now affectionately known as the "Legacy 3": Lynn Briley, Karen Ely and Janet Brown Strafer. Black alumni/ae participated in a number of significant activities as part of the university's traditions, their own traditions and as a tribute to the "Legacy 3": the Homecoming parade, the Black Alumni/ae Shout Out, an Alumni Brick Dedication for the three women, and a step competition, Stompfest, to name a few. It was an exciting, emotional and fun-filled weekend.
Images & More from Homecoming Events
Soledad O'Brien Visit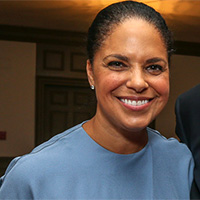 Named this year's Hunter B. Andrews Distinguished Fellow in American Politics, Soledad O'Brien visited William & Mary on November 14, 2017. Award-winning journalist, documentarian, news anchor, producer and the new host of Sunday morning syndicated political show, Matter of Fact, O'Brien began her visit by engaging with a select group of undergraduates in an informal Q&A. Later that evening she gave a lecture titled "Diversity: On TV, Behind the Scenes, and in our Lives." O'Brien was the originator of Black in America and Latino in America, and in June 2013, she launched Starfish Media Group, a multiplatform media production and distribution company, dedicated to uncovering and producing empowering stories that take a challenging look at the often divisive issues of race, class, wealth, poverty and opportunity, through personal stories.  Her advice to William & Mary students:  "…never, ever hand over the telling of your story to someone else…."
galleries from Soledad O'Brien's Visit
Dr. Trudier Harris Visit
Dr. Trudier Harris was the first African American to be hired in a tenure-eligible position at William & Mary and to earn tenure here. She taught in the English department from 1973-1979, before moving on to UNC Chapel Hill where she became the J. Carlyle Sitterson Distinguished Professor of English. She currently holds the position of University Distinguished Research Professor, Department of English, the University of Alabama. Dr. Harris revisited William & Mary in September, 2017, as the Sara and Jess Cloud Distinguished Lecturer. She will receive an honorary degree during William & Mary's 2018 Charter Day Ceremony.
Dr. Johnnetta B. Cole's Visit

Dr. Johnnetta B. Cole's talk, "Barriers are Meant to be Broken," sponsored by the Center for Student Diversity (CSD) for the annual Dr. Martin Luther King, Jr. program, opened the spring semester of events not only to honor Dr. King but also to commemorate the 50th anniversary of the first African American students in residence at William & Mary. Her words of inspiration were also a call to action:
"We're living in such profoundly troubling times and if we're not careful, do you know we could actually lose hope? We could lose hope that true change will ever come. …

Well, I can tell you that I might not see the day when everyone is judged by the content of his or her character. But I surely have the responsibility to fight, to fight in a non-violent way for that day to come – if not for me, for future generations."
The program included opening remarks by Shenè Owens, Assistant Director, CSD; introduction of speaker by Dr. Tatia Granger, Clinical Associate Professor, Mason School of Business; a dance performance by DeLauren Davis, Neonna Ferebee '20, Jordan Gilliard '18, and Leah Jones '19; and closing remarks by Dr. Kimberly Weatherly, Director, CSD.