Attendees review W&M vision, mission, values at strategic planning forum
Committee members presented drafts of statements that will help shape William & Mary's future, and attendees provided feedback on what they had heard at an Oct. 1 strategic planning forum at the Sadler Center.
All feedback was collected on paper to be included in the ongoing planning process, and people can continue to give feedback through the website. The process will continue with the next forum set for Nov. 7 at 3:30 p.m. in the Sadler Center's Chesapeake Ballroom.
"It's going to be critical, as we begin this work, to return over and over again to what anchors us as we pursue our mission of teaching, learning and research," said W&M President Katherine A. Rowe.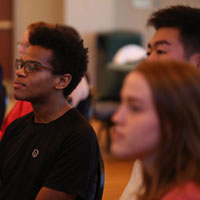 There are two goals for the strategic plan, which will identify the most significant opportunities for the university over the next five to 10 years. The first is "to advance W&M's distinctive excellence in a rapidly changing environment, raising its profile nationally and globally," according to the strategic planning website. The second is to "position W&M for long-term financial sustainability in a way that aligns its operational and financial models with its distinctive academic mission."
The mission and values statements are designed to provide a framework for the strategic planning process that will culminate in a plan next year. On Tuesday, two groups co-chaired by Vice President for Student Affairs Ginger Ambler and Chief Diversity Officer Chon Glover presented their drafts of the updated mission statement and a new values statement that will be part of a comprehensive statement of vision, mission and values. The committees also included faculty, students and alumni.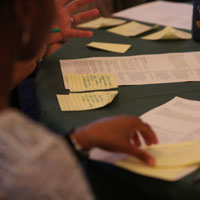 The draft mission statement reads, "A preeminent, public research university grounded in the liberal arts and sciences, William & Mary is a vibrant and inclusive learning community. Through close mentoring and collaboration, we advance teaching, generate new knowledge, and expand understanding. We produce creative thinkers, principled leaders, and compassionate global citizens equipped for lives of meaning and distinction. William & Mary convenes great minds and hearts to meet the most pressing needs of our time."
The values statement contains specifics on the selected keywords belonging, curiosity, excellence, flourishing, integrity, respect and service.
Each small group table was provided a written copy of the statements to reflect on and provide feedback. They were asked to think about what resonates, what is aspirational and if it sounds like W&M.
Representatives from the groups relayed key points, affirming some of the statements more than others and suggesting slight changes that could be made. Attendees emphasized that some of the statements are true now, while others are more aspirational.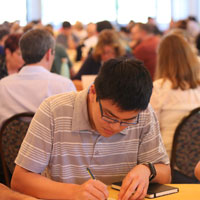 There was positive support for the use of the terms belonging, curiosity, integrity and respect.
One participant questioned the emphasis on the word "academic" preceding "community," pointing out that some staff may feel left out. Others described how everyone may not currently experience values like flourishing and belonging to the same degree.
"We appreciated lots of things," said one group representative, adding that her group discussed whether the values are intended to be individual or institutional. Another group added that it "loved the mission statement."
One person said, "Excellence is important, but emphasizing it may overlook smaller victories that students might have." A student later expressed appreciation that the description of excellence was expanded to include personal growth beyond external accomplishment. Another attendee pointed out that while discomfort is often something actively avoided, getting out of a comfort zone is encouraged and may be something to include.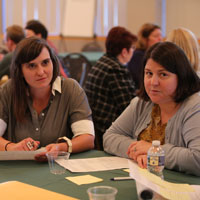 "What do we want William & Mary to look like?" a group representative asked.
The process will continue as the larger community provides input for the final consensus on the statements, which are intended to reflect both the current state of the university and its future.
The current planning timeline has the statements going to W&M's Board of Visitors for approval in November. Before that point, the strategic planning committee will be accepting feedback via an
online form
,
and members of the committee will be visiting each of W&M's schools to talk about vision, mission and values.