President Rowe launches 'Planning to Plan' at campus-wide forum
Roughly 100 faculty members, staff and students turned out Wednesday for the inaugural campus forum hosted by W&M President Katherine A. Rowe.
The workshop was the first in a new series of regular conversations Rowe plans to hold with the university community in order to increase transparency, communication, coordination and a sense of shared purpose.
The series builds on Rowe's strategic listening initiative, Thinking Forward, which gathered more than 800 data points of feedback during the fall semester through in-person forums, online submissions and social media, including Twitter chats and Instagram stories. That initiative examined William & Mary's future in the areas of knowledge, work and service, and laid the groundwork for strategic planning.
Through the coming year of strategic planning, Rowe will host similar gatherings in the weeks preceding each meeting of the Board of Visitors to garner input on emerging issues and ideas. After the board meets, Rowe will report back to the community through campus-wide messages.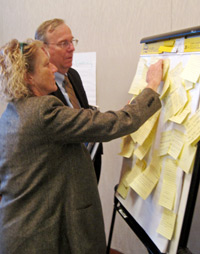 The inaugural workshop was devoted to "Planning to Plan:" designing the upcoming strategic planning process. Rowe posed two questions to participants:
What were the key success factors for strategic plans with which you've been involved in the past?
Imagine yourself in 2020. What do you hope to be able say then, about this planning process?
"There are two high-level goals I think we ought to strive for," Rowe said. "One is that we ought to produce a plan that advances our excellence — what's distinctive about William & Mary — in an environment that's very rapidly changing … The second working goal is to tackle the question of long-term financial sustainability in service to our academic mission. The lesson for all academic institutions right now is that complacency is dangerous. Thinking ahead, thinking around the corner, is where you're in your most productive place as an institution."
After brainstorming together, tables of mixed faculty, staff and students reported the design requirements they had generated. Rowe captured these on white boards and asked follow-up questions to prompt discussion about particularly generative or key observations from the room.
Tables reported that they valued communication; transparency; an inclusive process; clarity in the timeline of work, prioritization and goal-setting; receptivity to all ideas; being mindful of resources and flexibility in the planning process, among other attributes.
"One of the things we talked about as a requirement is that the process is flexible and able to adapt and change throughout the process as needed so that it's not locked in stone," one team leader reported. "Instead it has a little bit of flex but nonetheless moves forward."
Looking forward to the future ideal, one team leader said their group desired that "each member of the university would understand his or her role in the strategic plan, regardless of whether they are a student, an administrator or a faculty member, or from which unit or school they come from. So for example in June 2020, I'd like to understand how I contribute to the plan as it would benefit the Business School, even though I'm in Arts & Sciences."
As the campus readies for a formal strategic planning process, Rowe emphasized that she values a process of continual refinement and innovation on campus. Later in the spring she will charge a coordinating group to work from the community's design requirements and other best practices, to chart out the planning process, and share it with the community. The planning process is anticipated to launch in August, Rowe said.
The planning process will provide a framework and shared goals for ongoing efforts around the institution to explore new ways of increasing excellence at the Alma Mater of the Nation.
For example, William & Mary is using "tiger teams" to quickly conduct initial investigations into the feasibility of promising ideas – borrowing a tool from NASA. Tiger teams are small, nimble groups of subject matter experts who rapidly evaluate ideas to assess their feasibility. If the ideas offer promising solutions to significant challenges W&M faces, they can be routed into a more formal exploratory phase of strategic planning. If not, leadership can focus on different approaches, saving investments of institutional time, money and/or effort.
So far, two tiger teams have been appointed at W&M to assess the feasibility of ideas generated by the Faculty Assembly, Rowe explained. One is considering the benefits and challenges of a more robust summer semester, while the other is exploring appropriate continuing education programs.
In the end, Rowe thanked the participants who turned out to begin to map the process by which William & Mary will set directions for the next decade and beyond.
"We are borrowing in a very simple way a strategy from the design thinking toolkit, which is to use the community of experts to understand the requirements for a successful strategic planning process," Rowe said. "We're really fortunate in that we have an open field here; we don't have a received structure for strategic planning. And we have a semester in which we can take the time to design that structure. So we're starting that design process in this room, by together beginning to set requirements for a successful year of strategic planning."