W&M 'Thinking Forward' session conveys, further considers emerging themes
In a packed room Tuesday in William & Mary's Sadler Center, President Katherine A. Rowe reflected back to the university community several themes gleaned from the first three forums of the semester.  She also continued to listen and refine ideas as well as began shaping the way forward for the university at the fourth and final listening session of the fall.
The W&M community discussion was part of Rowe's "Thinking Forward" initiative, and it focused on reviewing ideas from previous sessions centered on the future of knowledge, work and service.
More than 230 faculty, staff, students and alumni attended the session, filling up 22 tables in the large Tidewater A and B space. "Thinking Forward" had already generated 596 pieces of data, including forum responses, social media comments and online submissions. An Instagram story coincided with Tuesday's session as part of its ongoing online presence.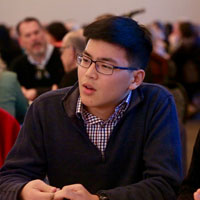 Asking the attendees to further nail down specifics from themes that emerged at the earlier sessions, Rowe talked about the need for "playback" and gave a description of the term.
"Many of you have heard me say that my leadership style begins with listening … a critical aspect of listening, as well, to me is reflecting back what's heard to the community in conversation," Rowe said.
She listed three overarching themes that had spanned each of the previous conversations: Deep human connection is a hallmark of W&M, the intersection of diverse modes has increasing value, and sophistication in bridging difference — cultivated in an inclusive community — enriches our lives.
Each of the areas of knowledge, work and service was also listed with four or five top points that have emerged.
In the area of knowledge, the top themes were cultivate deep connections, cross-train, explore new toolkits and integrate learning experiences. Themes for the work category were prepare for complexity, learn all your life, code and analyze data, appreciate authentic differences and write as you think, exceptionally well. Themes in the area of service were change the world for the better, engage alumni, integrate learning, grow partnerships and cultivate resilience.
Rowe asked the small groups at tables to engage in "critical reflection on what we've heard." They were asked to spend 15 minutes thinking about and discussing the themes in either knowledge, service or work in terms of whether they sounded accurate, were complete and needed adjustment or addition.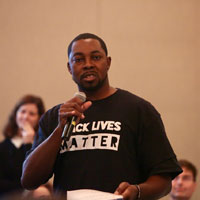 Afterward, group members shared snippets of the discussions that took place at numerous tables.
In the area of knowledge, points mentioned included figuring out how to create more engaged teaching, learning and meaning for students, as well as integrating learning experiences and having undergraduate and graduate students and faculty work together more.
Under the work category, participants emphasized the need for students to prepare for changing fields and jobs and cultivate diverse networks of friends and colleagues.  Faculty and staff also need to find ways to maintain human connections somehow while administrative tasks increasingly take up their time.
In the area of service, one table pointed out that partnerships and engaging alumni could fit into many areas. Another said an approach to service that is a lifelong commitment should be included, and another emphasized growing interdependence, complexity and a need for more collaboration across boundaries.
In the final phase of the session, Rowe asked each table to prioritize its biggest takeaways for future planning in a brief discussion. In addition to reports from the tables, paper copies of all feedback were collected to be used.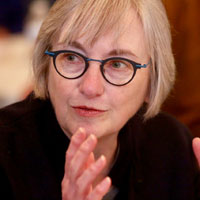 One group that had discussed the future of knowledge talked about missing the ability to cultivate risk in students and the need for faculty members and administrators to have more time for deep reflection, while another pointed out that faculty already does a lot well and should consider keeping much of what's already in place. A group discussing knowledge points overlapping with work-related areas said there need to be more conversations across departments that include faculty, staff and students.
Rowe wrapped up by giving a timeline that outlined the playback phase as December and January, with January through April as a period of informing and educating between campus groups and mid-to-late spring for planning process design.
"I am so grateful for this really exciting, rich conversation and series of conversations all fall," Rowe said. "It's been an amazing way to get to know this community."