'Thinking Forward' about the future of work at W&M
Five questions were posed to William & Mary faculty, staff, alumni and students Thursday night during the university's second campus conversation devoted to exploring the community's goals and aspirations for the future.
"If our goal is not to train students for a specific career, what is our role in preparing students for the future?"
"How do we become a more inclusive environment?"
"What does looking dynamic, innovative and experiential look like in our work as students, faculty and staff?"
"What are your hopes and dreams for W&M over the next 20 years?"
"What will it mean to have more non-traditional students in the classroom?"
That's what President Katherine A. Rowe asked an overflow crowd to begin addressing in her ongoing effort to gather feedback from the William & Mary community around three themes: the future of knowledge, the future of work and the future of service. Thursday's discussion focused on the future of work. 
The "Thinking Forward" listening initiative includes both in-person and online events, including a series of questions posed via Twitter and Instagram. On October 15, starting at 6 p.m., the conversation continued with a @williamandmary Twitter chat and an Instagram story is scheduled for October 17. Additional events may be found online, and the next campus conversation is scheduled for October 23 and will focus on the future of service.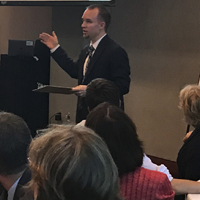 "We are helping to cultivate the essential capacity that will provide our students with the abilities to be transformative citizens and professionals in a world that's radically changing and a network that's increasingly global," Rowe told the audience. "This is a conversation that is exciting."
Iyabo Osiapem, senior lecturer of Africana studies and linguistics, and Graham Henshaw, executive director of the Alan B. Miller Entrepreneurship Center, moderated the session.
How the meeting progressed
Attendees seated themselves at tables that corresponded with the questions in which they were most interested. Group leaders were chosen who, after the discussion, voiced ideas on how best to address the issues raised. Those answers were recorded on post-it notes and affixed to easels at the front of the room.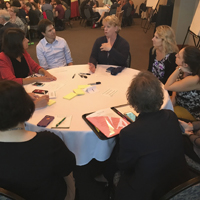 Among the suggestions to the question of how to prepare students for the future was to give them a background in core competencies and problem solving. The competencies would have to be flexible and not specific to one career. Another table answered that the university should continue teaching critical thinking skills and creativity. And, while not only preparing them for a specific career, teach the types of skills that enable students to apply them to careers of their choosing. Finally, one table spokesperson said, there's a need to forge a stronger bond with employers and alumni to help students get started, and an emphasis on helping students learn to become adaptable to changing trends in employment.
A comment was made that because people nowadays change jobs — and careers — much more frequently than in the past, training them for one job doesn't make sense. But others argued that there are professions, like accountants, that are the exception to that thought.
Inclusivity
On becoming a more inclusive environment, one table stressed the need to remove labels from students. "The government gives us enough labels, then we layer on more," the table's spokesperson said.
Diversity, she said, "has to be everywhere, student and faculty population." More time should be spent giving international students cultural training. And, finally, the university's resources should be accessible to everyone, she said.
People at another table said that diversity begins by creating a "nurturing" environment of inclusion, creating scholarships and accessibility, down to classroom practices that are flexible to students and represent the changing demographics of the United States. 
"Who is not here, and why?" should be a question asked in every quarter of W&M, the table spokesperson concluded.
Being a dynamic force in education

Regarding what a dynamic, innovative and experiential education would look like across the board, one table spokesperson said open-mindedness, faculty who updated their research, people who were ready to try new things and ways, abolition of the phrase "we can't do that here," and time and resources for people on campus to explore their interests without judgment.
"And there's the collaboration bucket," she said. "Faculty, staff and students working together to collaborate on research but complex projects where real clients are involv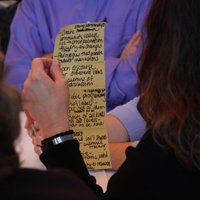 ed. Then encourage faculty to remain research active."
It was suggested by one person that PowerPoint presentations be banned while finding ways for students to learn faster "so that times can be condensed."
While words such as dynamic, experiential and innovative often are defined as "new," another table asked "what if they referred to older ways of doing things?"
"What would it mean to have a shared, mutual, institutional mission?" the spokesman asked, "one where all of us felt we were a collaborative, rather than individual silos? If we become an individualistic society, what does it mean to go back to something that is less individualistic?" 
Hopes & dreams
In some shape or form, the "hopes and dreams" for W&M 20 years from now centered on having a diverse community that reflects the modern world, having a strong financial foundation that includes resources for space and facilities for faculty and staff, having a larger endowment, looking at more interdisciplinary research, greater collaborations to increase efficiency and expanding the university's reputation.
Another table offered strengthening the STEM departments to match the reputation enjoyed by humanities and government, continuing the process of strong teaching and strong research that includes students doing the research with teachers, bringing in more out-of-state students to increase income and gain additional separation from the state.
The non-traditional student
Finally, to the question of having non-traditional students in the classroom, one table agreed that the university needs to define the term and, once done, understand their needs, their challenges, their potential knowledge gaps as well as their cultural differences.
"What could we provide for those students?" the spokesperson asked. "Increased professional and networking opportunities, recognizing that they are here for different reasons, giving them a wider perspective in the classroom and integrating the co-curricular involvement aspects of undergrad, grad as well as non-traditional and traditional students."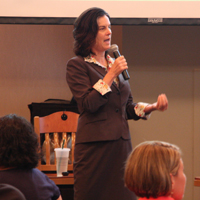 At the conclusion of the conversation, Rowe remarked she was thrilled with the responses.
"My biggest takeaway was just how ambitious this room was and how galvanizing it is to hear them thinking, long-term thinking, over 10 to 20 years about what we might want to be," she concluded. "My hope originally with these conversations was to turn ourselves towards a longer-term horizon because we are supposed to be here in perpetuity, and our planning horizon should be ambitious in that way.
"This is the beginning of a conversation in which I hope you take the disposition to think very ambitiously and to try to expand, open up, the way we're talking about what we're about to hear at a workplace where a lot of different things happen."