Despite divisions, Gates optimistic about America's future
Although the Washington Post once called him "the Eeyore of national security," former Secretary of Defense and William & Mary Chancellor Robert M. Gates '65 is optimistic about the nation's future.
"Our politics have always been dirty and ugly and polarizing from the beginning … The part that's different now and that does give me a cause for concern is that there has always been a group of people in both of our parties that I always refer to as the bridge-builders," he said. "They were center-left, center-right, and they would find ways to cobble together compromises that would address problems and move the country forward and get the people's business done.
"Those people are in very short supply right now, hence our problem in addressing any big problems that our country is facing."
Gates' remarks were part of a public forum held Thursday night in the university's Sadler Center in which the W&M alumnus addressed multiple current domestic and international political issues, including immigration and North Korea's development of nuclear weapons.
W&M President Taylor Reveley moderated the discussion, offering his own questions for about half of the hour-long program before taking audience questions, which ranged from Kurdish independence to climate change as a national security issue.
North Korea
On the topic of North Korea, Gates said he often likes to joke about its leader, Kim Jong Un, but actually thinks he's smart.
"I think where he's coming from is understandable if disagreeable," said Gates, noting that Kim has seen the impact of nuclear disarmament on countries like Libya and the Ukraine. "He sees nuclear weapons as critical for the survival of his regime and himself."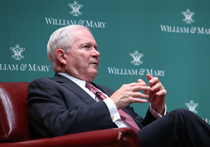 While economic sanctions are working in some ways, Gates believes that they, alone, will not convince Kim to give up nuclear weapons.
"The only way ultimately to get North Korea to begin to back away from its programs is to change the strategic environment," he said, adding that U.S. President Donald Trump's "tougher line" has helped persuade China and Russia to impose more severe sanctions.
"But I think we need to be realistic about why Kim has the nuclear weapons and why he will hang onto them, and I think we can never accept North Korea is a nuclear power because it then creates an environment  in which proliferation in Asia becomes highly likely," Gates said.
Diplomatic recognition could be part of a strategy to denuclearize the Korean peninsula, as well as a peace treaty ending the Korean War and an agreement to not seek regime change by force, Gates said. A more robust military presence and exercises could also be a part of that strategy, but a military strike could spell disaster.
"Anyone who thinks you can give North Korea a bloody nose with some kind of limited military attack and they wouldn't retaliate I think is being highly unrealistic," he said.
"One of the things I've learned over the last 50 years is that everybody believes every war will be short, and they're almost always wrong. Wars are always harder to get out of than they are to get into. And this notion of surgical strikes that will deliver a message and then move somebody to do something you want them to do almost never works. And the notion that this guy would absorb a strike and not do anything I think is very unrealistic, and I think the consequences could be devastating."
Military, DACA, FBI
The U.S. military is overexerted and underfunded, Gates said, and both service members and their families are paying the price.
"I think we can afford this, and we can't afford not to do this," Gates said of defense funding, adding that it needed to be spent more wisely, not cut. "From George Washington on, people have said the surest way to avoid war or maintain the peace is through having a strong military because it deters people. People don't take chances if they know you have overwhelming strength."
The political maneuverings around immigration reform and particularly the repeal of the Deferred Action for Childhood Arrivals policy is also taking a toll on many in the U.S., said Gates.
"What I think the politicians don't take into account is the impact on these young people and their families of the uncertainty of not knowing what's going to happen and being in limbo and not knowing one week from the next whether they are going to be deported to someplace they've never been, and that's why I think doing something quickly on this is so important to get rid of that uncertainty," he said.
Gates' hope is that a deal will be struck that will both involve funding for border security and a solution for people affected by DACA, whether that be full citizenship or Green Cards.
"DACA is one of these strange things where almost everybody agrees that we ought to let these kids stay in the country," he said, "but the challenge is how do you get there from here with all the politics on the Hill?"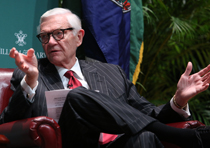 While his confidence in Congress to make strides on that issue is lagging, Gates said he has full confidence in the country's intelligence community and FBI.
"These are organizations led and staffed by human beings," he said. "They will make mistakes, they will have their biases. They represent the variety of attitudes in the American people. People have their own political views, but in terms of what they do, how they analyze things, I have enormous confidence in the professionals in the intelligence community and the FBI."
Gates, who served as the director of the CIA, said he began working with the FBI in the 1970s and thinks it's "one of the most honest, law-abiding national police organizations in the world."
"And I think we have the best intelligence organizations in the world. They have their flaws. I spent my career trying to address some of those flaws, but in terms of the overall integrity of those institutions, I have great confidence."
With all the issues happening in the country and abroad, Reveley asked whether Gates would recommend careers in government service to today's students.
"There are a lot of ways to do public service, and everybody should do public service," he said.
Gates said what gives him hope about the future of the country is its young people who have become increasingly committed to that kind of service, whether in government positions, other careers or volunteer roles.
"My hope is that we find a way to keep young people engaged because I think they're more practical and more open-minded in many respects … and more willing to look for practical solutions," he said, "so based on my experience, that's what makes me optimistic."