'William & Mary is on the cusp'
Presidential Search Committee hears from Chancellor Robert M. Gates about what to consider when looking for W&M's 28th president
When you combine William & Mary's history and stature, a recent period of stable and positive leadership as well as growth and progress on campus, the presidency at the Alma Mater of the Nation is an attractive position.
That was one of the messages W&M Chancellor Robert M. Gates '65 gave to the Presidential Search Committee at a meeting June 13 in Williamsburg. Gates, who serves as an advisor to the committee in addition to his honorary role as chancellor, called into the meeting and spoke with the committee for more than 40 minutes about what he thinks is important as they consider candidates.
"Whoever comes in, he or she will come in during a time when the College is on the threshold of breaking out," said Gates, pointing to the current For the Bold fundraising campaign as well as the mood on campus. "Taylor leaves a campus that is feeling pretty good about itself. There's a sense of teamwork and common purpose in the objectives. It's a pretty blemish-free opportunity."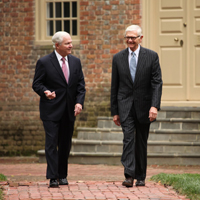 President Taylor Reveley announced earlier this year he was retiring on June 30, 2018. A committee of faculty, staff, students, alumni and members of the Board of Visitors, led by Vice Rector Tom Watkins, is conducting the search. Tuesday was the committee's second full meeting, though members have been conducting many listening sessions (61 as of June 13) with interested groups since they began their work in April. A subcommittee has also been reviewing potential search firms to help conduct the national search for W&M's 28th president. The committee's charge is to present the Board of Visitors no more than three finalists no later than Feb. 15, 2018.
At Tuesday's meeting, Gates, who in addition to serving as secretary of defense under two presidents of different parties and director of the CIA was president of Texas A&M University from 2002 to 2006, called into the meeting from his home in Washington state. The chancellor made general points about leadership skills that are necessary for the job and also specific points about the position at William & Mary.
"The College needs someone with the political and leadership skills to deal with multiple constituencies," said Gates, adding he was referring to faculty, students, staff, alumni, members of the legislature, state officials and the media. "That requires a fair amount of political skill and a deft touch."
Gates said the next president should also understand the importance of shared governance. He said successful leaders believe in an open and transparent decision-making process with constituents across campus but also have "the will and self-confidence to make tough decisions." He added there is value in selecting a president who has run a large organization in the past.
"Having somebody who is a good administrator is critically important," he said.
Specific to William & Mary's search, Gates said the university would benefit from selecting a president who can be a leader in higher education at a national level. In conversations with others in academia, Gates says he hears "William & Mary is better than it thinks. The College is too self-effacing and too modest."
He said the committee should not limit the search to traditional academic circles, but the person should understand academic culture and also the type of history and tradition that is important at a place like William & Mary. Someone with a connection to the university could also be beneficial, he said.
"You want someone who can blend innovation with respect to those traditions," Gates said. "But you don't want someone who sees it as a stepping stone. You don't want a gunslinger."
Finally, the chancellor said William & Mary needs a leader who has a vision of taking the university to the next level. Thanks to the leadership of Reveley, who will have served 10 years as president when he steps down, the Board and those on campus, William & Mary is positioned well for the future, Gates said.
"I think William & Mary is on the cusp of having a real national impact," said Gates, later adding "You don't want to look for another Taylor because that would be a disservice to Taylor and a disservice to the person who replaces him. You want to look for someone who can build on what Taylor has done."