Robert Gates' papers arrive at William & Mary
On Thursday, William & Mary library staff gathered on the loading dock of the university's Swem Library to welcome the arrival of a truck carrying long-awaited cargo – the personal papers of William & Mary Chancellor and former U.S. Secretary of Defense Robert M. Gates '65, L.H.D. '98.
"It's an exciting day for us," said Jay Gaidmore, director of the library's Special Collections Research Center, which now houses the papers. "We are so pleased that Dr. Gates has entrusted us with the care and preservation of his papers, and we look forward to opening this collection to our scholar community."
Three years ago, Gates announced that he would be donating his personal papers to his undergraduate alma mater upon completion of his memoirs. Gates and his wife, Rebecca, also committed from their estate a gift of $50,000 to catalog and digitize the papers.
"My experience as an undergraduate at William & Mary had a great influence on shaping my life, just as the College has had a great influence in shaping our country; its long history is intricately interwoven in the fabric of the nation," said Gates in the 2013 announcement. "I cannot imagine a better place for my personal papers than the university's Special Collections Research Center."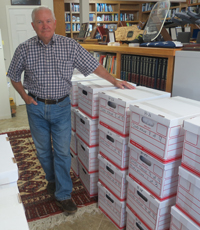 Gates' personal papers encompass his time at the CIA, his service at the National Security Council (including as assistant to the president and deputy national security adviser) under four presidents, his Texas A&M University presidency, his term as Secretary of Defense and his current role as William & Mary's Chancellor. The papers do not include classified materials from the CIA or Department of Defense, but they do include Gates' handwritten notes through the years, photographs, and various materials he accumulated over the course of a long and distinguished career in public service.
Last month Gaidmore visited Gates in his Washington home to oversee the boxing and loading of the papers. It was a team effort to load the 106 boxes into the moving truck – an effort that included Gates.
"The truck was too tall and would have knocked down some tree branches, so Dr. Gates offered his pick-up truck to shuttle boxes up to the top of the driveway. The movers did the loading and he did the driving," said Gaidmore. "The lead mover was 'star struck' – his words not mine – when he realized who Dr. Gates was."
After a two-week cross-country trip, the truck arrived at the library to deliver the collection to its new permanent home. Over the next several months the papers will be processed and cataloged within Special Collections and will become accessible to researchers in early 2017.
"Chancellor Gates' papers will become an important resource for our students and the public, providing unique insight into U.S. history. We are thrilled to have his collection take its place alongside the papers of Presidents Jefferson and Monroe and Chief Justice Warren Burger," said Dean of University Libraries Carrie Cooper.