Drawn together: Alumni couple creates unique characters for children's books
The following story was originally published in the fall 2015 W&M Alumni Magazine - Ed.
Every writer has a process. For Cece Bell '92, it's walk, work, work, work, work, work. For her husband, Tom Angleberger '92, it's walk, walk, walk, work, walk, walk.
The couple, who met their freshman year at William & Mary while having dinner in the Caf with mutual friends, are authors/illustrators who each have experienced recent success with their children's books. From sock monkeys to origami Yoda, both Bell and Angleberger have created a unique set of characters to inspire kids.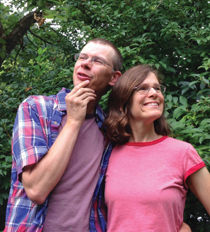 While attending the university, both Bell and Angleberger worked at the Flat Hat in the graphics department. (David Lasky '90, their first graphics editor, went on to become an award-winning graphic novelist and colored one of Bell's books, El Deafo). "I know Tom thought I was pretty weird," Bell says. "Nothing stuck at that point. It wasn't until sophomore year, when I joined the staff of the Flat Hat that something stuck."
Bell claims Angleberger was involved in a lot more entertaining activities at the university, while she was mainly focused on getting straight As.
"Seriously, I would not have had some of the great experiences I had at the College if weren't for Tom," Bell says. "I would have spent all my time studying in Swem if I hadn't met him, and I certainly wouldn't have been an art major — a change that made the rest of my life a lot more fun."
When Bell began to study art, she started to think that children's book illustration was the ultimate dream. Despite being a former English major, Bell wasn't thinking about the writing part until she read somewhere that it was a little easier to get a children's book published if you both wrote and illustrated the book.
The first books Bell wrote were her Sock Monkey series, inspired by her actual sock monkey, which she made in 1995 from a kit her grandmother had given her. Sock Monkey Goes to Hollywood received an Oppenheim Toy Portfolio Gold Seal Award and was named Quirkiest Picture Book by Publishers Weekly in 2003.
Angleberger began wanting the same career when he saw how much his wife was enjoying hers. At the time, he was working as a reporter for the Roanoke Times. After the couple's first child was born, Angleberger took some paternity leave and during the baby's "down time," wrote a book. "When my paternity leave was almost up," Angleberger says, "I decided I would be leaving the paper instead of returning, and I started writing children's novels full time."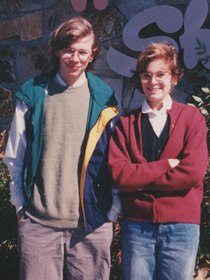 Angleberger is most famous for his New York Times bestselling Origami Yoda series, which follows the story of a young boy named Dwight who creates an origami likeness of Yoda from the "Star Wars" film franchise in order to give advice to other students. Some of the other books in the series include Darth Paper Strikes Back!, The Secret of the Fortune Wookiee and The Surprise Attack of Jabba the Puppett.
"I was inspired by Fukiami Kawahata's incredible origami Yoda, which I have never been able to fold because it is too difficult for me," says Angleberger. "So I tried to make an easier one myself. I'm not necessarily all that creative. I'm more of a puzzle putter together. I take all these little puzzle pieces — Yoda, middle school problems, Cheetos — and I fuss and fuss with them until I fit them together."
Bell's favorite book she's done is a picture book, Bee-Winged, which she considers to most closely represent what she wants to be doing with the medium. "But El Deafo of course is very meaningful to me and has totally changed my life in more ways than one," Bell says.
Bell grew up hearing-impaired after meningitis left her profoundly deaf at the age of 4. El Deafo chronicles her hearing loss and her subsequent experiences with the Phonic Ear, a very powerful — and very awkward — hearing aid. Bell wanted to create something so that children who were deaf could see themselves positively represented in a book. She uses the imagery of everyone illustrated as rabbits as a visual metaphor — when she was growing up, she felt like the only rabbit whose ears didn't work. Many of the rabbits are based on real people in Bell's life. The book received the Newbery Honor and the Eisner Award for Best Publication for Kids in 2015.
Angleberger also bases many of his characters on real people, including himself in the Origami Yoda series. "There are two characters in the books who are very different from each other, but both represent two very different sides of me," Angleberger says.
Bell works in a Home Depot barn next to the family's house. It's finished on the inside with electricity and heat. She likes to keep work and home separate and needs the sensation of "going to work," even if that just means taking a few steps from one building to the other. But Angleberger seems to be able to work anywhere. "I have a room in the house that is supposed to be my office, and sometimes I work there," Angleberger says. "But you can also find me working at the kitchen table, or on the front porch, or pausing during a long walk to write something down."
Both Bell and Angleberger claim that having a spouse in the same career field has its advantages. "It's nice to celebrate little successes with someone who totally gets it and respects it," says Angleberger. "We also get to collaborate sometimes, which is fun."
"I love the fact that I can moan and groan about some of the more frustrating aspects of my job, and Tom totally gets it," Bell says. "Sometimes things can get very annoying — deadlines that you might not be able to meet, editorial decisions that you might not agree with — and it's so nice to be able to talk to your spouse about the ugly font decision on the cover and not have him roll his eyes at you."