Johnson scores with story of teen's sexual awakening
For breakfast, Jake takes six plastic vitamin bottles out of the cupboard and empties one of each onto the counter: iron, B-12, zinc, C, E, and a multi for good measure. He yawns, lines the tablets up on his hand, takes a diet Mountain Dew from the refrigerator, and washes them down in a single fizzy gulp. The shock of cold carbonation gives him a head rush. He has to steady himself on the refrigerator door.

 At the table, his mother is drinking coffee and flipping through the mid-week Quartzton Enterprise, "Voice of the Vermillion Range." Her navy blue sweatshirt says "taconite rocks!"

"Are you sure you don't want any cereal," she says dutifully.

Jake wipes his mouth with the back of his hand. "Give me a break. I'm three pounds over."

That's the tantalizing start to Chelsey Johnson's "Escape and Reverse," a longer-than-traditional short story of 41 pages that took the visiting assistant professor of English at William & Mary years to write but almost no time to have recognized for its craftsmanship.
"Escape and Reverse" has been published as the fifth "Ploughshares Solo," a new, digital-only branch of the literary magazine based at Emerson College in Boston and devoted to individual long stories. It is available to download to Kindle tablets from Amazon.com.
Johnson wrote the first draft of the story several years ago while a student in a writer's workshop at the University of Iowa and revised and rewrote it over the years. When she heard that Ploughshares was starting a digital publication, she submitted her work.

"You know usually you wait three months or six months, or 10 months to get a reply from a publisher," she said. "I heard back from them in three weeks."
"Escape" is the story of Jake Persson, a high school wrestling star having trouble making the weight he is assigned to compete at, hence the diet of vitamins and Diet Dew. Jake's school, located in northern Minnesota's Iron Range, is a contender for the state championship, an unexpected development that has the town of Quartzton giddy with excitement as regional competition approaches.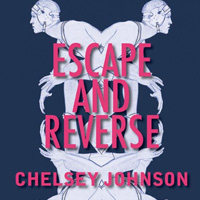 Though thoroughly committed to his school and his sport, and quietly confident that he will lead his team to the title, Jake has suddenly begun grappling with issues of far more importance in his life than athletics.

A raft of personal experiences brought Johnson to the story. She is from the north central woods of Minnesota, close enough to the Iron Range that she vividly remembers her high school team competing against theirs, especially the wrestlers.

While teaching at Iowa, she assigned her class to read the screenplay and see the film "My Beautiful Launderette," the story of two men who fall in love. On their final exam, Johnson asked the class to recall all of the reading assignments and to list one character they would like to spend the day with.

One student – a wrestler – mentioned the lead character from "Beautiful Launderette" and said he would want to know how he and his lover were faring.

"I didn't know anything about him or whether he just had this compassionate streak or was interested in the character, but that was the seed of the story," Johnson said. "I imagined  'What would that mean if you were a star wrestler and you secretly had these feelings?'

"It seems so obvious that wrestling is sort of transparently homoerotic, but in my high school, wrestling was really popular and everyone really compensated with this intense machismo. It attracted bad-ass guys; it engenders this hyper masculinity but at the same time there's an interesting tension there."

Johnson poured herself into a wrestler's life, researching their often-bizarre diets – vitamins and diet Mountain Dew is a favorite – the exercises they do to keep weight off, and wrestling techniques perfected by one of America's great wrestlers ever, Iowan Dan Gable. She also delved deeply into Minnesota's Iron Range industry.

"I really like to research because it's like productive procrastination," she said laughing.

Reaction has been overwhelmingly positive.

"Chelsey Johnson takes a familiar coming-of-age genre and breathes new life into it," wrote one reviewer.

"A beautifully woven story that doesn't sacrifice language, care, and precision," wrote another  "The action moves at perfect pace . . . I grew attached to Jake within just a few minutes of starting the story . . . I couldn't get enough of this world of mining towns, wrestling diets, and adolescent sexual tension."

Ironically, one person's criticism – "the ending was too abrupt" – is precisely one of the things Johnson likes most about writing short stories versus novels.

"Endings can be unresolved," she explained. "It doesn't have to be wrapped up. With the novel there's all this pressure to do something 'satisfying.' The reader has all of these invested hours and days and you have to tie up every loose end.

"I really like the long (short) story. It's a good length for me in that I get to put in all of the detail of a novel, but also have that elegance and structure and shapeliness that you can give a short story."