Hendrix and Glaser receive Journal of Peace Research award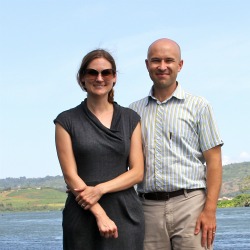 Assistant Professor of Government Cullen Hendrix and Sarah Glaser, visiting assistant professor of Biology and Marine Science, have been awarded the Nils Petter Gleditsch Journal of Peace Research Article of the Year Award for 2011 in recognition of their article, "Civil Conflict and World Fisheries, 1952-2004."
The jury, composed of three international scholars, assessed all research articles published in Volume 48 of the Journal of Peace Research for "theoretical rigor, methodological sophistication, and substantive relevance."
In selecting "Civil Conflict" for the award, the jury noted its important contribution to the understanding of economic consequences of civil conflict, and the suggested role for the international community in mitigating the strong negative relationship between civil conflict and total fish catch.
For Hendrix and Glaser, the research collaboration grew out of a shared interest in understanding feedbacks between ecological and human systems.
"When the project began, we were graduate students at the University of California, San Diego," explained Glaser. "I specialize in oceanography and marine ecology, and Cullen specializes in the security and economic implications of climate change. It was a natural, cross-disciplinary match."
The pair first collaborated on a project analyzing the relationship between civil conflict and rainfall in Africa. When they realized that studies on how civil war affects fisheries were rare, they teamed up again.
This study provides the foundation for an investigation into the relationship between conflict and fishing in Lake Victoria, East Africa. In conjunction with researchers at the University of Boston, SUNY-Stony Brook, and the National Fisheries Resources Research Institute of Uganda, Hendrix and Glaser will this year begin investigating the effect of changes in fishing pressure on Nile perch, tilapia, and a locally important fish known as dagaa on local and regional commodity prices, food security, and conflict.
The study will involve at least one William & Mary undergraduate student. Initiatives of the Institute for the Theory and Practice of International Relations will support undergraduate travel and research opportunities.