For whom the bell didn't toll
Marcos Burgos never knew his father. His mother would only say that his father had been killed during the Spanish Civil War. She dared not say more."Because if she did, she ran the risk of putting her whole family in danger," said Nathan Hoback '10.

But now, nearly two years after the Spanish government passed a law to break the decades of silence that followed the war, Burgos and many others like him are recovering the stories of the war's victims. A group of William & Mary students has joined that effort and are now seeking to broadcast those once-silenced voices with a newly created web site, Mapping Memory in Madrid.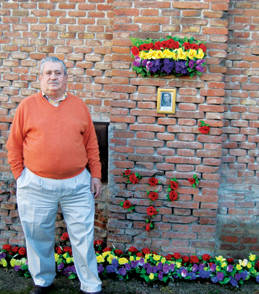 With funding from the Mellon Foundation, five students from William & Mary's Hispanic studies program, under the guidance of Modern Languages and Literatures Professor Francie Cate-Arries, travelled to Madrid in March to look into the progress being made under the country's new law of historical memory.

"We wanted to go and see how this law is playing out in Spanish culture today and how they are actually going about this recuperation of memory," said Shannon More '10. "We literally went on a route through Spain to these different sites of memory, to these organizations, to these people and we asked them how are you commemorating the war and how are you finding the memory and how are you sharing these stories."
History

Francisco Franco and his nationalist party took power in Spain following the Spanish Civil War's end in 1939 and Franco himself remained in power until his death in 1975.

"Under his rule, you couldn't speak about the Civil War," said More. Supporters of the democratic Republic against Franco's military insurgency who were caught speaking about their side of the war would be jailed, shot or put into a concentration camp, she said.

This pacto de olvido, or "pact of forgetting," lasted even after Franco's death in 1975.

"Spain transitioned out of the dictatorship, and their culture changed and their government changed, but this pact still lived on," said More.

Finally, in 2000, a group of individuals who lost family members in the war sought to exhume some of the common graves of Franco's civilian victims from that time, and so began a new interest in examining the past. In December 2007, the Spanish government passed the Ley de Memoria Histórica, or "Law of Historical Memory." The law provided reparations for victims of human rights violations and their families, offered Spanish citizenship for Civil War exiles and established a state-supported archive, the Centro Documental de la Memória Histórica—the Center for Historical Memory, More explained.
Mellon Trip

During their trip, the students visited various exhibitions, organizations, archives and historical sites from the war. They also met and interviewed various people who had been touched by the war, including 94-year-old veteran Bibiano Morcillo, who was a 21-year-old Spanish solider in Madrid when the war began.

"We found that all of the personal testimonies of these people we met, that was the heart of our trip," said Hoback. "You have these people pouring their lives out to you and not only that, but they're inviting you to participate in it, and that's just something incredible, something different than just reading it in a history book."

During the trip, each student focused on a different area of research. More focused on personal documents from the war and post-war era—letters, appointment books, school notebooks. Hoback concentrated on the role of film in the recuperation of memory.

Casey Lesser '11 looked at museum exhibition as a way to commemorate the war. At one exhibit about women political prisoners during the Franco years of repression, Lesser said she realized what a unique experience they were getting.

"We learned about these stories that we probably would have never learned about," she said. "How these women were incarcerated just because they refused to answer to allegations that they might be hiding someone or something in their homes."

Mary Schrack concentrated her research on the Valle de los Caídos, or Valley of the Fallen—a memorial site that Franco created to commemorate those who died during the war. Franco is now buried there, as well. Though both nationalist and republican soldiers are buried there, the site "favors the nationalist side," said Schrack. Much of the controversy stems from the knowledge that the imposing monument was constructed through the forced labor of Republican political prisoners.

"The valley will forever remain this black hole of Republican memory," she said. "The law can't remove Franco's body and it can't un-carve these symbols etched into the walls. The valley will always remain and is a hotly contested site of memory."

Alex Wright focused his research during the trip on the role of international groups in recovering Spain's Civil War memory. Many men from other countries fought for the Republicans in International Brigades, said Wright. Because after the war those survivors returned to their home countries, that geographical separation creates another obstacle in recovering memory. And, like so many other things commemorating the "losers" in the war, what once existed has been nearly erased. For instance, at the Fuencarral Cemetery, there once existed a large plaque to commemorate the International Brigades. However, Franco took it down and plowed over the graves.

"That gives you an idea of the mentality and the physical application that was used to create this atmosphere we're still fighting against today—this idea of erasure, literally getting rid of what was there," said Wright. In May of 2009, at a commemorative ceremony held in the Fuencarral Cemetery by the Association of the Descendents of Spanish Exile—with whom the students met and interviewed during their final night in Madrid—a new plaque honoring the International Brigades was unveiled.
Fate of a father
Marcos Burgos was born in Madrid one month after the war ended in March 1939, lived without any knowledge of the circumstances of his father's death until 2006 when his sister died. As he went through her papers, Burgos discovered a letter detailing his father's death: Marcos Burgos Salcedo, a captain in the Republican Army, had been executed against a wall in the Almudena Cemetery on July 12, 1939, when Burgos was just two months old.

His mother had simplified matters. Her husband had not been killed in the war, but rather was just one of many victims of postwar reprisals against those who had sided with the Republican side.

Since finding that letter, Burgos has been searching to find whatever he can about his father. He was able to discover various Army and government documents, which are now scanned and available on the William & Mary students' site. The students were also able to help him ensure his father's story is recorded for generations to come by putting Burgos in touch with Spanish researchers Antonio Castillo and Verónica Sierra of the University of Alcalá de Henares, who had hosted the students on their on-site visit to the Archivo de Escrituras Cotidianas.

Burgos now marks his father's memory at the wall where he lost his life with a small photo and a simple flower arrangement. But thanks to the efforts and Madrid-based contacts of the William & Mary team, his story—once so close to being lost forever—can be known and remembered for years to come by people around the world. His father's personal correspondence from prison, as well as documentation of his execution by Franco's firing squad, now forms part of the Spanish-based university archive's permanent collection, now part of the University of Alcalá de Henares's permanent archival collection.