Faculty Recognized with Interdisciplinary Research Innovation Grants
This year, Religious Studies Faculty were awarded several prestigious research fellowships and grants. The wide array of projects and accolades attest to the inherent interdisciplinary nature and continued necessity of Religious Studies and the Humanities in academia. 
Religious Studies faculty are involved in three of the four exciting Interdisciplinary Research Innovation projects selected for funding by the Office of the Provost this year. These projects allow collaboration between humanistic disciplines and the natural sciences. For example, Professors Vose, McLaughlin, and Burchett are investigating the effects of meditators' worldviews and motivations for practice in their project, "Unraveling Contemplative Practice: A Holistic Interdisciplinary Approach." The project examines religious motives for meditation alongside the separation of certain meditation traditions from the larger worldview in which they were developed. Dr. Vose notes, "Religious Studies teaches us to examine these coherent worldviews to understand their internal logic. Our partners in Psychology and Applied Sciences, on the other hand, have expertise in measuring the effects of behaviors on mental health and brain function." These interdisciplinary projects bring different approaches together "to learn from each other how humanistic and scientific research work and to solve problems that neither discipline could on its own."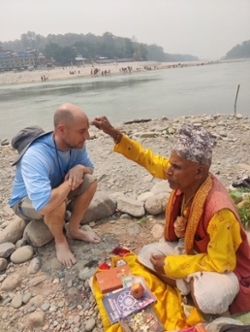 In addition to "Unraveling Contemplative Practice: A Holistic Interdisciplinary Approach," where Religious Studies Faculty are working with colleagues across Arts & Sciences, Professor Angelov is working with W&M Business School and international colleagues on "Ethnicity, Religion, and Citizenship: Disparities in Socio-Economic Capital and Health Among Minorities in Post-Communist Eastern Europe," and Professor Burchett is also collaborating with partners at VIMS and the Global Research Institute on "Understanding Indigenous Knowledge and the Cultural and Religious Significance of Nature for Integrative, Holistic Water Conservation Strategies in Nepal." To find out more about these projects and what they aim to explore, you can read more here. 
The Religious Studies Department is proud to contribute so broadly to interdisciplinary research and to have its faculty's work recognized and supported at an institutional level. We look forward to another exciting year of research, collaboration, and continued excellence.