Graduate and Honors Research Symposium sparks campus collaboration
William & Mary's longstanding Graduate Research Symposium returned to Sadler Center this year with a new collaborative twist, showcasing undergraduate Honors projects alongside the work of graduate students. The inaugural Graduate & Honors Research Symposium (GHRS) brought together more than 160 emerging scholars at W&M with students representing Old Dominion University, Virginia Commonwealth University, and the University of Virginia on March 30-31.   
After a two-year hiatus during the pandemic, the event's organizers themed the event around the ampersand, emphasizing the rich nature of graduate and undergraduate work nurtured at William & Mary and natural synergy of the joint event.
Sarah Glosson, Director of the A&S Graduate Center, led the organization of the event on behalf of the Office of Graduate Studies. Guiding the efforts of a graduate organizing committee, Glosson collaborated with Elizabeth Harbron, Director of the Charles Center and other campus partners to bring the event to life.
"We are a collegial graduate community, in part because of opportunities like the GHRS to begin sustained conversations across disciplines," said Morgan Brittain, PhD candidate and communications lead for the GHRS graduate organizing committee. "Of course, it was also exciting to hear from undergraduate students I might not see as an instructor and encourage them as they start promising careers as researchers or other pursuits."  
Presented by the A&S Graduate Center, the Charles Center, and with support from the A&S Graduate Studies Advisory Board, the two-day event included panel research presentations, honors ePoster sessions, a Three Minute Thesis (3MT) competition (with "3MT-like" showcase for undergraduate students), as well as an ePoster presentation and networking reception. Several awards for excellence were presented, including those to the top three student presenters:
Grace DeSalvo, Chemistry, William & Mary Interdisciplinary Award for Excellence in Research. 
Grace DeSalvo is a first-year M.S. candidate. Her research involves the study of fluorescent dyes and nanoscale emitters using laser spectroscopy. She is currently investigating the blinking dynamics of various emitters embedded in polymer matrix for applications in biological imaging. Grace holds a B.S. in Chemistry from William & Mary.
Olanrewaju Lasisi, Anthropology, Graduate Studies Advisory Board Award for Excellence in Scholarship in the Humanities and Social Sciences. 
Olanrewaju Lasisi is a seventh-year doctoral candidate. His research examines the intersection of the built environment, the performance of ritual, and cultural astronomy in the practice of space and power politics in the Bight of Benin, West Africa.
Rachel Rosengarten Hunnicutt, American Studies, Graduate A&S Award for Excellence in Scholarship in the Humanities and Social Sciences. 
Rachel Rosengarten Hunnicutt is a second-year PhD student. Her interests include US corporate culture, material culture, and museum studies; her current work considers the occult in design history. She holds a BA from Trinity College and an MA from The New School.
Centered as the signature event of the Sympoisum was the Three Minute Thesis (3MT) competition. Developed by The University of Queensland, 3MT "supports [students'] capacity to effectively explain their research in three minutes, in a language appropriate to a non-specialist audience."   
Serving as 3MT judges for the Symposium's Thursday evening competition were A&S Assistant Dean for Diversity, Equity and Inclusion, Wanjiru Mbure; Presidential Liaison for Strategic Cultural Partnerships, Ann Marie Stock; and Williamsburg City Councilmember and W&M Alum, Caleb Rogers '20.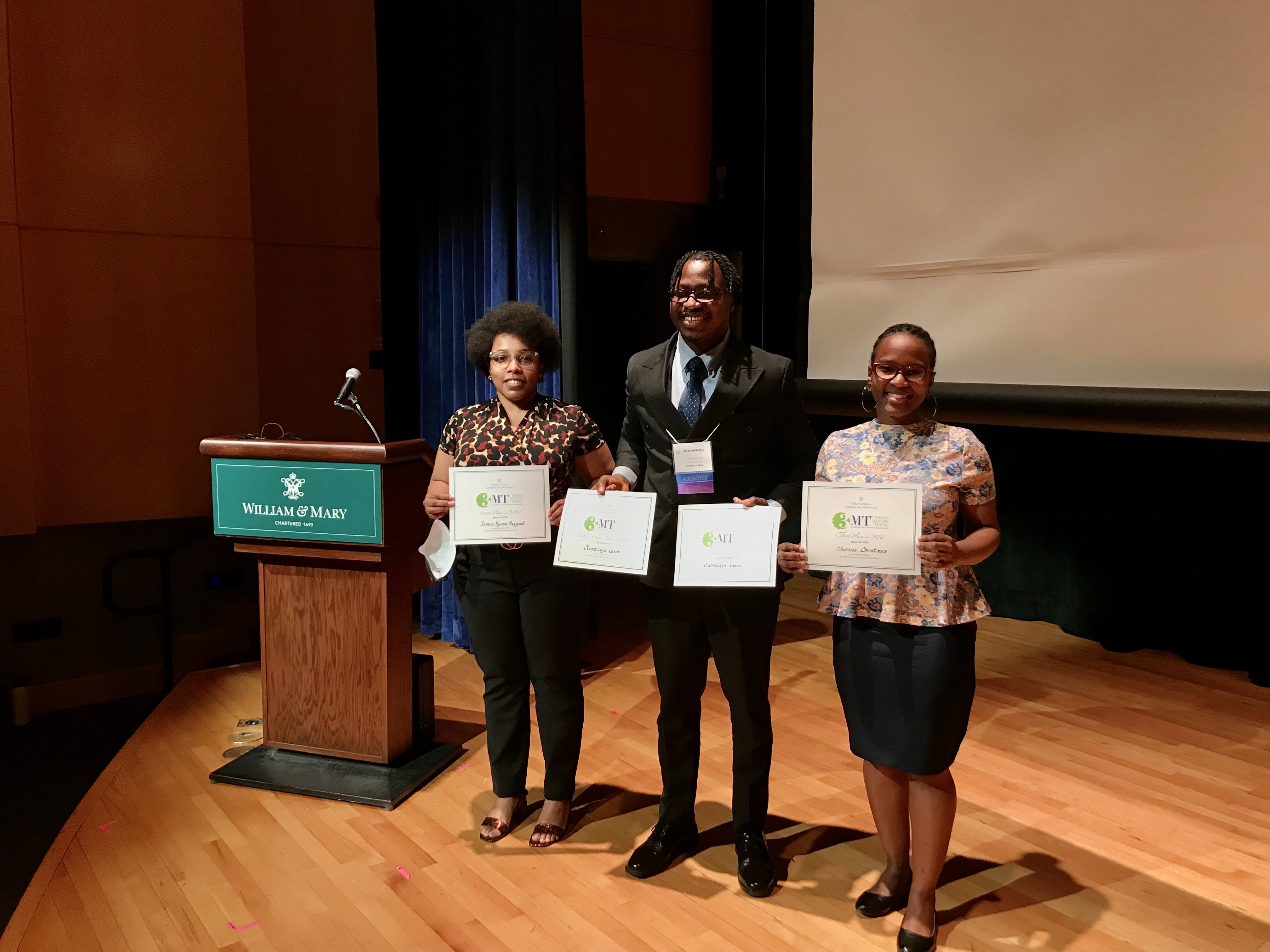 The symposium convened many of the nation's preeminent scholars, but they were in the audience, listening to their students: 18 faculty and "co-educator" staff served as session chairs.  In addition, more than 20 graduate students volunteered to serve as room proctors and to chair honors presentation sessions.  
Tara Vasanth '23, Art History/Environmental Policy, presented on her Honors thesis, which examines biomimicry, how elements and processes in nature are reflected in architecture and engineering. 
"Sharing my year-long research with an audience and getting real-time feedback was so helpful," she said. "I really enjoyed telling people about a topic that was very close to my heart. It was lovely to see so much diverse representation from W&M's community, and I hope there are more opportunities to connect with graduate students in the future." 


Lily Pope '23, who participated in the undergraduate 3MT-style event, shared her research into labor, unemployment, and the quality of care in Virginia nursing homes.  
"Learning to concisely and convincingly present my thesis findings was invaluable. The comradery between me and my fellow presenters was instant as we all shook in our boots a bit! I plan to attend graduate school at Emory University in the fall, and I felt extremely lucky to be given the same platform as current graduate students."  
"Transformation is at the heart of the symposium," said Elizabeth Harbron, Director of the Charles Center. "It is a forum in which students at all levels can exchange ideas, gain confidence, and make connections that are generative and potentially even life-changing."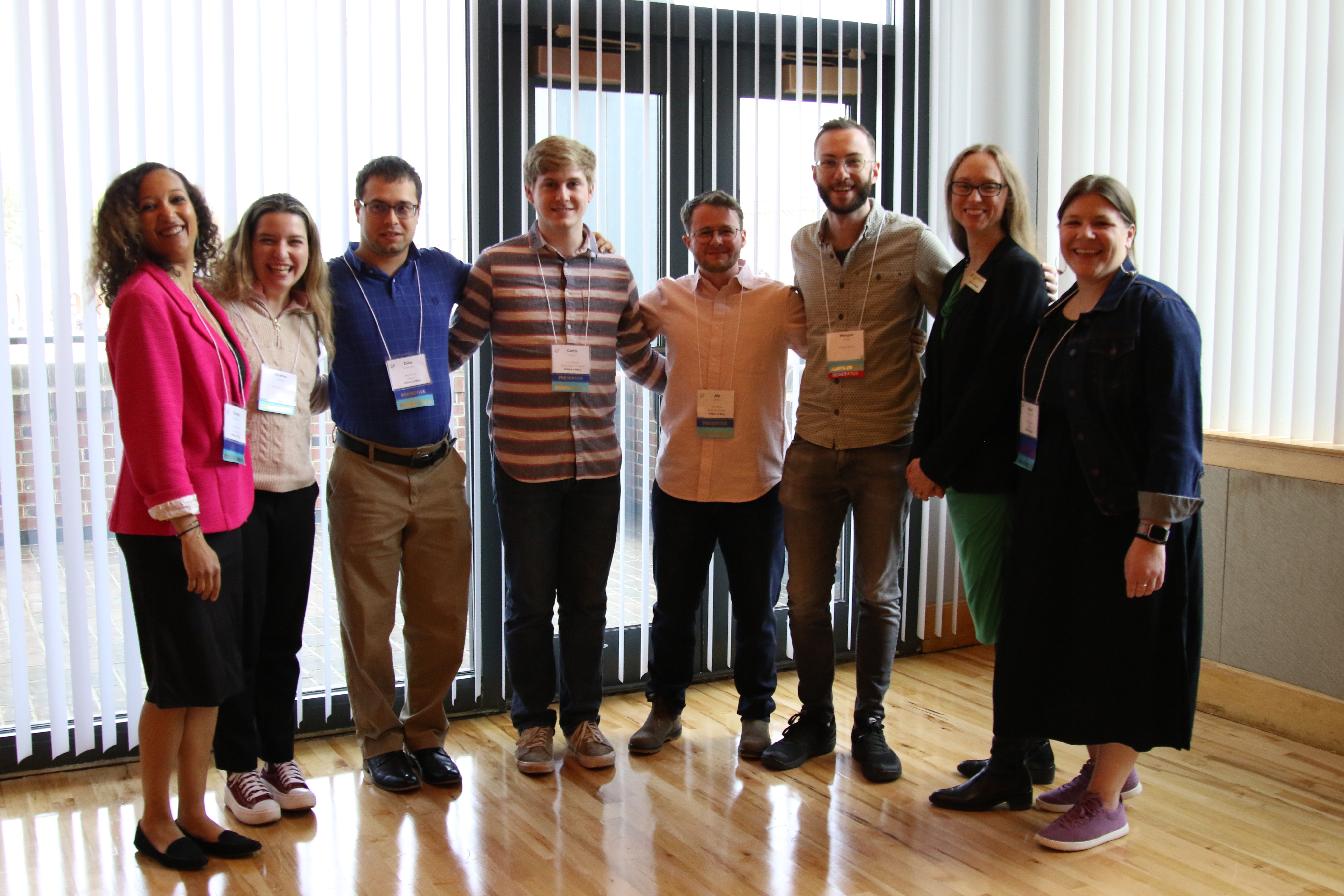 Participants, organizers and supporters alike look forward to the 2024 Graduate and Honors Research Symposium and hope to continue growing the event, highlighting the significant, original research of students at William & Mary and across the Commonwealth.