Everywhere you find humans, you find music - across the globe, and throughout history. At W&M, you can learn to create music as well as place music in the context of the human experience.
The Department of Music offers a B.A. in Music. We teach music through its interrelated subdisciplines:
Music Theory explores the structures and concepts of music.
Musicology researches how music relates to many different fields, including history and the science and technology of making music.
Ethnomusicology puts music in context of culture.
When you study Performance, you experiment with different styles and techniques for making music in front of an audience.
In Composition courses, you will create new music so others can perform it.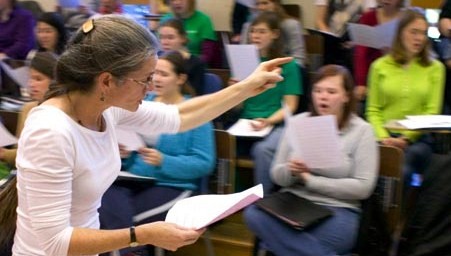 Our department attracts a variety of students. You may be a serious scholar of music and wish to major or minor in the discipline. You might do your own research porject. You can also join us for the joy of performing and listening to music.
Music is a life-enriching activity that should be available to everyone. You do not have to be a major or minor to take music lessons, play in an ensemble, or take introductory academic courses. Our performances are open to everyone, and if you aren't going to join us on stage, we hope to see you in the audience.
Auditions are not required for admittance to the music program at W&M. We do encourage prospective students to include an Arts Submission along with their Common Application, along with a music resume and a statement of intent regarding your participation in the Department of Music's classes, lessons, and ensembles.