Researching Mis/Disinformation Globally: Tom Plant (HISP '22) Receives Fulbright Research Award
Estonia is the next destination of PBK inductee Tom J. Plant (HISP & IR '22).  Thanks to a most prestigious and extremely competitive Fulbright Research Award, Tom, currently an analyst at Valens Global, will spend 9 months designing and analyzing wargames as media literacy for national defense that can serve address the dangers of mis/disinformation as a national security threat.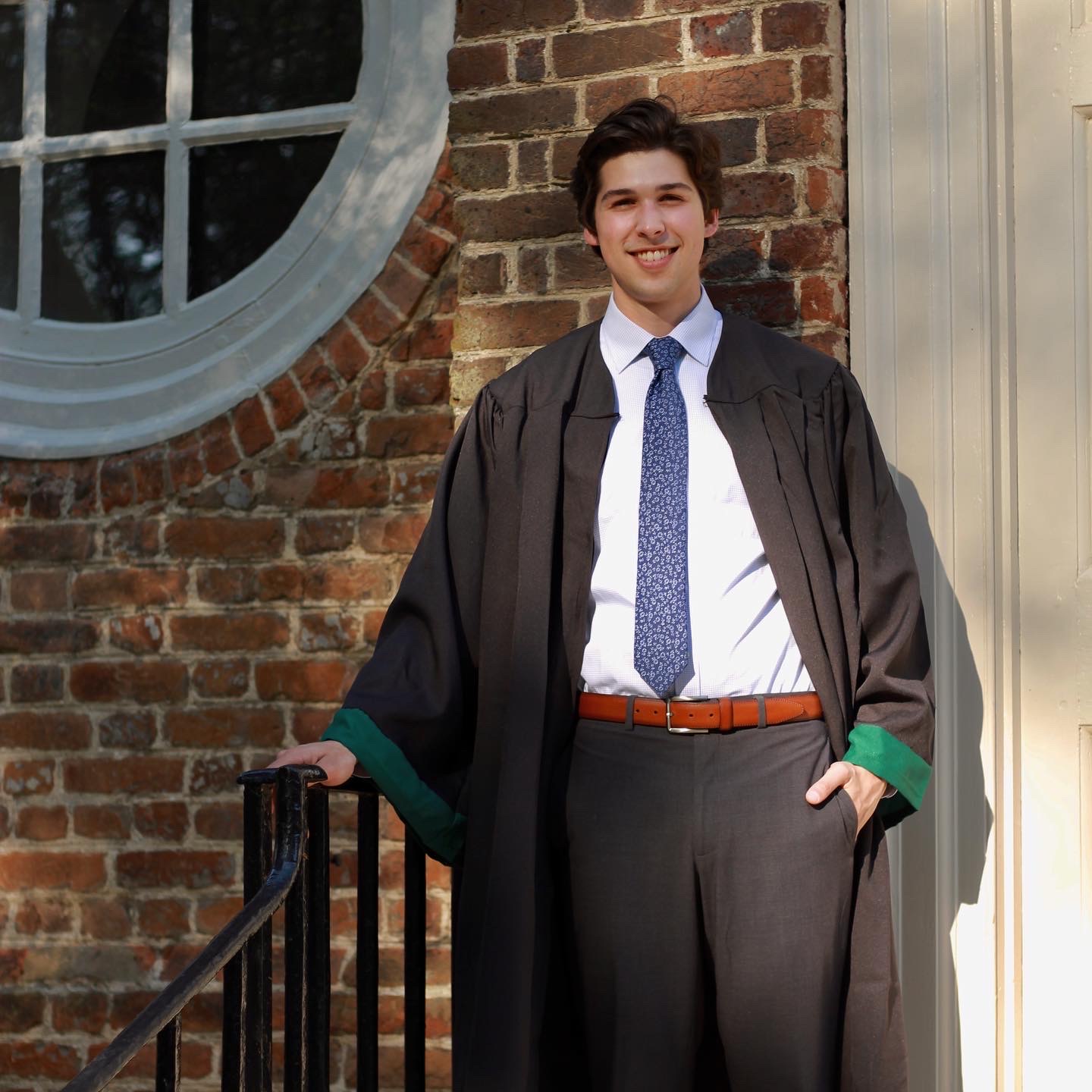 Tom, co-founder of DisinfoLab, a W&M student-led research lab that analyzes disinformation at a global scale, explains his project:

"While in Estonia, my days will be spent researching, writing, and coding for the following project in collaboration with Tallin University of Technology and the NATO Cooperative Cyber Defense Center of Excellence:

"Media literacy wargames are untapped digital education tools that can prepare societies for the ever-increasing threat of mis/disinformation. Broadly defined, wargames are turn-based political simulations where participants act strategically to navigate challenges in an immersive fictional world. However, wargames are limited in their capacity to teach media literacy: most are designed for policymakers or the military, not civilians, and focus on tactics, not education. Moreover, due to constraints on time and technology, wargames often struggle to recreate realistic information environments, like online news, broadcasts, or social media. Therefore, directing wargames that teach media literacy goals to a civilian audience is ripe for interdisciplinary analysis. My Fulbright research proposal seeks to answer two questions: (1) How can Estonian policymakers leverage mis/disinformation wargames to bolster national security by teaching citizens how to evaluate online information? (2) How can AI tools automate information production, breaking ground for novel information-based wargames?

"As anticipated, Spanish is not spoken widely in Estonia. But my experience in the Hispanic Studies department directly prepared me to apply for a Fulbright—no matter the country. My Hispanic Studies professors taught me how to understand different cultures with empathy and appreciate the complexity of historical contexts. The class "Hot, Wet? Cold, Dry?" was a rich case study for approaching a cultural analysis along multiple dimensions—not just the influence of frameworks like science, religion, and social norms, but also the countercurrents that challenged them. I learned a nuanced analytical approach that accounts for the delicate interplay of actions and reactions that are unique to a given time and place.

"These cultural skills will be invaluable as I embark on my Fulbright in Estonia. The ability to communicate across cultural boundaries will be critical in understanding the challenges and opportunities that the Estonian context presents for the design and implementation of these wargames, preparing me to serve as a cultural ambassador for the United States—a key part of the Fulbright mission.

Tom has contributed several pieces to The Diplomatic Courier on AI and disinformation topics.  Tom's research on mis- and dis-information during the rally 'round the flag was honored as undergraduate semifinalist for the prestigious Inman Award (2022), which is offered annually by the Intelligence Studies Project at the University of Texas at Austin.

At W&M, Tom did translation work and helped design an online exhibit of Cuban women in cinema as part of the Cuban Media Project. Tom was also a most valuable Research Assistant to Prof. Terukina as they modernized and annotated selections from several 16th- and 17th- century Hispanic texts for pedagogical use in the classroom.  Tom was also recruited for the highly selective MLL Teaching Internship in foreign language pedagogy and served as an undergraduate Teaching Assistant for the Hispanic Studies program.  Tom's academic achievements were distinguished with the J. Worth Banner Award (2022), given to the rising senior Hispanic Studies major with the highest overall grade point average.  He also received the International Relations Award for Excellence (2022).