Fresh Focus on Media & Japan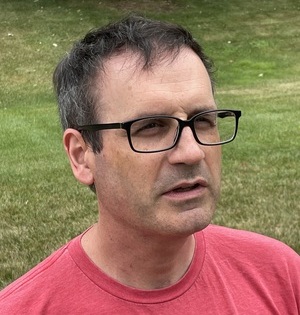 The Japanese Program in the Department of Modern Languages & Literatures is growing! This Fall, Dr. Daniel Johnson joins the program. A specialist in Japanese new media, Dr. Johnson received his PhD from the joint program in Cinema and Media Studies and East Asian Languages and Civilizations at the University of Chicago, in 2015. He has been a faculty fellow for the past three years at New York University, before which he taught for one semester at William & Mary as a visiting professor. We are thrilled to welcome him back on a more permanent basis as an assistant professor.
Dr. Johnson's research interests include contemporary literature, animation theory, game media, gender and media, and media convergence in East Asia. His research has been published in such journals as Japanese Studies, Critical Studies in Television, Journal of Japanese and Korean Cinema, and Games and Culture. He is currently completing a book manuscript entitled, Textual Cacophony: Online Video, Anonymity, and Asynchronicity in Japan.
At William & Mary, Dr. Johnson will teach course on contemporary literature, cinema, and media studies. For Fall 2022, he is introducing a new course, Japanese New Media.
We asked Daniel to introduce himself by identifying some of his favorite things. Read his responses below.
Crazed Fruit (Kurutta Kajitsu). This has become one of my favorite films to teach. It's a youth film from 1956, following two teenage brothers getting into trouble in a seaside resort town as they compete for the affections of the same woman and try to carve their own way through a rapidly transforming Japan. It follows the conventions you might find in stories about youth and rebellion from other parts of the world or from other eras, which I think makes it accessible to students despite the cultural and historical distance. The framing of the brothers' angst and restlessness within the influx of American popular culture (music, fashion, etc.) into Japan during the 'fifties gives it some local specify, but also a bit of a rough edge in staging the drama of growing up alongside the turbulence of a cultural landscape being turned on its head.  
Autumn weather. I was born and raised in the Northeast (New Jersey), so I've always appreciated having distinct seasons. The transition from the heat of the summer into the milder temperatures of the fall is one of my favorite times of the year. The change in color in the leaves is also comforting and nostalgic.   
Chicago. Two baseball teams! I lived in Chicago between 2006 and 2015, which means my time there was sandwiched between a White Sox world series victory in 2005 and the 2016 Cubs. There's also lots of great places to see movies, from Doc Films to the Siskel Center and the Music Box. The pizza is weird. It's been a few years since I've been back, but I have an enduring fondness for the Windy City.   
Stumbling across new music. My taste in music is all over the place, and I tend to go through patches of listening to a particular genre or style and then moving on to something different. Online platforms have made it easier to discover things by accident and fall down the rabbit hole.   
Getting around on foot. I've spent a lot of time in cities like Chicago, New York, Tokyo, and Yokohama, so I'm used to being on foot in order to get from here to there as part of my day-to-day life. It also provides a nice break from being plugged into a screen all of the time.