Blow Memorial Hall
Sharpe Community Scholars Programs
Offices for the Sharpe Community Scholars Program is on the second floor of Blow Memorial Hall within the Charles Center for Academic Excellence.
Driving Directions
Driving directions via Google Maps...
Directions from College Corner
Walk west two blocks on Richmond Road past the President's House and the Wren Building.  Blow Memorial Hall is on the left, fronted by a circular drive.
Parking
Visitors are encouraged to obtain a Visitor Parking Pass, available from Parking Services at 201 Ukrop Drive (next to Adair Hall) or from the circulation desk at Swem Library. With a Visitor Parking Pass, you can park in any campus space designated for visitors, faculty/staff, or students (unless restricted "at all times"); and, if appropriate, at any space reserved for the disabled.
Flight Travel
Three airports are convenient to Williamsburg: Richmond International Airport (RIC), Norfolk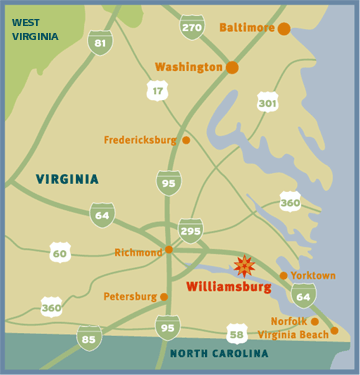 International Airport (ORF), and Newport News/Williamsburg Airport (PHF). Richmond and Norfolk are each about an hour from the College by car; Newport News is about 40 minutes. Keep in mind that there is a tunnel between Norfolk and Williamsburg, which can sometimes cause traffic delays. All airports offer shuttle service to Williamsburg and the College.
Train Travel
Amtrak offers train service to Williamsburg and can be a convenient way to travel from the northeast corridor. The station is about a fifteen-minute walk from College Corner.