New REACH program offers W&M students strong biomedical research experience
In cancer treatment, the end goal is to cure or stop the spread of cancer. Four William & Mary students are calling this finish line into question, however, as they study the survivorship period in cancer patients through the Research Experience in All-around Cardiac Health program, otherwise known as REACH.
REACH was established with donor funding in 2020 as a collaboration between W&M's Charles Center and the Pauley Heart Center at Virginia Commonwealth University. With funding and support from mentors at VCU, students in the REACH program are contributing to a new and critical gap in cancer research.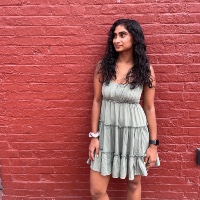 "Cardiovascular disease is one of, if not the most, deadly issues for people after they survive cancer," said one of the student researchers, Suditi Shyamsunder ('23). Another student researcher, Suhas Suddala ('22), echoed Shyamsunder, adding that either the treatment or the cancer hurts the heart, and this research is the first step in discovering interventions to stop that trend. 
Suddala and Leila Mabudian ('21), are studying the effects of chemotherapy on survivors' bodies. Suddala is studying the treatment's impact on the stiffness of patients' aorta arteries, and Mabudian is looking into abdominal fat in pre- and post-menopausal women. Shyamsunder, on the other hand, is building statistical models to predict the likelihood that a particular patient will be diagnosed with cardiovascular disease after undergoing chemotherapy.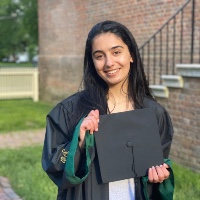 Carlos Noel's ('23) research looks not only at heart health in black cancer survivors but at quality of life, too. He has developed a cross-sectional survey to measure how factors, including heart health, depression, perceived discrimination, quality of communication with medical professionals, and measures of self-care interact with race, gender, and income. 
"In general there is not a lot of knowledge about how cancer survivors are practicing self-care. But even within literature that we do have, a lot of it is based on white patients or just a general approach to cancer survivors. I think it's important to pick apart 'survivors' and recognize that race does impact how people are practicing that survivorship; race does impact how people are able to interact with their providers, and the trust they have in medicine," he explained. 
The REACH program lasts at least one year, but students may stay on for two. The goal is to complete a full scale, professional level research project with a mentor from VCU Health, generating a deliverable product such as a published article in an accredited medical journal. Of the six students from the inaugural REACH class, four continued for a second summer in 2021, and at least two of these students are working on or have completed honors theses from that research. Of the seven new students in the second REACH class, almost all are continuing their studies this semester and five are considering returning in summer 2022. 
Dan Cristol, Chancellor Professor of Biology and Director of Undergraduate Research, noted that "this level of satisfaction and perseverance with research projects is very high and bodes really well for this novel program, especially given that it was designed to be an in-person research experience but was entirely virtual in its first two years due to COVID-19." 
Greg Hundley, Director of the Pauley Heart Center at VCU in Richmond, states, "Here at VCU, we feel it is of paramount importance to create opportunities for the next generation of scientists to gain exposure to cardiovascular research. Cardiovascular disease is the primary cause of death for individuals world-wide. It will take creative minds in the areas of basic, clinical, social, computer, and engineering sciences to combat this disease. This program is designed to afford students with on-hands experience in these disciplines. Also, when on site rotations are resumed, students will be allowed to work and gain exposure to clinical cardiovascular medicine across a variety of settings within the health center." 
All four students cited the professional nature of REACH, as well as its strong mentorship aspect, as what sets it apart from other research opportunities at William & Mary. The program involves a preparatory course at W&M in the spring semester, 10 weeks of summer research with a VCU cardiovascular health researcher in the summer, and then a follow-up course at W&M in the Fall. 
"REACH throws you into the deep end," Suddula said. 
Students in REACH conduct independent research projects which will have real and immediate consequences on the medical field. This deep dive into complex, understudied issues is difficult yet rewarding. Shyamsunder described working with real data as one of the greatest challenges she faced. In classes, she had only worked with idealized data. When she began her work with REACH, she confronted an enormous and messy dataset. 
Noel and Mabudian noted that, unlike other research labs they have participated in, the REACH program exposes students to the communications side of research. "Medicine is a STEM-oriented field on the surface, but the majority of it is interaction," Noel explained.  
REACH finds an equilibrium between independence and mentorship. Mabudian graduated from W&M in the Spring of 2021 but continues to work with her REACH mentor, Dr. Greg Hundley ('84). 
"The mentors are all extremely dedicated. It's not like they're holding your hand through the project," she explained. Rather, "the REACH program allows you to collaborate with your mentor, see where your interests intersect, and create a project you feel passionate about and want to pursue."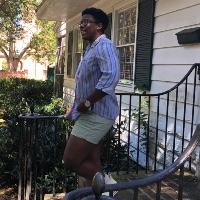 Mabudian is not the only student who has continued to pursue the work she started in REACH. The program has helped Noel articulate one of the reasons he would like to go into medicine, advocating for the LGBTQ+ and BIPOC communities. Noel began the REACH program early in the pandemic, and as the Black Lives Matter movement and George Floyd's murder were at the forefront of Americans' attention. Noel became interested in how systemic racism is woven into health. He chose a research topic which would address the subject, and a few months later he switched majors and designed his own, naming it "Social Justice in Medicine." 
REACH is a young program, yet its lasting impacts are already visible. "For anyone looking into the REACH program, it's probably one of the best choices I've made and one of the best research choices you can make at William & Mary," Suddala said. "With independence, longevity, and mentorship you get very much ahead of what an undergraduate can typically accomplish. It seems daunting, because it is a two-year process, but it's definitely worth it." 
A call for applications to the REACH program will be issued later this semester by the Charles Center.