Despite COVID, some undergraduate researchers able to carry out hybrid projects
Since the middle of the spring semester, safety protocols related to COVID-19 have imposed severe restrictions on lab access at William & Mary, rendering many research initiatives remote. Fortunately, some exceptionally dedicated scholars — Naya Burrow '23, Michelle Yue '23 and Jasmine Whelan '22 — found ways to optimize their research time this summer, commuting to their labs once it was deemed safe, while also producing high-quality research from home.

While all three students pursued STEM-focused research in the Integrated Science Center, each of their individual projects followed its own unique timeline, focus and blend of remote and in-person research. Burrow, a biology and chemistry student with a Charles Center summer research grant, initially planned to spend the summer developing new chemical reactions to prepare novel protein-based therapeutic agents against cancer, a task that necessitated extensive usage of campus lab facilities.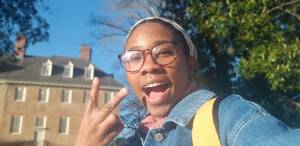 When lab access became tenuous, Burrow worked with her adviser, Chemistry Associate Professor Doug Young, to supplement her research experience by reading more academic papers, learning more about lab protocols through remote links, and collaborating with other lab members over Zoom. Having the time to read articles that established the foundations of her research questions helped Burrow gain deeper understanding of the work she hoped to pursue in the lab. This proved vastly helpful when she finally gained access to ISC during the latter portion of her summer.

"Doug had us reading literature research papers, and one of the papers that he assigned me actually allowed us to optimize one of our synthesis reactions," Burrow said.
 
Eventually, Burrow was approved to commute to campus and pursue part-time lab work, driving from her home an hour away in Chesapeake to W&M two or three times each week. Getting into the lab after it had been vacant for several months required a good amount of housekeeping — particularly with preparing fresh chemicals and reactants — but Burrow was thrilled to start working on the project that she'd spent weeks preparing for remotely. Her effective combination of online preparation and in-person activity ultimately piqued Burrow's interest in pursuing future research and helped shape her potential post-graduation plan.
 
"I was thinking of either entering medical school or pharmacy school after undergrad, and now I'm leaning more towards pharmacy school, because it's more related to what I'm doing in lab, and I really enjoy what I do," Burrow said.
Naya's mentor, Professor Young, said this summer's challenges fomented greater preparation that allowed for deepened engagement in the lab.

"[The summer] initially posed a challenge to the traditional research we often do in the STEM fields, but it really provided a unique opportunity to increase the depth of knowledge the students have prior to physically entering the lab," Young said.

Young said that restrictions related to COVID-19 specifically led to a higher level of preparation, the ability to more effectively troubleshoot experiments, and an overall richer experience in the laboratory.
"Naya is a great example of a student who flourished under unique circumstances and consequently will perform some very innovative research in the next few years," Young said.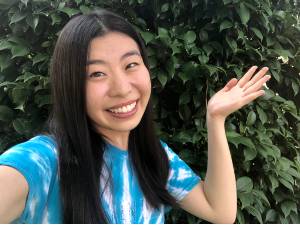 Like Burrow, Michelle Yue also spent her summer pursuing a hybrid project, studying the all-important calcium activity in developing frog embryos, which regulates nervous system growth. Yue had already developed and 3D-printed a biomechanical device that stimulates calcium in the embryonic cells. Funded by her mentor, Biology Professor Margaret Saha's grant from the National Institutes of Health, Yue sub-let an apartment for five weeks to allow access to the lab despite the pandemic. For the first week, Yue worked from home to familiarize herself with the theoretical background of her study. Fortunately, she was able to spend four weeks in the lab, going in almost every day, albeit with many restrictions in place to ensure safety. For the rest of the summer Yue worked from home again, learning and performing data analysis on calcium activity in the amphibian embryo model system that she will likely be studying for several more years.

While she felt it was occasionally challenging to navigate her research without the camaraderie usually present in a lab setting, Yue was able to pursue a myriad of different lab activities that might normally have been covered by others, including caring for the animals used in her experiments, housekeeping and conducting experimental trials. Even more constructive was Yue's close relationship with her mentor, which was fostered through Zoom and other remote instructional technologies. Throughout her summer experience, Yue gleaned the importance of flexibility and resilience during the research process.

"I had to figure out how to solve problems along the way, and that took a lot of energy and time, but it's definitely worth it because the knowledge we're going to get out of the research is valuable and helpful," Yue said.

Saha said that Yue demonstrated clear talent throughout her summer work, even under the difficult circumstances.

"Michelle did not let Covid-19 interfere with her passion and dedication to research. When she had to work remotely, she read the literature, continued to improve her designs, and mastered new computational  techniques.  Impressively, undeterred, she flexibly navigated the Covid-19 situation in a way that resulted in a really productive summer," Saha said.
Jasmine Whelan, a Charles Center summer research grant recipient, faced similar challenges adjusting her project in the wake of COVID-19 restrictions. Fortunately, she was successful in creating some new knowledge about her specific field of interest: avian ecotoxicology in the lab of Biology Professor Dan Cristol.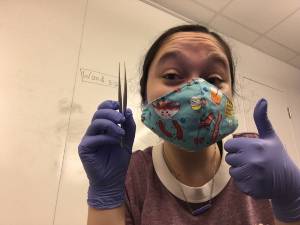 Whelan expanded upon research she pursued during the 2019-20 academic year, working closely with master's student Casey McLaughlin to study feather samples from domesticated zebra finches bred for research. She helped run trials administering four different experimental treatments, which sought to test the effects of mild mercury toxicity, equivalent to eating tuna, and stress from irregular feeding routines on the birds' feather quality and color. Her specific project focused on feather brightness, an important characteristic in attracting mates and communicating between birds.
Cristol expressed relief that one of his research students was able to gather data in the lab this summer despite the serious restrictions on campus access.

"Jasmine lived close enough and has an adventurous spirit, so she was the ideal candidate for a hybrid research experience," Cristol noted.

At the beginning of her seven-week project, Whelan's first steps were just like Burrow's and Yue's — she spent extensive time combing through academic papers relating to her research in preparation for traveling into the lab later that summer when safety protocols had been worked out. She also reviewed previous feather sample data and experimented with learning the program 'R,' which assisted her in statistically analyzing her results. This level of preparation before entering the lab is unusual, and allowed Whelan to hit the ground running and approach her data gathering with great intentionality.

By mid-summer, Whelan gained access to her lab, conducting different measurements with the feathers while continuing to meet over Zoom with her colleagues. Her research proved fruitful, and she said her results indicated that birds that had been administered mercury displayed substantially decreased feather brightness — a valuable research finding augmenting previous research, which has also demonstrated mercury pollution's detrimental effects on bird health and behavior.
 
Despite COVID-19, Whelan said that her summer research experience was a productive one that taught her to be creative and patient, helpful for future academic pursuits, as well as additional research endeavors at William & Mary and in graduate school.

"It really helped me to know that I like the research and the research method, so I'm thinking about possibly doing research, not with birds, but with other animals" such as marine mammals in the future, Whelan said.