Species in this area are planted generally from the east side of Ewell Hall on east to the Wren Courtyard wall. A central feature is the huge American Elm (Ulmus americana) dominating this space.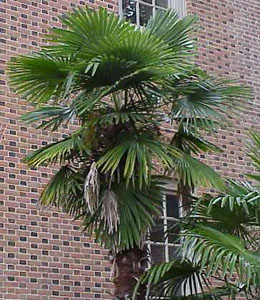 The protected niche formed by Ewell Hall (and warmed by the College's underground steam tunnels) shelters a verdant alley of hybrid hollies (a cross of Ilex cornuta and Ilex pernyi) and two Windmill Palms (Trachycarpus fortunei). The palms, like the Corktree at Washington Hall, usually are found only as far north as South Carolina. Recognizing Williamsburg's unique climate and the possibility of locating plants in tailored microclimates, Professor Baldwin achieved great success with many unlikely exotic varieties.
The area alongside the Wren Courtyard wall is planted in Boxwood of many types. Some varieties represented here include Curly-Locks Boxwood (Buxus microphylla 'curly-locks'), Hardwick Boxwood (Buxus sempervirens 'hardwickensis'), Littleleaf Boxwood (Buxus microphylla), Harlands Boxwood (Buxus harlandi), and Vardar Valley Boxwood (Buxus sempervirens 'Vardar Valley').