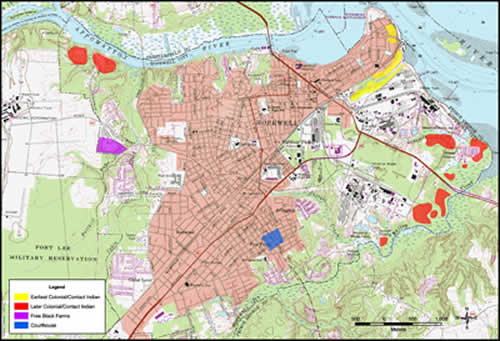 The City of Hopewell, Virginia can boast an extraordinary history, having been the site of events of worldwide significance. Among them are episodes in the English colonization of the New World and the close of the American Civil War. Less known, but important in their own right, are a long record of prehistoric, Native American occupation and a notable period of early twentieth-century industrial development. These stories are chronicled to varying degrees in local histories, but much of the story from the earlier periods cannot be drawn from documentary sources. Also, entire segments of society like Indians and African-Americans, regardless of time period, are especially underrepresented in the written records. It is for this reason that archaeology is essential for planning how to interpret, protect, and develop the historical potential of Hopewell.
This long-term plan provides for evaluating and managing archaeological resources within the limits of Hopewell. It takes into account findings of recent work by William & Mary, written histories, and sparse records of archaeology carried out by others. But most importantly, we seek to account for local interests as expressed by city officials, the Historic Hopewell Foundation, and residents, plus we try to anticipate interests of the National Park Service. What we propose is also intended to be practical and realistic. The perspective is relatively long-term so that the process can be an incremental one, allowing for refinements based both on new findings and evolving local priorities.
Archaeology for its own sake can be interesting, but it will bring considerably more to the community if carried out under a set of explicit, relevant goals. In this case, it is assumed that archaeology is best applied if (1) the results enhance the image and tourist economy of Hopewell, (2) the results contribute to a clearer sense of place and foster pride in the city's extraordinary human past, and (3) the information is used for historic preservation planning. Also, the upcoming 2007 observance of the founding of Jamestown is a prominent event for which Hopewell's history has some relevance.