Fabric of Life in a Southern Mill Town
Fabric of Life in a Southern Mill Town
Archaeology of Mill House Lots Near the Main Street Bridge in Danville, Virginia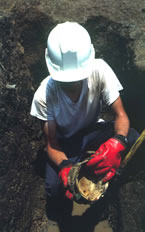 Today Danville's citizens work in an increasing variety of occupations. But not very long ago, millworkers made up most of the city's labor force. In fact, at the start of the twentieth century, Danville had the largest textile industry in the South. Danville's prominence today is largely a product of the men and women who labored in those mills from the late nineteenth century onward. Until the 1950s, most millworkers and their families lived in company-owned housing, both in the well-known planned village called Schoolfield or other less formal neighborhoods like Front Street in North Danville. Though much has been written about Schoolfield and Southern mill towns, history offers us a confused picture of what life was really like for the families who lived there. Between ideal visions of company welfare and more bleak accounts of poor, dependent families, we are left to wonder where the quality of life stood between these two extremes.
One way to learn more about the story of Danville's mill workers is through archaeology. When the rehabilitation of Main Street Bridge was planned, the Virginia Department of Transportation had to consider the impact it would have on historic or archaeological sites. Two significant sites on lots with former mill houses were discovered along Front Street. William & Mary's Center for Archaeological Research was chosen by VDOT to complete the final, most intensive stages of archaeological excavations. Over several decades beginning in the 1890s, mill worker families had left behind archaeological traces of their living conditions in the form of household trash and disturbances in the soil from outhouses, trenches, and foundations. Using this archaeological evidence along with documentary research and recollections of elderly residents, we saw a more vivid picture of what life was life for these key actors in the story of Danville's past.
Sponsored by the Virginia Department of Transportation. Research by the William & Mary Center for Archaeological Research.