CONGRATULATIONS TO OUR SPRING 2023 INITIATES 
| | | |
| --- | --- | --- |
| Lucy Clark Abell | Lucas Keith Hauser | Kiran Saireddy Rachamallu |
| Ryan Michael Anderson | Matthew Eric Hauser | Sayyed Hadi  Razmjo |
| Julia Claire Ashworth | Bennett Fuchida Hawley | Anne Nicole Roman |
| Rachel Maria Batra | Selwyn Swift Heminway | Isabel Arlyn Schreur |
| Jude Joseph Bedessem | Michael Tristan Hurst | Matthew Braden Siroty |
| Nancy M. Cadwallader Beinlich | Aubrey Richard Lay | Aravind  Sreeram |
| Brooke Elizabeth Braden | Rachel  Li | Henry George Stratakis-Allen |
| Avery Claire Bradley | Yining  Li | Catherine Elizabeth Sturner |
| Katarina  Bromkamp | Abigail Ireland Maher | Jianru  Sun |
| Alexandra Munro Byrne | Sreya  Mallipeddi | Avi Kahn Urbach |
| Pinar Banu Caglayan | Caroline Frances McCain | Evelyn  Wang |
| Heather Nicole Christensen | Trinity Monica Myers | Katrine Roderburg Westgaard |
| Xiatian  Chu | Maxwell Henry Nakos | Olivia Anne White |
| Edward William Clarke | Ruby Walker Neisser | Clairice Bomie Wyszynski |
| Ronan Chance Donovan | Marina  Pantner | Yaxi  Xiao |
| Samuel Jacob Freeman | Ryan Mitchell Pesak | Ruoqing  Yao |
| Elizabeth Anne Germain | Elsa Isabella Quillin | Yifan Yuan |
CONGRATULATIONS TO OUR FALL 2022 INITIATES 
| | | |
| --- | --- | --- |
| Paul Conrad Anderson | Madeline Grace Hoffman  | Jordan Monique Shields |
| Balin Alexander Armstrong | Grayson Robert Hoy | Suditi V Shyamsunder |
| Kevin Lamar Bloodworth II | Katherine Elizabeth Hunter | Zoha Yasmin Siddiqui   |
| Jack Hayden Boyd | Anna Lund Kjems | Conor Stephen Sokolowsky |
| Helena Ruth Buckman | Joseph San Lee  | Audrey Elizabeth Thronson  |
| Julia Fuli Butler | Jiakun Li | Abigail Elizabeth Varricchio   |
| Emma Bartlett Capaldi | Xiuyu Li  | Tara Vasanth |
| Katherine Elizabeth Clark | Emilio Alfred Luz-Ricca | Aaraj Devyansh Vij |
| Alton Coston III | Zhuorong Mao | Sarah Marie Villadelgado |
| Kailai Cui | Luke Antonio Mrini     | Kathryn Mullen Webb |
| Caroline Rebecca Donovan | Nandhini Nallamotu | Robert Maxwell West |
| Mackenzie Alexandra Fergus | William Carlos Noel II | Logan Bryce Wolf |
| Ivana Sylvia Genov | Sophie Wen Ying Pittaluga | Aliia Woodworth   |
| Rini Majumdar Gupta | Yuxin Qin   | Michelle Yue |
| Clare Elizabeth Heinbaugh | Philip Nicholas Schowitz | Bilen Kifle Zerie  |
| Emma Davis Herber | Sam Shen | Yang Zhang |
| | | Brian David Zhao |
CONGRATULATIONS TO OUR SPRING 2022 INITIATES 
| | | |
| --- | --- | --- |
| Isabel Rose Agostino | Claire Alice Hogan | Julia Xinchen Qiao |
| Yunhong  Bao | Sidonie  Rose | Alexis Abigail Reece |
| Russell Carter Beisswanger | Jarvis  Hua | Georgiana Schaeffer Reece |
| Andrés E. Bencomo-Magaña | Taiana Jalia James | Laura Alice Jennifer Reitze |
| Benjamin Clark Bowles | Alexandra Elizabeth Johnson | Tyler  Schroeder |
| Caroline Mae Brickley | Jared Wesley Jones | Vasiliki E Shinas |
| Sofia Camryn Brown | Saloni  Kapila | Mark Joel Smith |
| Gordon Crouse | Kathryn Grace Kowalski | Daniel Redmand Speer |
| Mattie Zebidel Diarra | Boyang  Li | Kirsten Mary Sweigart |
| Caileigh Britt Dintino | Abby Reiko Matusek | Charles Jiaming Wang |
| Clara Alice Finley | Molly Grace McCarthy Flood | Thomas  Wang |
| Seth Aaron Gnesin | Lauren Nicole Miller | Annemarie Carlan Wolf |
| Matthew Thomas Grayson | Sophia Christina Morakis | Matthew Garrison Wright |
| Lauren Alexandra Grob | Samantha Grace Murphy | Lexie  Wu |
| Grace Noel Helmick | Joshua N. Maddox Otten | Jacob  Yang |
| Austin Alexander Hillebrandt | Thomas Joseph Plant | Tiffany  Zheng |
| | | Yuchen Zhou |
CONGRATULATIONS TO OUR FALL 2021 INITIATES
| | | |
| --- | --- | --- |
| Annika Marie Allen | Laura Rose Grove | Owen Samuel Peck |
| Anneliese D. Brei | Madeleine R. Havranek | Xianglu Peng |
| Jeannine Brokaw | Madeline S. Helfer | Hunter Allen Phillips |
| Camryn Colette Claude | Jackson James Howell | Gwyneth Lacy Pudner |
| Abby Eleanor Comey | Miranda Lee Huffer | Sania Shahid |
| Jana Elise Considine | Mikayla Rose Huffman | Merielyn G. Sher |
| Meaghan F. Corcoran | Augustin R. Kalytiak-Davis | Pablo Adrian Solano |
| Gabrielle M. DeBelen | Sydney Michaela Kennedy | Samantha D. Sorid |
| Lee Frank-DePue | Jiahui Li | Solene Meyevi Sossah |
| Titouan Baptist Duston  | Kunyang Li | Yiwen Sun |
| Luke Iacovoni Ekdahl | Yuqiao Li | Emily Rose Topness |
| Benjamin R. Epley | Jason Lin | Rebecca Grace Topness |
| Rory Jack Fedorochko | Lauren Nicole Miller | Benjamin Daniel Travis |
| Julia Savoca Gibson | Kara Morien | Anisha Srivasu Vanka |
| Eli Jacob Gnesin | Rithvik Reddy Nalamalapu | Yangchen Ye |
| Lucy Arin Greenman | Qian Niu | Sumie Aileen Yotsukura |
| | | Yinuo Zhang |
  CONGRATULATIONS TO OUR SPRING 2021 INITIATES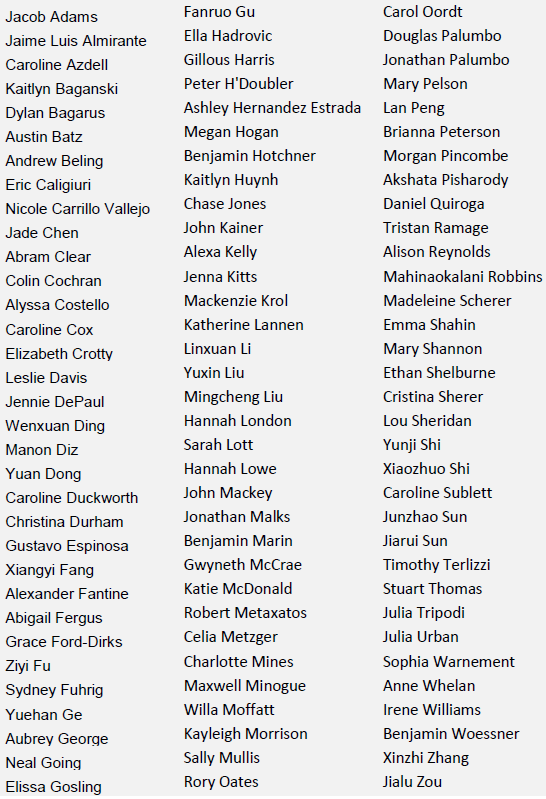 CONGRATULATIONS TO OUR SPRING 2020 INITIATES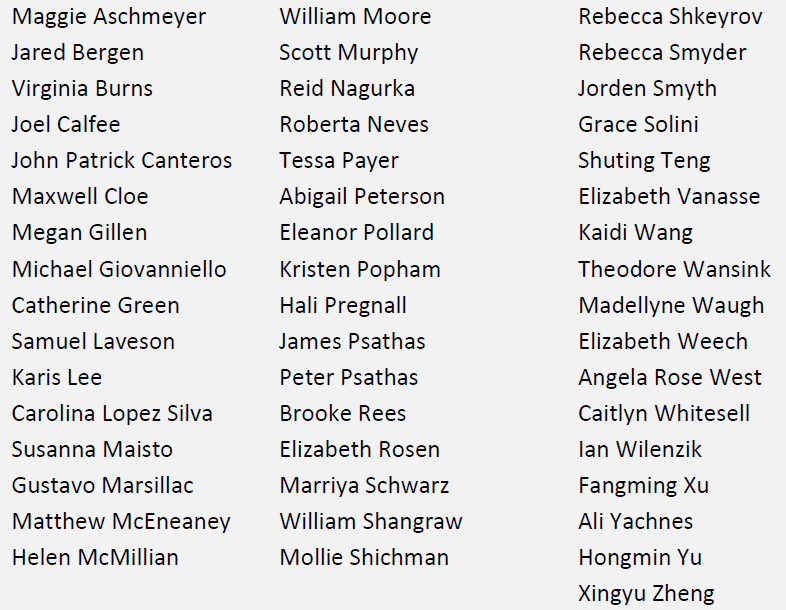 CONGRATULATIONS TO OUR FALL 2019 INITIATES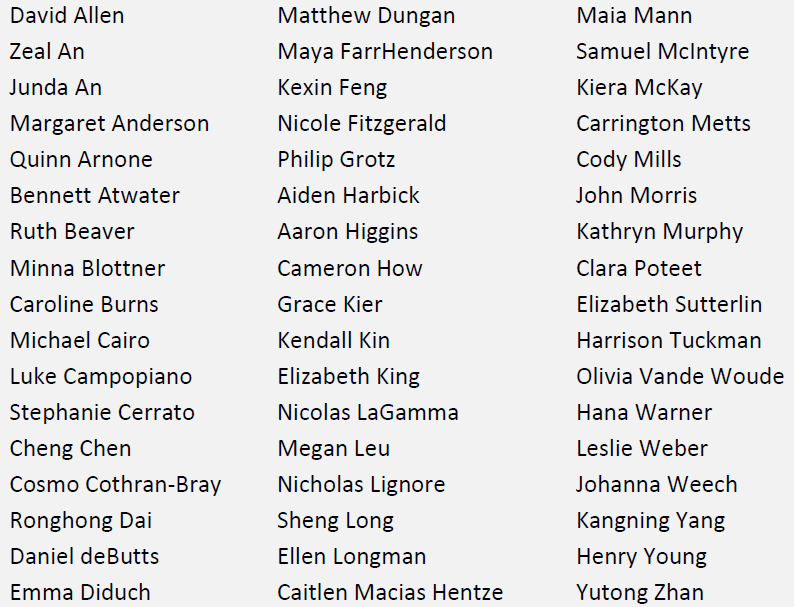 Remarks from Olivia Vande Woude , student respondent, on December 5, 2019
Remarks from Dr. Jacqueline McLendon , banquet keynote speaker, on December 5, 2019
CONGRATULATIONS TO OUR SPRING 2019 INITIATES
Caroline P Abbott




Matthew S Baker




Lauren A Bauer




Joseph A Bistransky




Michael A Chene




Ellen R Chinn




Erin G Eichenberger




Joanne C Ensley




Hannah Ferster




Christine C Folks




Benjamin N Fox




Gisela Fuentes-Amaya




Madison Q Gaetano




Elizabeth Gallary




Florence E Glynn




Allison F Greenday

Anna E Hamel




Zeyi Han




Zhenyu Han




Sophia C Harris




Alexis Jenkins




Deborah E Kornblut




William R Lake




Jessica E Laury




Giovanna L Lesser




Kristyn E Long




Xufan Ma




Sri Harshini Malapati




Sarah A Marksteiner




Keira L McCarthy




Zachary J Meredith




Alexander S Michel

Margaret N Miller




Alexandra T Payne




Noah J Petersen




Thomas J Rubino




Emma L Russell




Jun Shi




Taro Shirakawa




Rachel L Smith




Aaron M Spitler




Indira S Stevens




Rohan Tomer




Christopher R Travis




Juselyn D Tupik




Xiye Wang




Katharine I Williams




Jordan D Wyner




Christina N York
When Prof. Cate-Arries told me I'd been given the privilege of addressing my peers, our professors, and our families at this ceremony, I immediately started thinking through ways to start this talk. My mind latched onto the classic Groucho Marx quote, "I don't want to belong to any club that will accept me as a member."
This certainly isn't true for any of us here today because of the great honor it is to be accepted into the Phi Beta Kappa Society, especially considering that we are the foundational chapter. We are joining the ranks of 17 US Presidents, 40 Supreme Court Justices, 136 Nobel Laureates, and countless other individuals who share our love for the liberal arts.
The liberal arts were originally confined to seven subjects in the Middle Ages because the Book of Proverbs in the Bible says that there were seven pillars in wisdom's house. These subjects were grammar, logic, rhetoric, arithmetic, geometry, music and astronomy, with grammar, rhetoric and logic forming the trivium and arithmetic, geometry, music and astronomy comprising the quadrivium. Since the inception of the liberal arts, the disciplines have diversified from these seven into the many fields of study we see today. Here at William and Mary, our liberal arts education extends to 60 majors, including self-designed majors. Of the 50 of us being initiated today, we represent 45 of those majors.
Phi Beta Kappa is an acronym for Philosophia Biou Kybernētēs, which means "Love of learning (or wisdom) is the guide of life." We have each chosen our niche within the liberal arts because it's what gives us joy and a desire to delve deeper into the subject. It's our joy in learning about our subjects that has led us to them. I'm happiest freezing to death in a tiny Spanish archive deciphering 16th century hand­writing while another of us studies the foreign aid and arms sales to Latin American and another the neuroplasticity in frog model organisms.
However, we must remember that wisdom's house has seven pillars, or in William & Mary's case 60, and to quote another great man, "A house divided against itself cannot stand." Each of our disci­plines has an intrinsic value and the potential to have a positive effect on others. No one subject can claim to be superior or self-sufficient from the others. Rather, the liberal arts are best wielded as arts, not one single art. And I know that interdisciplinarity has been harped on us since day one of orien­ta­tion, but it's because the message is true. We can only reach our full potential when we work together to critically examine concepts and issues from multiple disciplines and perspectives.
And like every generation before us, going back to the original 5 PBK founders and beyond, we are facing difficult issues today in our country. Many are difficult to talk about, but we can bring to bear the tools afforded to us by our education in the liberal arts to look for solutions—rather than letting these issues divide and destroy us.
Progress can be slow, but that should not stop us from pushing through, from talking to each other, and from using our education and empathy towards each other as fellow human beings to find solutions. Use your training in the liberal arts to help push where you see stagnation, lend a helping hand when you see someone struggling, and show kindness where you see hatred. Because if we do stand together as 7 or 60 or however many pillars of the house of the liberal arts, united in our love of learning, there is no obstacle that we cannot overcome.
Alexandra Wingate, '18, Address to Initiates for PBK, December 8, 2017
CONGRATULATIONS TO OUR FALL 2018 INITIATES
Arianna Tara Afsari

John Alexander Ross Almeter

Nathaniel Edward Anderson

Lucia Nohemy Arevalo Garay

Caroline Christine Arnold

Katherine Anne Avery

Valerie Patrice Bambha

Srijan Bhasin

James Atticus Bolyard

Sarah Ann Bottari

Sabrina Esmeralda Bracero

Anne-Katherine Burns

Emilee Lewis Cardin

Melanie Marie Carter

Molly McCarthy Charles

Courtney Elizabeth Check

Eyosyas Wolde Dagnachew

Mason Alexander Davenport

George Robert Denny

Alicia Hana Devereaux

Salma Hani Elsayed-Ali

John Conner Fleming

Sara Ruth Franklin-Gillette

Rebecca Marie Gaborek

Jacopo Gliozzi

Joseph Martin Guy

Sophia Augusta Brown Higgerson

Zhengyang Huang

Ethan MacKenzie Jones

Jacqueline Capitulo Keshner

Rachel Brianna Layko

Benjamin Seth Lazarus

Zichang Liu

Kelsey Caitlyn Llewellyn

Peter Frank Makey

Daniel Jackson McNeil

Alexis Marie Payne

Leah Roemer

Megan Ashley Rouch

Kate Elizabeth Sandberg

Qiuyang Shen

William Mason Siegmund

Connor Nash Simpson

Erik Nathan Stevenson

Jessica Lee Sydnor

Daniel Tay

Robin Grace Thady

Lillian Claire Waddill

Danielle Elizabeth Wallace

Evelyn Claire Williams

Jonathan Aaron Willing

Robert Richard Yancey
CONGRATULATIONS TO OUR SPRING 2018 INITIATES
Kelvin Abrokwa-Johnson

Jaeheung Bae

Andrew Burns

Meagan Cantwell

Margaret Collins

Samuel Dreith

Ivan Echevarria

Alyssa Eversmeyer

Christina Fleckenstein

Dana Florczak

Claire Flynn

Mary Grutta

Sarah Heins

Astraea Howard

Zhuowei Huang

Jung Huh 

Olivia Jameson

Sulleen Kauffman

Jason Kimko

Hyun Lee

Jake Leonard

Shuhan Li

Emma Merrill

Eleanor Morrison

Linyong Nan

Jacob Nelson

Margaret Palms

Meredith Passero

Devon Payne

Vail Prior

Sarah Rodriguez

Ann Rydberg 

Catherine Smith

Jesse Smyth

Amy Squire

Brendan Thomas

Manaswitha Thota

Mary Turgeon

Paige Whitney

Samantha Whitney

Ryan Wilmington

Devon Wolfe

Diana Worthen

Eleanor Worthington

Liang Wu

Shichuan Xi

Yi Zhang

Xin Zou
CONGRATULATIONS TO OUR FALL 2017 INITIATES
Elena Claire Amparo
Laura Hill Anderson
Lydia E Boike
Jessica Amy Campbell
Matthew Joseph Cohen
Karen Lea Coppage
Moussa William Dia
Chen Dong
Rachel Elissa Dubit
Sandra L.G. Edwards-Thro
Aidan Patrick Fielding
Phoebe Nelson Flint
Logan Reece Flurry
Kara Lyn Garvey
Anna Kobacker Gosling
Hannah Rose Gourdie
Jesse Nelson Granger

Erin Lindsay Heald

Danting Jiang
Likhitha Kolla
Peter L Kress
Rebecca LaRayne Lamb
Haley Ann Larson
Yiyang Liu
Yuanchen Lu
Joseph Lawrence Maniaci
Megan Lynn Massa
Ava Crisman McClain
Barrett Joseph Mills
Kevin Michael Nelson
Zachary Michael Nimmo
Rose Hardwick Olwell
Zachary Joseph Oppler
Bailey Marie Orr

Elena Catherine Parcell

Ranjani Parthasarathy
Rachel Sarah Plummer
Genevieve Marie Pugsley
Pedro Francisco Ramos
Elizabeth Miller Ransone
Charith Ratnayake
Isabel Trew Ritrovato
Nicholas Arthur Rudman
Keon Cyrus Shahidi
Nathan Paul Super
Caitlin Anne Taylor
Natalie Elizabeth Louise Walter
Xiaoqing Wan
Hannah Emily Winckler-Olick
Alexandra Elizabeth Wingate
Bezawit Elsabet Yohannes
Bowen Zhang
CONGRATULATIONS TO OUR SPRING 2017 INITIATES
Jacob Renwick Alter

Lyuba  Bolkhovitinov

Priya Maria Jose Brito

Michelle Joanna Brown

Justin Paul Canakis

Jacqueline Tabor Chapman

Lindsay Elizabeth Chatkewitz

Fiona Kathryn Craib

Catherine Michele Crowley

Arya Dahal

Bernadette Marie Deschaine

Tessa Renee Diehl

Meghan Lee Downey

Juliet Gwendolyn Downie

Andrew Stephen Elgin

Nia Ruth Gibson

Stephen Andrew Gurley

Olivia Louise Hajek

Vitaliy  Humenyuk

Zarine Kharazian

Sarah Garnett Kinniburgh

Anna Marie Louisa Klompen

Jessica Elizabeth Lee

Stephanie Elizabeth Levin

Xiaoxue Lin

Maia Pauline Mandel

Kathryn Bernadette McElheny

Cameron I Menchel

Jessica Lynn Raff

Mackenzie L Reilly

Anastasia Zoe Rose Rivera

Alexandra Angelica Rosenberg

Paul Leonard Rowley

Eryn Leigh Sawyer

Nairuti Shastry

Benjamin Shaw

Rachel Elaine Smith

Megan Jane Sonner

Kyhl Gregory Stephen

Marianna Beverly Stepniak

William Alexander Theuer

Elizabeth M Towell

Quentin Joseph Ullrich

Meredith Ann Wolf

Caitlin Elizabeth Womack

Anna Ming Wong

Samuel Yu

Yingzhu Zhang
CONGRATULATIONS TO OUR FALL 2016 INITIATES
Layla Abi-Falah

Matthew Adan

Jessica Armstrong

Kayla Armstrong

Joshua Aurand

Eliot Bacon

Courtney Blackington

Samantha Braver

Brandon Buncher

Yuming Cao

Nathaniel Clemens

Esther Chen

Jack Daus

John Donahue

Shihao Du

Karen Ficenec

Katarina Fleckenstein

Christine Gao

Lindsay Gould

Melissa Guidry

Hayley Hahn

Lauren Hall-Mozingo

John Hoagland

Jessica Joyce

Michael Kopreski

Polly Lauer

Thomas Le

James Leach

John Marken

Marissa Messner

Nathan Owen

Natalee Price

Jasmine Ragoowansi

Rachel Rapp

Matthew Ribar

Daniel Rosenberg

Morgan Sehdev

Liam Shaw

Gabrielle Smith

Barclay Sparrow

Sara Taylor

Cody Turner

Diya Uthappa

Emily Wasek

Colin Weinshenker

Alexander Williams

Xinzi Zhang

Wenqing Zhao

Joshua Zimmt

 

 
CONGRATULATIONS TO OUR SPRING 2016 INITIATES
Julianne Abruzzo
Kyle Aldridge
Noah Brooksher
Alyssa Brown
Michelle Brown
Eve Chase
Esther Chen
Meghan Condlin
Weston Coward
Mitchell Croom
Evan Cunningham
Corynne Dech
Christopher-Hung Do
Matthew Ferry
Sarah Fredrick

Alexander Frey

Claire Gillespie
Alexandra Granato
Reynolds Hahamovitch
Carolyn Hartley
Chantal Houglan
Xiaonan Hu
Collin Jones
Maria Kapral
Emma Kessel
Haomiao Li
Alessandra Liu

Carter Lyon

Theo Majka, '69

Alyssa Melchers
Maxim Miroff

Timothy Nixon

Erin O'Brien
Jackson Olsen
Sarah Perry
Jonathan Rider
Rebecca Schectman
Sarah Schnorrenberg
Chantelle Tait
Abigail Thompson
Abigail Trevor
Nathan Vassey
Benjamin Weingartner
Ellen Whaley
Cheyenne Williams
Jimmy Zhang
Ryan Zito
CONGRATULATIONS TO OUR FALL 2015 INITIATES
Matthew Abel
Isaac Alty
Ashley Bruce
Curtis Commander, Jr
Eamonn deLacy
Samuel Girdzis
Andrew Halleran
Wade Hodson
Olivia Jebb
John Loughton
Kareem Obey
Daniel Perkes
Erin Roberts
Julia Seeley-Hall
Caroline Stone
Rachel Waymack
Eileen Ablondi
Mary Andino
Shannon Callinan
Emma Craige
Kristin Edwards
Caper Gooden
Emily Harmon
Margaret Horning
John Kean
Zhiyao Lu
Joanna Odenthal
Anderson Richardson
Jacob Robins
Jillian Sequeira
John Stuart
April Wilson
Catherine Acio
Haley Bauser
Beatrice Chessman
Jakob Deel
Karl Adryan Flores
Ryan Goss
Duenya Hassan
Constance Hull
Nathan Keithline
Kelly Martins
Janice Park
Kristin Ritchey
George Rudebusch
Molly Smith
Sarah Volz
Kimberly Zamuda
CONGRATULATIONS TO OUR SPRING 2015 INITIATES
Gold A. Adkins

Miranda P. Axworthy

Matthew N. Baker

Julia F. Baum

Clare K. Boczon

Amanda G. Borden

Lauren J. Boulay

Mary E. Case

Sarah L. Caspari

Christian F. Chamberlayne

Elizabeth B. Dabbs

Isabel J. Docampo

Courtney J. Duckworth

Samuel E. Dunham

Marika P. Emanuel

Diana J. Floegel

Sophie C. Goewey

Allison M. Grady

Peter  Hansen

Christopher R. Haufe

Tyler A. Jones

Maerna C. Kauffman

Elizabeth M. Kerver

Stephanie L. Kolb

Hitoshi G. Koshiya

Kaitlin A. Kressin

Fei-Pi  Lin

Allyson M. Mateja

Zachary A. McDonnell

Rachael A. Muscatello

Lirsen S. Myrtaj

Aaron B. Ng

Emily T. O'Gorman

Alice E. Perrin

Spencer H. Pigg

William M. Plews-Ogan

Sarah B. Rabin

Kelsey E. Renoll

Emma M. Rodvien

Greta L. Schneider

Rachel M. Sillcox

Sara V. Suarez

Kyle J. Titlow

Alana E. Toabe

Robert B. Torrence

Mary Frances V. Walsh

Timothy W. Wright
CONGRATULATIONS TO OUR FALL 2014 INITIATES
Jacob Ryan Abrams

Tyler Brendan Bembenek

William Frederick Bergan

James Christopher Bieron

Elisabeth Suzanne Bloxam

Joanna Dorothy Borman

Megan Marie Brew

Christopher Alan Buchholz

Jacob Donald Daniels

Daniel Michael Duane

John James Edgar

Nicole Kristen Fitchett

Rebecca Carlson Fulp-Eickstaedt

Madeline Harrison Grimm

Michael Thomas Hibshman

Michelle Hoon-Starr

Rachel Jordan Hyneman

Lauren Theresa Jean

Taylor Kate Lain

Maren Kimi Leibowitz

Catherine Faye Mahoney

Johnathan Charles Maza

Matthew Lee Mendonca

Carly Ellen O'Connell

Julia Joyce O'Connell

Joseph Carl Palame

Naomi Jennifer Parr

Jackson Jon Peterson

Samuel Jacob Pressler

Laura Elizabeth Pugh

Benjamin Kirby Raliski

Alison Curran Roberts

Tanner Michael Russo

Edmund Yam Saw

Taylor Kathleen Schwabe

Anuraag Sensharma

Ellen Catherine Shaffrey

Carolyn Ann Shira

Morgan Grace Silvers

David Andrew Specht

Matthew James Stephens

John Edward Stuart

Stephanie Nicole Till

Hannah Knox Tucker

Catherine Frances Wise

Leila Sophie Zadeh
CONGRATULATIONS TO OUR SPRING 2014 INITIATES
| | | |
| --- | --- | --- |
| Colleen Marie Betti | Rachel Doty Heideman | Blakely Elizabeth Mulder |
| Aslyn Amber Blohm | Robert Preston Heinlein | Samantha Logan O'Neal |
| Catherine Alyssa Brahe | Patrick David Jenkins | Alana Frances Ogata |
| Michelle Lauren Camp | Maryam Ismail Kanna | Eleanor Anne Pace |
| Daniel Court Casey | Dilara Kiran | Grace Amelia Perkins |
| Taylor Anne Charest | Jeffrey Standish Knox | Amy Natanya Schaffman |
| Gannon Patrick Connor | Matthew Scott Litovitz | Meha Semwal |
| Jake Arthur Douglas | Gabriel Francis Manion | William Haig Smith |
| Wesley Vaughan Dunnavant | Hannah Elizabeth Mayhew | Meagan Quianna Smith |
| Taylor Nicole Feenstra | Elisabeth Cole McConnell | Rachel Charlotte Taverner |
| Katherine Anne Fleming | Kathryn Lynn McLane | Ryan Russell Warsing |
| Geoffrey Thomas Geberth | Anne Caitlin Mennen | Danielle Morgan Weber |
| Phillip James Goodling | Catherine Irene Mitchell | Ethan Sanders Winter |
| Alexandra Rose Hartley | Bryan Starrett Monroe | Deborah L. Wood |
| Dana Elizabeth Hayes | Christina Susanne Moore | Alexandra Hyejoo Yoon |
CONGRATULATIONS TO OUR FALL 2013 INITIATES 
| | | |
| --- | --- | --- |
| Michael Thomas Aiken | Elisa Rauch Ballschneider | John Stewart Banks |
| Ling Anne Beisecker | Meredith Celeste Boulos | Gregory John Callaghan |
| Stephen Philip Cameron | Joseph Gallagher Corliss | Robin Kincaid Crigler |
| Crosby Diana Enright | Rachel Elizabeth Faith | Ashley Paige Fidler |
| Sarah Jane Gault | Kristin Regina Giordano | April Michelle Hardy |
| Wendy Alice Herbst | Anna Katherine Hochgraf | Taylor Marie Hodge |
| James Robert Janopaul-Naylor | Samuel Clifford Kennedy | Patrick Lee Keyser |
| Dylan Raphael Kolhoff | Lani Marie Kroese | Rachel Kathryn Lienesch |
| Yvonne Yang Mack | Jaclyn Rose McKenna | Molly Ingle Michie |
| Timothy William Milbourne | John Patrick Mulhall | Samantha Leigh Payne |
| Elizabeth Froom Pelletier | Kevin McCormick Place | Stephen Michael Prifti |
| Ashleigh Kemp Ramos | Gregory Paul Ranzini | Katherine Robinson |
| Ethan Royce Roday | Mohima  Sanyal | Sarah Schuessler |
| Margaret Jones Schwenzfeier | Sarah Price Summers | Corinne Michelle Tucker |
| Rebecca Kameamakama Turner | Elana Kahn Urbach | Natalie Zhen Wong |
| Owen Thomas Yancey | | |
CONGRATULATIONS TO OUR SPRING 2013 INITIATES
| | | |
| --- | --- | --- |
| Katherine Marie Arcement | Fiona Agnes Balestrieri | Holly Nicole Blackburn |
| Jacquelyn Marie Blakes-Hedges | Hannah Hawks Boes | Taylor Michelle Broome |
| Christine Alexandra Camp | Kimberly Ellen Chaney | Alexander George Chartrain |
| Alex James Chinn | Vivian Khershed Cooper | Elizabeth Payne DeBusk |
| Jonathan Vincent Ettinger | Brett Charles Evans | Michelle Lynne Gillespie |
| Jesse David Gumz | Johanna Elise Hribal | Ryan Peter Jiorle |
| Katherine Emily Kaugars | Jeffrey James Kuchan | David Scott Laws |
| Jonathan David Lehman | Jennifer Nicole Maudru | Taylor Kelly Nelms |
| David Renich Newbrander | Allison Lee Oldham | Bruce William Pfirrman |
| Jennifer Melissa Saunders | Lia Rose Servidio | Giedre Stankeviciute |
| Rachel Isadore Steinberg | Anna Kristina Swanson | Mariel Sporn Tavakoli |
| Henry Joseph Ware | Keith Henry Webb | Joanna Kathleen Weeks |
| Katherine Louisa Esteves Wessman | Morgan Rebecca Whittaker | Kyra Alexandra Zemanick |
| Lichenyang Zhou | | |
CONGRATULATIONS TO OUR 2012 WINTER INITIATES

| | | |
| --- | --- | --- |
| Allison Geraldine Baer | Megan Kristine Bentley | Thomas Donald Bettge |
| Matthew Stephen Blum | Katherine Lynn Brown | Laura Michelle Crespo |
| Julia Helene Crowley | Madeleine Rose DeSimone | Laura Rose Faircloth |
| Jonathan Robert Fischer | Gregory Daniel Ginsburg | Jennifer Theresa Giuffrida |
| Daria Alexandrovna Godunova | Kayla Lovejoy Grant | Kiah Hardcastle |
| Elizabeth Iris Hennemuth | David John Hill | Angela Marie Ives |
| Susan Morgan Johns | Patrick Krauss King | Aleina Anne Nicholas Kreider |
| Emily Lynn Loney | Ani-Rae Lovell | Lynn Holden MacPherson |
| Dennis Paul Martin | Rachel Lynn McGuire | Kayla Michelle Miller |
| Corbin Earl Muetterties | Jessica Rose Murray | Arielle An Pak |
| Emily Hannah Pehrsson | Charlotte Burch Platner | Brian Anthony Rabe |
| Jane Katherine Rabinovitz | Kiara Symone Savage | Heidi Marie Scanlon |
| Michael William Schilling | Lindsay Michelle Schleifer | Margaret Carson Scott |
| William Dana Shimer | Rose Kathryn St. Clair | Wesley James Stukenbroeker |
| Seth Joseph Theuerkauf | Amelia Joan Tyler | Michael Matthew Wagner |
| Jennifer Leigh Ware | Joel Thomas White | Gregory Scott Yellen |
CONGRATULATIONS TO OUR 2012 SPRING INITIATES
| | | |
| --- | --- | --- |
| Fasil Alemante | Katelyn Ann Durkin | Margaret Allen Morris |
| Ann Katherine Allen | Ryan James Endorf | Taylor Nicole Mullaney |
| August Christian Anderson | Charles MacRoibie Fliss | Kathleen Printiss Murphy |
| Eva Louise Baker | Brianna Nicole Frentzko | Gabrielle Regina Names |
| Catherine Elizabeth Barth | Maya Lynn Gueron | Jaclyn Dean Penbleton |
| Ryan Joseph Blackwell | Samuel Emerson Harvey | Charles Franklin Phillips IV |
| Andrew James Bouland | Tracy Harwood Jenkins | Kevin Thomas Quinlan |
| Devin Callison Braun | Catherine Shin Hye Kang | Luke Phillip Reding |
| Grace Marie Brennan | Peter McFerron Klicker | Rebekah Celicia Rochte |
| Kacie Lynn Burke | Elena Aleksandrovna Lepekhina | Sarah Ellison Salino |
| Evan Martin Callaway | Brian Thomas Mammarella | Aaron Tyler Savella |
| Kevin James Carey | Cody Blake McClelland | Jacqueline Marie Stykes |
| Mary Elizabeth Cottrell | Shannon Elizabeth Michel | Yuezhu Sun |
| William Lawrence Czaplyski | Jennifer Leigh Mills | Rachel Elizabeth Wallace |
| Robin Lynn Downing | Meagan Kathleen Monahan | Daniel Clarke Yates |
CONGRATULATIONS TO OUR FALL 2011 INITIATES
Robert Dudley Abbott

Nicholas Jacob Bell

Emily Allison Brown

Michael Joseph Cammarata

Sean Christopher Carey

Bridget Marie Carr

Victoria Chung

Alyssa Anne Combs

Ariel Jozef Cukierman

Emily Jo Eklund

Amy Katherine Filipek

Diana Elena Gal

Carly Nicole Guinn

Alexander Gvakharia

Lindsay Jordan Hundley

Stephen John Hurley

Taylor Elizabeth Hurst

Conley Robert Jones

Jesse Taylor Jordan

Ksenija Kapetanivoc

Rebecca Lynn Koenig

Jacob Evan Lassin

Adam Jared Lerner

Emily Marie Matson

Molly Jean McDonough

Christine Angela McLean

Katherine Marie Milberger

Mira Elena Peralta Nair

Hannah Rose Naughton

Eileen Katherine Nenninger

Lindsey Crandol Nicolai

Peggy Joyce Prather

Leksa Viktoria Pravdic

Alice Grace Proia

Nicholas Albert Schmedding

Andrew Magdy Sidhom

Matthew Salvatore Sparacino

Alena Miriam Stern

Austin Michael Strange

Kenay Magdalene Sudler

Jasmine Monique Turner

Tyler Rad Williamson
CONGRATULATIONS TO OUR SPRING 2011 INITIATES
Andrew Thomas Allen
Lisette Marie Armstrong
Roger Wilbur Beaman
Alexander Benjamin Bellah
Katherine Marie Bidinger
Kathryn Laurel Fay
Elizabeth Anne Ferris
Elizabeth Landis Forro
Kelsey Anne French
Matthew Peter Gattuso
Eve Pamela Grice
Mary Katherine Grob
Emma Grace Horton

Edward Wagner Innace
Mark Anjalan Jayanathan

Chelsea Ellen Jenkins

Rachel Margaret Jones
Kristin Emilie Kiel
Brittany Ann Lane
Miriam Leah Loebman
Harrison Joshua Mann
Shmuel  Margolin
Christina Marie McClernon
Maria Kathlene Moy
Maitreyi Dnyanadeep Nagarkar

Mark Pieter Nauta
Benjamin Dwight Norris
Katherine Elizabeth Perkins
Jacob Pike Perkinson
Victoria Paige Pinkston

David James Reed
Courtney Arielle Roberts
Julianne Elizabeth Sicklesteel
Ellen Hutchins Speers
Clare Eileen Stankwitz
Lauren Elizabeth Summers
Margaret Vimont Summers
Jennifer Anne Thorne
Samanthe Elizabeth Tiver
Emily Anne VanDerhoff
Sandra Dianne Wetzel
Dian  Yang
Ingrid Lauren Heiberg
Teresa Elizabeth Ingraham
CONGRATULATIONS TO OUR FALL 2010 INITIATES
Elizabeth Pylant Bransford Allen
Megan Malone Behm
Arwa Faraj Benomran
Kristen Ashely Bishop
William Walker Brannon
Tara Kristen Calloway
Elena Kristan Carey
Francesca Marie Chilcote
Caitlin Skelly Clements
Isabelle Masters Cohen
Larisa Marie Converse
Lindsay Jane Conway
George Albert Cortina
Kevin Christopher Cox

Emily Christine Cunningham
Justin  de Benedictis-Kessner
Brittany Lynn Fulton
Cameron Wells Glenn
Mark Thomas Guerci
Ingrid Lauren Heiberg
Ashley Marie Hoover
Teresa Elizabeth Ingraham
Ashley Elizabeth Ingram
John James Kelly
Robert Frederick Lambert
Brittany Barker Lewis
Monica Joy LoBue
Kendall Margaret Mayer
Samuel David McVane
Allison Jane Mickel
Irene Rebecca Morrison-Moncure
Michelle Rungamirai Munyikwa
Taylor Kaye Porter
Eric David Robinson
Peyton Wells Rose
Michael Ambrose Smith
Olivia Jane Walch
Nicholas Parker Wamsley
Ronald James Wilcox
Vincent James Yannello
Julia Lynn Zamecnik
At each induction, one Initiate is selected to deliver a response on behalf of the students. 
The Winter 2010
address was delivered by Brittany Lynn Fulton, Class of 2011
PBK Response for the Initiates
                  There are many things that I love about the College of William and Mary. One of the best discoveries I've made in my three and a half years here happened a little over a year ago. On a beautiful fall day last year I discovered…the Colonial Williamsburg cider mug. What could be better for a college student than an $11 mug that comes with free refills of delicious apple cider for a whole year? Cider runs quickly replaced coffee dates with all my friends and I have spent many an afternoon strolling down Duke of Gloucester to the Raleigh tavern with my mug in hand.
                  Up until a few weeks ago the Raleigh Tavern was just a place with a bakeshop that could feed my cider addiction. Now the location has taken on a new meaning for me—for it was on December 5, 1776 that Phi Beta Kappa was founded in the Raleigh Tavern. The five students who founded this society demonstrated incredible foresight in forming an organization based on the values of personal freedom, scientific inquiry, liberty of conscience, and creative endeavor. Today we are bestowed with the honor and responsibility of upholding these values as we are initiated into one of the oldest and most prestigious honor societies in the nation. This is not an occasion we should take lightly.
                  Fortunately over the past three years the liberal arts educations we've received have given us the tools necessary to defend the traits Phi Beta Kappa holds dear. As Barbara M. White, the former president of Mills College put it, "The basic purpose of a liberal arts education is to liberate the human being to exercise his or her potential to the fullest." As undergraduates at the College of William and Mary we have been given and taken advantage of so many opportunities which have shaped the young women and men we've become. For me a liberal arts education has allowed me to major in both Psychology and Hispanic Studies while taking classes like Symbolic Logic for fun. It has meant studying abroad twice, spending summers interning at embassies or researching museums, and growing as a leader.  Many of my fellow initiates have had similar experiences during their time here.
                  However, these opportunities just scratch the surface of the significance of a liberal arts education. I asked my fellow initiates the question, "What does a liberal arts education mean to you." The thoughtful responses I received serve as testimonies to the impact the liberal arts have had on us during our undergraduate career. To fellow initiate Allison Mickel, "a liberal arts education provides training in a really unique kind of critical thought…Your brain learns to contort itself, you work your way through intellectual frustrations, you figure out how to assess with a critical eye, but in a way that ultimately breeds tolerance and appreciation for diversity and dissimilarity." For Elena Carey, the liberal arts make her think of a passage from I Am Charlotte Simmons by Tom Wolfe where they are defined as the art of persuasion. Elena loves having a liberal arts education because it's not just about giving students the tools to succeed but also making them question the reasons for their actions and the implications of these actions or inactions in society at large. Megan Behm similarly felt that "a liberal arts education is the first step to becoming valuable citizens and people…It prevents narrow mindedness and singularity of opinion, traits that can only hinder our development as a people."
                  Based on these responses it is clear that each one of us have benefited from the liberal arts educations we've received and are equipped with the tools we will need to succeed. We have honed our critical thinking skills and learned how to problem solve by integrating knowledge from multiple disciplines. We have developed our leadership abilities and opened our minds to new ideas. Most importantly, we have discovered our passions (academic or otherwise) and created visions of brighter futures we plan to work toward. As we prepare to leave the College, whether we go on to become doctors or lawyers, engineers or authors, social workers or scientists, we need to use these visions to overcome the obstacles that await us in the "real world" and to be prepared to defend the liberal arts in each of our respective fields. Today's world is becoming increasingly specialized and with our acceptance of our election to Phi Beta Kappa we accept the responsibility of showing everyone we encounter the advantages of a well rounded liberal arts education. We also accept the challenge to continuously strive for excellence and to incorporate Phi Beta Kappa's motto, "Love of learning is the guide of life" into our lives.
                   Over the next several weeks as we prepare for final exams and the holidays I encourage everyone to go grab coffee from the Daily Grind, or better yet cider from the Raleigh Tavern and take a few moments to reflect on both the accomplishments that brought us here today and the challenges presented to us with this honor. On behalf of the Fall 2010 initiates-in-course I wish to thank all those professors, parents, peers and mentors who helped shape us into the scholars we've become. May we never stop learning from and questioning the world around us. Thank you.
2010 (Spring) Alpha Chapter Initiates
Dina Tarek Abdel-Fattah
Megan Elizabeth Ammirati
Katelyn Faith Andell
Ashley Breanne Barrineau
Nicholas James Belanger
Molly Meredith Blumgart
Elizabeth Marie Brigham
Ashley Elizabeth Butland
Katherine Telfair Canfield
Stephen Wen-Yan Chi
Maurene Ryan Comey
Christopher James Consolino
Abigail Lorraine Cox
Macy Rose Cullison

Brian Patrick Doyle
Adam Miller Farrar
Rachel Ashley Granata
Rebecca Fields Green
Kyle Joseph Grimsley
Andrew Solberg Hampton
Kathryn Kane Hansen
Aaron Paul Herman
Grace Emily Heusner
Katharine Pojeta Hibbs
Kyle Elizabeth Horst
Alexa Jordan Hoyne
Mark Lloyd Johnson

Pamela Rachel Kennedy
Jarrett Wade Knight
Erin Elizabeth Maskell
Samuel Kleiner Meckley
Brendan Patrick Murphy
Weston Thomas Northam
Jennifer Michelle Schindler
Loretta Alexis Scott
James Curtis Staples
Caitlin Margaret Thomas
Daniel James Villarreal
Samuel Wilson Wheeler
Molly Jane Wilcox
Emily Katherine Wilson
2009 (Fall) Alpha Chapter Initiates
Kira Christine Allmann
Rebecca Mikulas Allred
Ellen Claire Anderson
Sarah Elizabeth Argodale
Benjamin Robert Moss Brush
Margaret Anne Clendenen
Carolyn Marie Collier
Christina Marie Davis
Cori Lynn DeSanto
Guy Nathaniel Evans
Maxwell D.T. Faubion
Morgan Gwynneth Figa
Francesca Maria Fornasini
Virginia Hardy Forstall

Emily Catherine Fuhrman
Alexandra Viviann Garafalo
Christopher Robert Hansen
Alexander Joseph Hinnebusch
Meghan Elizabeth Hottel
Charlotte Ruth Ivey
Nihan  Kaya
Joseph Thomas Kessler
Samuel Kennedy Klock
Kevin Patrick Lonabaugh
Jennifer Lynn MacLure
Jacob Allyn Menke
Susan Marie Metallo
Lauren Elizabeth Miller

Andrew Scott Morris
Andrew Carroll Noll
Colton David O'Connor
Brielle Marie Paolini
Laura Elizabeth Parente
Nathaniel Barger Revere
Laura Elizabeth Shoop
Kathryn Bailey Thomson
Sarah Elizabeth Todd
Alisan  VanFleet
Meredith Jane Wachs
Amanda Wren Wagstaff
Anna Jean Wirth
2009 (Spring) Alpha Chapter Initiates
Kristen M. Berberich
Matthew C. Bernier
Michael A. Blaakman
Kwang S. Choi
Kevin T. Chu
Hannah C. Cohen
Rachel E. Fovargue
Adam P. Gattuso
Anna S. Gayek
Kelly K. Hallinger
Alice C. Harman
Sonya L. Hood
James D. Hood
Jennifer M. Huebner

Meghan M. Ingrisano
Andrew E. Jungclaus
Jonna M. Knappenberger
Rebecca H. Koppel
Alison L. Kowalski
Joshua A. Litten
Tara F. Mahoney
Hetal H. Mehta
Dillon E. Niederhut
Sarah G. Nolan
Jason A. Orr
Racquel L. Parra
Andrew L. Peters
Brett W. Rector

Shannon E. Reed
Matthew W. Reges
Elizabeth A. Saari
Vadim  Shneyder
Julia M. Smart
Elizabeth C. Swiatoviak
Bryan J. Terrill
Laura A. Tourtellotte
Suzanne R. Traut
Laura F. Wagstaff
Kimiko S. Warlaumont
Sarah C. Wells
Kathryn L. Wilkerson
Mary E. Zagrobelny
2008 (Fall) Alpha Chapter Initiates
William  Fisher  Ames
Christian  Tyler  Brown Amonson
Sara  Elizabeth  Black
Rebekkah  Alyson  Brown
Kaitlin  Lee  Brunick
Kendall  Elizabeth  Bullock
Nathan  Alan  Burgess
Bryan  White  Callaway
Anne  Margaret  Cox
Sean  Wesley  Dalby
Douglas  Carl  Dean III
Alexander  Fairbanks  Douglas
Benjamin  Sarafine  Fontana
Rebecca  Blythe  French

Lindsay  Gail Gibson
Paul  Thomas  Gottschling
Michael  Spencer  Harper
Gina  Irene  Harrison
Virginia  Kathryn  Irby
Klaudyna  Anna  Kasztelaniec
Jacob  Edwin  Kuperstock
Andrew  Gerard  Leister
Jaime  Elizabeth  Macadangdang
Brian  Joseph  Mahoney
Sarah  Joan  Milam
Salar  Michael  Mohandesi
Kathleen  Elise  Olsen

Sean  Roe  O'Mealia
Chelsea  Leigh  Osborne
Ryen  Christopher  Rasmus
Jake  Oliver  Reeder
Brooklynd  Dawn  Saar
Amy  Elizabeth  Sedivi
Robert  Douglas  Staubs
Mark  Stephen  Streer
Elizabeth  Ann  Sutherland
Carolyn  Elaine  Troha
Jennifer  Leigh  Whitten
Justin  Mark  Winkler
Peter  Montgomery  Zimmerman
Niha  Zubair
2008 (Spring) Alpha Chapter Initiates
Nathaniel Scott Amos
Andrew  Bacher-Hicks
Virginia Hastings Bacon
Elizabeth Mundy Bott
Kathryn Anne Bowman
Stavros Efstratiou Calos
Ben-Alexander Barbier Cassell
Erica Cecilia Chiusano
Courtney Leigh Cox
Amanda Katrin Desper
Phuong Nguyen Dinh
Allison Sarah Finkelstein
Benjamin Daniel Fox
Alexandra Moore Gade

Allyson Aileen Garcia
Joshua Andrew Garstka
Amanda Elizabeth Guthrie
Gretchen Lynn Hannes
Jordan Patterson Howell
Kendall Madison Howes
Terence Edward Imbery
Jennifer Anne Kramer
Paul Franklin Kuenker
Jaime Nicole Latcham
Lindsay Verfaillie Macdonald
Diana Michelle Morelen
Rosalind Freda O'Brien
Amy Marie Pastva
Kimberley Joy Peck
Angela Christine Perkey
Cynthia Sophie Phillips
Austin Lee Pryor
Mary Jeanette Ramsey
Janelle Ann Richardson
John Sedlock Saur
Matthew James Sutton
Kathryn Lee Swanson
Jed Daniel Talvacchia
Michelle Berneice Thibault
Todd William Weaver
Katherine Davila Willson
Jennifer Lynn Wilson
2007 (Fall) Alpha Chapter Initiates
Christopher A. Adams
Blair S. Ashley
Julie C. Barnes
Beth A. Block
Barbara A. Blythe
Kristin A. Boos
Rebecca S. Cohn
Adrianne M. Colton
Kristin K. Corcoran
Kelly M. Creed
Amy L. Dapper
Charlene A. Deming
Oliver C. Ehlinger
Sadie L. Gardner
Connie M. Gibbons
Sarah E. Gowen
John C. Hawley
Zachary D. Hayden
Jennifer A. Hoover
Andrew E. Hughes
Younes Jabbara
Judd W. Kennedy
Jerillyn S. Kent
You Suk Kim
Sarah E. Klotz
Jessica L. Lamont
Olivia R. Lucas
Lauren N. Merrill
Sarah E. Morra
Martha C. Morris
Susannah L. Myers
Ilina V. Nikolova
Christina M. Papageorge
Ashwin Rastogi
Victoria D. Ryan
Evan A. Saltzman
Stephen A. Schworer
Maegen C. Smith
Sarah H. Vogelsong
Michael R. Woolslayer
Andrew S. Zahn
2007 (Spring) Alpha Chapter Initiates
John David Adams
James Robert Adler
Erin Rebecca Alpert
John Frederick Bell
Janelle Elisabeth Billig
Cortney Marie Breitschwerdt
Timothy Justin Brown
Kenneth Michael Bumbaco
Michael Edward Crandol
Erin Ambler Crowder
Naomi Karena Dreyer
Ethan Clark Forrest
Mary Catherine French
Lindsay Marine Fullerton
Nicole Marie Funderburk
Laura Kristin Grandy
Deana Helen Hadley
Emily Gagan Howard
Steven Edward Kane
Lucia Christine Lykke
Justin Gregory Manweiler
Elizabeth Ann McDaniel
Erin Julia McInerney
Celeste Irene McNamara
Megan Rose McQuiddy
Emily Marie Metz
Mary Catherine Ogburn
Matthew Paul Julius Oreska
Erica Michelle Parker
Andrew McIntyre Reeves
Colleen Marie Schneider
Ryan Michael Scofield
Christopher William Seibert
Matthew Robert Sherrill
Alexandra Sledd
Natalie Marie Stinton
Susan Elizabeth Thornton
Meredith Margaret von Roedern
Erin Elizabeth Walker
Erin Haley Ward
David Christopher Williard
Katherine Soleil Woodley
2006 (Fall) Alpha Chapter Initiates
Keith Christopher Bechtol
Leah Christine Cheek
Camielle Leigh Compton
Kenneth William DeFontes, III
Erin Elizabeth Fenlon
Megan Ann Fikse
Ryan Lee Ford
Leah Rens Giles
Natalia Ivanovna Golub
Maria Kathleen Happel
Alaina Christine Harmon
Abraham Daniel Bergsagel Isgur
Cynthia Elizabeth Johnson

Alyson Lucas Kepple
Elizabeth Anne Kimball
Lauren Nicole Klapper-Lehman
Jonathan Albin Kruschwitz
Kendra Leigh Letchworth
Lilli-Marie Knebel Mann
William Benjamin Mann
Kelli Elizabeth Joan Monahan
Laura Robbins Mooney
Caitlin Meredith Moorman
Erin Elizabeth Morgan
Jessica Carol Nelson
Christina Marie Padilla

Katherine Elizabeth Perkins
Angela Sue Petry
Lanora Christine Pettit
John Trevor Posenau
Alison Marie Pouch
Kristen Nicole Quarles
John Joseph Seeley
Laura Elizabeth Smith
Meghan Aileen Townes
Paul Anthony Trifiletti
Patrick Michael Vora
Kelly Stearnes Waldrop
Bonnie Colleen Wilson
Brandon Michael Wolfe
2006 (Spring) Alpha Chapter Initiates
Benjamin David Atkins
Joseph Vincent Bertini
Kevin Thomas Bowman
Lindsey Anne Boyle
Laura Jane Buchanan
Mary Katherine Burgess
William Eric Bylund
Paul Evan Charpentier
Stephanie Marie Corrigan
Shannon Eileen Daily
Jennifer Marie DeCuir
Ross Jordan Feller
Derrick Patrick Fellows
Kevin Michael Flanagan
Carrie Emma Fox
Justin Matthew Fowler
Thomas Arthur Garnett
Ann Caitlin Hagan
Jan Marie Hagedorn
Adriana Lucia Harvey
James Morris Hipolit
Kelly Reneé Jones
Susanna Danielle Klosko
Emily Renee Kowalski
Sarah Marie McHale
Caitlin Helene Melchior
Jessica Leigh Miller
Ryan Richard Purcell
Philip Randolph Roane

Alison Gail Rosner
Catherine Cecilia Marie Schwenkler
Grace Anne Shugrue
Timothy John Slattery
Jonathan Daniel Snider
Alyson Korry Spealman
Sara Kathryn Strehle
Elise Nicole Thorsen
Richard Neil Turner
Caitlin Elizabeth Verboon
Jordan Lloyd Vrescak
Jeremy Justin Wacksman
Kimberly Ann Werner
Lindsay Susan Young
2005 (Fall) Alpha Chapter Initiates
Jonathan Peter Adams, Jr.
Catherine Elizabeth Bailey
Jennifer Marie Brickey
Christopher George Brown
Eleanor Carol Browne
Daniel Joseph Burke
Christopher Daryl Cameron
David Joseph Carey
Bradley John Carra
Margo Antonia Dey
Francis Joseph Ditraglia
Michael Charles Dominguez
Rachel Joy Hotek
Emily Constance Hughes

Sarah Elizabeth Kolbe
Amy Lynn Kuenker
Erin Elizabeth Kuykendall
Steven Morgan Lewis
Banan Fathi Malkawi
Elizabeth Anne McCrillis
Sarah Sutherlin McIvor
Audrey Helene Nuccio
Sarah Rachel Olver
Christopher Andrew O'Neill
Laura Caitlin Page
Kevin Alan Park
Kyle Andrew Prickett
Stephanie Lauren Reed
Kristen Jenelle Ritenour

David Emile Vatcher Rose
Katherine Reid Ross-Kinzie
Renee Elizabeth Seibel
Jacob William Shier
Kelly Anne Singleton
Paul Anthony Smith
Brian Christopher Spencer
Melissa Margaret Sprachman
Emily Nicole Strauss
Jason David Swartwood
Mary Galt Teeter
Julia Elisabeth Tony
Maxwell Benjamin Uphaus
Matthew Ralph Wester
2005 (Spring) Alpha Chapter Initiates
Amanda L. Belles
Erin M. Buckley
James W. Burke
Jennifer L. Caffrey
Stephen F. Cardente
Leslie E. Cochrane
Alessandra C. Davidson
David D. Delong
Jennifer L. Dixson
Jason M. Franasiak
Patricia R. Goodwin
Brendan P. Hodkinson
John R. Hott
Tate M. Keenan
You Lee Kim
Robyn L. Kondrad
Kevin A. Kotkowski
Owen McDonough
Lisa M. McGinnis
Graham T. Nessler
Diane M. O'Hara
Katherine L. Penick
Selina P. Spinos
Heidi L. Pennington
Marshall B. Popkin
Bonnie M. Queen
Sarah E. Reeder
Leanne E. Reidenbach
Ariana E. Reilly
Christopher B. Renjilian
Christine M. Simpson
Charlene V. Smith
Tracy A. Snow
Jessica C. Stirpe
Kathleen A. St. John
Kelly A. Sullivan
Pamela M. Taylor
Melanie N. Vejdani
Rebeccas D. Velarde
Hao Wang
Emily L. Whitmore
2004 (Fall) Alpha Chapter Initiates
Wesley D. Allen
Emily C. Altadonna
Katharine M. Andres
Michael J. Brennan
Joseph M. Carneiro
Patrick W. Comstock
Heather A. Debby
Megan E. Dellinger
Megan Edwards
Ryan M. Fame
Maria T. Fashing
Katherine I. Fisher
Adam M. Forte
Caitlin M. Freeman

Carl B. Giller
Sara E. Gilmer
Sarah L. Gonias
Eleanor R. Grimm
Neal R. Hampton
Kristina M. Hofmann
Anne I. Huang
Alison E. Jack
Scott D. Johnson
Breanna M. Korsman
Sarah E. Laibstain
Maria A. Lukito
Mamio C. Mattern

Justin M. McIntosh
Jacqueline H. Nalle
Christina B. Newland
Lynda M. Nguyen
Stephanie L. Oakes
Emerson L. Odango
Kristin A. Pederson
Sarah E. Smith
Damian G. Stephen
Peter J. Taylor
Dimitar M. Vlassarev
Daniel M. Weinberger
Claire S. Wimbush
2004 (Spring) Alpha Chapter Initiates
Andrew H. Brown
Mark Glenn Cathey
Julie Teresa Cella
Lisa Renee Chastant
Judy Po Ki Che
Peyton A. Cooke
Ian F Cornell
Andrea Hollis Everett
Meredith J. Faulkner
Melanie Forehand
Jennifer Ann Foy
Elizabeth Anne Gallow
Valerie Sawyer Gaskins
John Adrian Gibney
Robert B. Keeton
Joseph Matthew Kiser
Allen Robert Laben
Gregory Licausi
Rebecca Joy Luhrs
Jennifer Lynn Maul
Jason Kyle Molitoris
Nathan Everett Mueller
Michael-John Pierce
Mary Donnelly Reedy
Gillian W. Reierson
Briana Marie Riemer
Matthew J. Roosevelt
Melanie Beth Schrage
Elizabeth Viscardi Shooltz
Steven Scott Silvonek
Amy Katherine Smith
Eric James Spitzer
Jeb Andrew Stenhouse
Lena Oak Suk
Meghann Cathleen Thomas
Christine Susanne Wahle
Mariele Kathryn Wardian
Lauren Michal Weaver
Eric Stephen Wechtler
Cristin Grace Welle
Margaret Elizabeth Whitford
Alisa Wiskin
2003 (Fall) Alpha Chapter Initiates
Stephanie Miller Anderson
Katie Marie Behr
Ryan Anthony Boyd
William Cable Carter
Elizabeth Anne Cox
Elizabeth Kathleen Culyba
Timothy Michael Deering
Vijay Reddy Dondeti
Jennifer Lynn Duffy
Evan James Dunn
Erich Michael Gauger
Paul Christopher Hansen
MacKenzi Nicole Hillard

Mirth Tucker Hoyt

Scott Bradley Ickes
Sarah Elizabeth Ingle
Richard Marc Johnson
Kathryn Nicole Juergens
Kathryn Ellen Keister
Eric Scott Kronman
Todd Steven Larson
Nichole Danielle Litvinas
Laura Elspeth MacNeil
Michael Donald O'Neill
Claire Marie O'Shea
Mellisa Ann Pensa

Scott Douglas Phelps

Anne Stuart Roberts
Jacob Harrison Rooksby
Olivia Erin Schroeder
Catherine Rose Shirvell
John Asher Spruill
Sarah Marguerite Stamps
Garth Lewis Swanson
Elizabeth Dell Thompson
Elizabeth Corbin Titrington
Julie Lynn Wagerle
Meghan Marie Williamson
Allison Jeanne Wortche
Allison Leigh Yoder
2003 (Spring) Academic Year Alpha Chapter Initiates
Susan Paige Antaramian
Allison Noelle Ashby
Anna Kristina Beard
Wendy Cara Begleiter
Melanie Louise Biscoe
Jennifer Ann Brown
Kate Margaret Cerasale
Alanna Hollis Chesney
Evan Anthony Cordulack
Sara Catherine Covington
Frank Edward Curtis
Brent Robert Degeorge
John Hamilton Doyle
Matthew Joseph Duggan
Nicola A Fedorka
Megan Elizabeth Ferguson
John Michael Fout
Kristina Michelle Frogale
Paul Martin Gilbert
Barry Glenn Hansford
Kari Megan Hill
Elizabeth Ann Holland
Jeffrey Scott Iwig
Tyler Quentin Kirk
Matthew Frank Klinger
Philip Edward Kray
Anne Elizabeth Larmore
Katharine Claire Madigan
Daniel Perry Mallon
Sandra Elizabeth Moore
Megan Catherine Moran
Matthew A Morgan
Stephen Michael Ng
Christen Mary Raymond
Paul Joseph Ring
Thomas McKay Schmidt
Valerie Dees Schuster
Jason Timothy Sharples
Rebecca Justine Skreslet
Tabor Elisabeth Skreslet
William Paschall Tatum III
Megan Conover Williams
2002 (Fall) Academic Year Alpha Chapter Initiates
Meghan Ree Ablott 
Frances Herndon Ames 
Houtan Bastani 
Jessica Robbin Blaemire 
Edith Villette Bowers 
William Edward Brenzovich, Jr. 
James Francis Cahoon 
Erin Elizabeth Caro 
Hanley Shucherng Chiang 
Mary Colleen Claypool 
Sarah Catherine Cornetto 
Megan Heather Davis 
Megan Marie Faller
Katherine Hamilton Galbraith
Katherine Emilie Garypie
Michael Robert Glaser
Sarah Ann Hastedt
Krista Lee Hessler 
Christy Lynne Hoffman 
Rebecca Marion Kallem 
Jason Christopher Keagy 
Jennifer Marie Keister 
Marianna Kepka 
Zachary Adam Kohutek 
Elizabeth Anastasia Korona 
Bethany Christa Lobo

Scott Edward Lyle

Andrew H. S. Mazzaschi 
Angela Kathryn Moore 
Jessica Marie Otis 
Joshua Paul Riley 
Suzanne Lora Robertson 
Matthew Charles Schu 
Ryan Michael Shipley 
Mary Frances Swajkoski 
Joshua Robert Watson 
Matthew Austin Wendeln 
Meredith Hayley Wilson 
Andrew Joseph Woelfling
2002 (Spring) Academic Year Alpha Chapter Initiates
Joy Elizabeth Allen
Carrie Anne Andrews
Jessyca Nicole Arthur
Sean Patrick Barry
Peter Frederick Bodnar
Kimberly Jane Briggs
Philip Anthony Clark
Monica Lynn Davis
Elizabeth Rachele Dominguez
Maureen O. Feldbaum
Daniel Randolph Fine
Chrystie Michelle Flournoy
Allison Gray Fraser
Anne Taylor Gepford
Paul L. E. Grieco
Elizabeth Jane Grimm
Joshua David Hall
Martin Leigh Harrison
Kelly Lynn Hedrick
Justin Winfield Hoagland
Diana Michelle Kelly
Christelle Marie Klovers
Suzanne Michelle LaVere
Sohini Majumdar
Christopher Earl Mayes
Alyssa Nicole Meyers
Scott Christopher O'Brien
Jill Miller Osborne
Jennifer Primeggia
Sarah Anne Ralston
Kristen Anne Reynolds
Channing Amelia Rich
Phoebe Katherine Richbourg
Emily Kent Robinson
Rebecca Ellen Ronquest
Jessica Naida Singerman
Alice Wesley Tanner
Daniel Vaca, III
Charles Weaver Wilmoth
Joo Ohk Yi
Jason Andrew Zacchetti
2001 (Fall) Academic Year Alpha Chapter Initiates
Cihan Akcay
Sarp Akcay
Richard Allen Anderson
Clarke Whitmore Boehling
Kelley Marie Boyer
Stephen Douglas Bunch
Saskia Natascha Campbell
Corinn Melissa Chivington-Buck
Kathryn Elizabeth Colyer
Catherine Anne DeRoever
Katie Marie Erdeljon
Sarah Elizabeth Feightner
William Thomas Funk
Fiona Ruth Grooms
John Hunton Henkel
Nicole Marie Humenick
Annaka Michell Lorincz
Joy Elizabeth Martin
Erin Nicole Matney
Jeremy Wilson McLean
Ann Marie Mikowski
Kathryn Elizabeth Miller
Christopher Matthew Mooney
Lauren Elise Nelson
Margaret Ohlson Newland
Christopher John Nordberg
Karen Virginia Novack
Matthew Adam Pasek
Mikhaela Anne Payden-Travers
Aubrey Elizabeth Poe
Lauren Jean Schantz
Haley Dawn Showman
Emilie Catherine Snell-Rood
Bethany Suzanne Mentele Tindall
Jessica Mary Trojak
Sara Rue Wilson
Colleen Marie Wrenn
Mary Fraser Wunnenberg
Briana Lynn Yacavone
Daniel Hupil Yi
2001 (Spring) Alpha Chapter Initiates
Michelle Lynne Bolesta 
Leticia Junqueira Braga 
Amy Christine Cadge 
Andrea Elizabeth Calabretta 
Jason Robert Cornelius 
Kenneth Joseph Davis 
Susan Gray Eakin 
Daniel Carl Ehlke 
Eleanor Laflin Eyster 
Ali Farshidi 
Mark Alois Fashing 
Julie Elizabeth Griffiths 
Kathryn Ann Guy 
Medina  Haeri 
Emily Rebekah Huber 
Hilary Carnley Hultman 
Bethany Alice Keener 
Meisa Silvaine Khoshbin 
Andrew Frederic Kuntz 
John Adams Laury, Jr. 
Czer Anthoney Enriquez Lim 
Jesse Michael Lindenberger-Schutz 
Robert Bittinger Lineweaver
David Jay Lipson 
Kimberly Kristen Lynn 
Megan Anne Mcdermott 
Laurie Lenore Randolph 
William Andrew Sasser 
Megan Leah Schaffer 
Brendan Tomlin Sibre 
Stephanie Lynn Simon 
Manish Singla 
Stephanie Arwen Souders 
Jennifer Lauren Stickley 
Jamie Elizabeth Thompson 
Rebecca Pearl Waltenberger 
Joshua James Waterfall
Emily Jane Wengert 
Maegan Weaver Wood 
Jessica Anne Wrobleski 
Rochelle Raineri Zuck 
2000 (Fall) Alpha Chapter Initiates
Susan Nicole Bacon
Bethany B Barone
Aj Allen Bostian
Jason Thomas Ciejka
Anne Sophie Coleman
Jessica L Cordes
Amanda Elizabeth Creekman
Kevin J Croke
Mariana Teresa Cruz
Karen Lee Dause
Mary Kathleen Delaney
Laura Jean DeLong
Laura Suzanne Fisher

Melissa Faith Game

Kathlyn Brett Golladay
Ryan A Greene-Roesel
Erika Jane Gruber
Rebecca Ann Hadley
Christina Lynne Hall
Lucy Elizabeth Hansen
Jennifer Corinne Harris
Kelley Ann Hoffman
Brian Matthew Hopkinson
My-Trinh Doan Huynh
Edward Walter Johnson
Emily Claire Jusino
Deborah Ruth Justice

Kevin Christopher Knott

Patrick Thomas Lewis
Donald Ryan McGlothlin
Meghan E Nolan
Kelly Brooke Ross
Augustin Keefe Sedgewick
Katherine Irene Shrieves
Michael Richard Spitzer Ii
Christopher James VandenBussche
Rachel Marie Wheeler
Kathryn Ann White
Robin Lynn Yehle
Kristin Anne Zech
2000 (Spring) Alpha Chapter Initiates 
Jennifer Lynne Attrep
Charles Jackson Blair
Sheila Diane Bojarski
Anne Marie Boro
Cristina Lynn Brownlee
John Jared Christophel
Carrie Wood Cobb
Jane Corinne Cooley
Helen Katherine Craig
Kimberly Joanne Espinel
Brian Thomas Farrell
Kathryn Mcquilkin Flinn
Kathryn Elaine Freidinger`

Jenny Lynn Frierdich
Tania Gentic
Margot Nilsson Gilliam
Stacy Jean Hauf
Matthew Alexander Horvath
Kimberly Elaine Kimbleton
Catherine Margaret Koebel
Edgar Damian Kwee
David Jacob Leichtman
Scott Matthew Malzahn
Beth Ann Miller
Jaime Michelle Miller
Jeanine Helena Miller

Amy Rebecca Napier

Kathleen Elizabeth New
Christopher Justin Reames
Deborah Mary Remchuk
Kristin Y Roberts
Elizabeth Avery Royal
Jennifer Philippa Saks
Tracy Ann Stankiewicz
Benjamin Lee Studebaker
Benjamin Andrew Suhr
Cecily Kennedy Vanderspurt
Jennifer Catherine Wasson
Kimberly Adele Wilson
Samantha  Zyontz
1999 (Fall) Alpha Chapter Initiates
Joseph Clinton Carnahan
Stephen Randolph Collins
Meaghan Marah Costello
Serena Lara Marie Dovey
Erin Beth Drifmeyer
Robert Christopher Feinglass
Shannon Rebecca Garvey
Julie Marie Gehl
Jennifer Ashley Giles
Laura Kathleen Grattan
Adam Patrick Gurson
Sarah Elizabeth Hansen

Kristina Marie Hoke

Timothy Michael Hudson
Hunter David Keeton
Jeanine Suzanne Kiec
Gina Nicole King
Matthew Peter Kolan
Susannah Margaret Levine
Jason James Maga
Donovan Todd Maust
Erica Ruth Nybro
Matthew James O'Connor
Anthony David Padula
Richard Perry

Todd Michael Porter

Alexandra Elizabeth Purdy
Patrick Daniel Ryan
Robert Samuel Saunders, Jr.
Amanda Alice Shoaf
Christopher Martin Siefert
Andreas Jorg Stargard
Ian Jakov Swanson
Brian Patrick Tighe
Jared Rankin Wessel
Jennifer Ann Wilkes
Elizabeth Rachel Williams
1999 (Spring) Alpha Chapter Initiates
Kristen M. Berberich
Matthew C. Bernier
Michael A. Blaakman
Kwang S. Choi
Kevin T. Chu
Hannah C. Cohen
Rachel E. Fovargue
Adam P. Gattuso
Anna S. Gayek
Kelly K. Hallinger
Alice C. Harman
Sonya L. Hood
James D. Hood
Jennifer M. Huebner

Meghan M. Ingrisano
Andrew E. Jungclaus
Jonna M. Knappenberger
Rebecca H. Koppel
Alison L. Kowalski
Joshua A. Litten
Tara F. Mahoney
Hetal H. Mehta
Dillon E. Niederhut
Sarah G. Nolan
Jason A. Orr
Racquel L. Parra
Andrew L. Peters
Brett W. Rector

Shannon E. Reed
Matthew W. Reges
Elizabeth A. Saari
Vadim  Shneyder
Julia M. Smart
Elizabeth C. Swiatoviak
Bryan J. Terrill
Laura A. Tourtellotte
Suzanne R. Traut
Laura F. Wagstaff
Kimiko S. Warlaumont
Sarah C. Wells
Kathryn L. Wilkerson
Mary E. Zagrobelny
CONGRATULATIONS TO OUR SPRING 1973 INITIATES
1999 (Spring) Alpha Chapter Initiates
Laura Alsleben

Judith Auping

Jane Badinelli

Margaret Bradt

Jenny Frazier Brickhouse

Kathryn Brineman

Catherine Chandler

Cheryl Eheman

Deborah Ehrhart

Karen Gallucci

Nancy Gerber

David Gilbertson

Paul Guyton

Janet Keefer Hollis

Lark Janes

Kandice Kahl

Sheldon Karasik

Judy Klein

Catherine Lambert

Stacey Mills 

Roberta Morrissette

Nancy Fisher Perkins

Lucie Rivoire

Michael Sheehan

David Shields

Jean Stallings

Marsha Taylor

Deborah Tussey

Adrienne Weinberger

Christine Wulfken
 CONGRATULATIONS TO OUR FALL 1972 INITIATES
Ruth Blevins

Charles Brown

Karen Buckley

Lynda Butler

Sharon Deardorff

Carol Diehl

Catherine Dillon

Philip Eastham

Margaret Echlin

Debra Geoghegan

Daniel Gepford

John Gibney

Steven Glessner

Marian Haase

William Hammond

Hazel Heddings

Mary Jacobsen

Mary Jeter

Robert Jones

Charles Kennedy

Douglas Kerr

Robert Korty

Edward May

Carolyn Martin

Shawn Moore

John Pagan

David Peterson

Vanda Reynolds

Christopher schreck

Anne Scott

Alison Smith

Frank Smith

Lark Smith

Elizabeth Thiele

John Vile

Katherine winfree

Jean Zettler