Phi Beta Kappa Society
Alpha Chapter of Virginia
Founded on December 5, 1776, The Phi Beta Kappa Society is the nation's oldest, largest and most prestigious academic honor society. It has chapters at 286 colleges and universities in the United States, 50 regional alumni associations, and more than half a million members worldwide. Noteworthy members include 17 U.S. Presidents, 39 Justices of the Supreme Court of the United States and more than 130 Nobel Laureates. The mission of The Phi Beta Kappa Society is to champion education in the liberal arts and sciences, foster freedom of thought, and recognize academic excellence.
2022-2023 MEETING SCHEDULE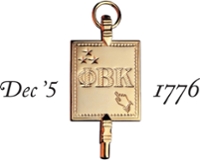 Meetings are held virtually unless otherwise noted.
September 12 (Monday) 5:00 pm – Executive Committee
Agenda: Plans for the year, speakers, named scholarships, Winter / Spring inductions

September 20 (Tuesday) 5:00 pm – Stated Meeting
Agenda: Report on scholarship funds, plans for the year, upcoming initiatives

November 1 (Tuesday) 7:30 pm – Restricted Meeting (instructional and professional faculty)
Agenda: Selection of new student members-in-course, student respondent, and Ann Callahan Chappell Award winner.

December 10 (Saturday) – WINTER INITIATION
4:30 pm Open House and Reception, Great Hall, Sir Christopher Wren Building
6:00 pm Initiation, Wren Chapel, Sir Christopher Wren Building
7:30 pm Dinner, Sadler Center, Chesapeake A

February 6 (Monday) 4:30 pm – Executive Committee Meeting
Agenda: Planning for the spring semester

February 23 (Thursday) 5:00 pm – Restricted Meeting (instructional and professional faculty)
Agenda: Selection of Faculty Awards
March 8 (Wednesday) - Faculty Awards Reception
Award for Excellence in Teaching, Award for Advancement of Scholarship, Departmental Award to a Student in honor of a retiring faculty member
Cohen Career Center, 6 pm

March 27 (Monday) 7:30 pm – Restricted Meeting (instructional and professional faculty)
Agenda: Selection of new student members-in-course, new faculty and alumni members, student respondent.  Recommendation for 2022-2023 PBK Visiting Scholar

April 11 (Tuesday) 5:00 pm Sherry, 5:30 pm Stated Meeting
Agenda: Election of Chapter officers, Lifelong Learner Award, and committee reports
April 18 (Tuesday) 6:00 pm, Sadler Center, Chesapeake BC
Democracy Initiave talk by Frederick M. Lawrence, Secretary and CEO of PBK
April 26 (Wednesday) 6:00 pm, ISC3 1280

Spring Salon

May 18 (Thursday) – SPRING INITIATION
4:00 - 5:00 pm, Alpha Chapter Initiation in Wren Building Chapel
5:00 - 6:00 pm, Sunken Garden Tent (weather location: Sadler Center, Tidewater)
---
Webmaster: Chris Abelt
Questions, concerns or suggestions for the website? E-mail [[cjabel]]