The Brafferton Legacy Group
The Brafferton Legacy Group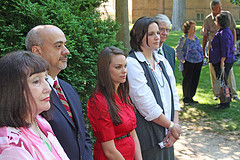 The Brafferton Indian School operated at William & Mary from c.1700 until 1779. During that time, dozens of Native students attended the institution to learn basic reading, writing, arithmetic and teachings in Christian divinity. Today, upwards of 50 federal, state and non-recognized tribes are linked to this historic student body.
The Brafferton Legacy Group (BLG) was formed to advise William & Mary and the Colonial Williamsburg Foundation on Native issues associated with the renovations. The BLG also assists with outreach to the Brafferton-affiliated community.
Three criteria were devised for the selection of BLG members. The university sought individuals who were:
Native American
Alumni of William & Mary
Affiliated with tribes linked to the historical Brafferton student population
The BLG currently includes alumni from the Eastern Band of Cherokee, Chickahominy, Pamunkey and Meherrin tribes. The Brafferton Legacy Group assisted in organizing the pre-excavation opening ceremony in April of 2011.
The Brafferton Indian School is a key interpretive site for many communities' histories and continues to serve as physical symbol of a long relationship between Native people and Williamsburg.
For more information about the Brafferton Legacy Group please contact:
Buck Woodard
Danielle Moretti-Langholtz
[[dmoret]]