The Renewal and Renovation of the Brafferton
An effort to preserve one of the university's most important historic buildings.
William & Mary is undertaking the renewal and renovation of the Brafferton (1723), the second-oldest building on the university's historic campus. With the support of the Lettie Pate Evans, Mary Morton Parsons, and Max and Victoria Dreyfus Foundations, and the William & Mary Classes of 1961 and 1962, the Brafferton is receiving the attention it so richly deserves.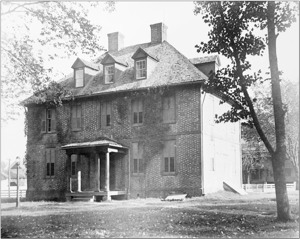 Among the interior renovations being made to the Brafferton are the installation of a new heating, ventilating, and air conditioning system and new plumbing. Safety measures include installing smoke detection and sprinkler systems and emergency lighting, as well as removing asbestos or other hazardous materials. While the third floor is modern and being modified to meet the needs of the offices of the President and Provost, the university is maintaining the existing original floor plan of the first and second floors as historically significant spaces.
Work is being completed on the exterior of the Brafferton as well. The brick walls are the most substantially original of the university's three colonial buildings, and they are being repointed, cleaned and repaired. Several problems of drainage are being addressed and the 1932 terra cotta roof is being replaced with new, identical tiles. Additionally, the Brafferton Kitchen, a reconstructed building (1932) immediately adjacent to the Brafferton, is being made fully accessible to be used as an alternative office and meeting location.
The Brafferton will reopen in Fall 2013 — an occasion to be marked by a gala celebration on William & Mary's historic campus.