In the fall of 1918, 24 women were admitted as undergraduate students at William & Mary.
The men of the Class of 1918 lamented that they would be "the last class to graduate from the old college before it is defiled by coeducation."
The Virginia Gazette editorialized that the admission of women had come "at the price of the womanhood Virginia had cherished as a sacred thing."
The women of 1918 began at once to change the university. Excluded at first from participating in most existing activities, the women initiated intramural athletic competitions and organized a Women's Student Government.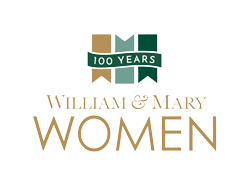 They were not afraid to be "the first" or to advocate for themselves.
Today, women represent 58% of our students. William & Mary women also include professors, deans, coaches, award-winning scientists, playwrights, poets, entrepreneurs, community leaders and more.
During 2018-19, we celebrated the accomplishments of the 55,000+ alumnae, and the many women students, faculty and staff of William & Mary.