Women's Weekend
September 21-23, 2018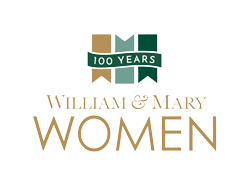 In 2018-19, the Tribe community will be celebrating 100 years of women at William & Mary. To commemorate this milestone, the university will host the first-ever W&M Women's Weekend September 21-23, 2018. Alumnae, students, faculty, family and friends will fill campus over the weekend and participate in activities and programs that will inspire and empower women of all ages and backgrounds.

W&M Women's Weekend is a great opportunity to make new friends and for old friends to reconnect! We have every confidence you will leave the weekend energized and with fresh insight.

The weekend will include several pathways focusing on personal, professional and interpersonal growth — choose what interests you! Yoga on the Sunken Garden? A panel of W&M women addressing global health? A keynote on girls and women in STEM fields? A walking tour of campus highlighting women's contributions? A wine, cheese & chocolate reception? W&M Women's Weekend will offer something for everyone.
Check back in January 2018 for updates on the weekend's program and schedule.

If you are interested in serving as a volunteer to help plan the weekend, visit the volunteer portal.

In honor of William & Mary Women's Weekend, we are launching MARY Talks — a fun and fitting twist on the popular TED Talk presentations. Speakers are welcome from every discipline and background. Learn more and submit an application.

Get ready for an extraordinary weekend — we can't wait to see you there!