On the edge of William & Mary's campus, behind the Commons Cafeteria or Caf, lies one of the College's many gardens.  It is here you can find Jane Gray Morris '13 on most days of the summer, rain or shine.  She is working on the garden with a grant she received from the Committee on Sustainability (COS) at the College.
"William & Mary students are ultra-creative and highly motivated--they tend to approach sustainability problems from a completely different angle than faculty and staff. They accomplish an incredible amount in just a single summer," said Rowan Lockwood, co-chair of COS's programs and education sub-committee and associate professor of geology. "Jane's project is a classic example of a successful internship - she's built on her previous experience and her sustainability coursework at William & Mary to dream up a beautiful, sustainable campus garden."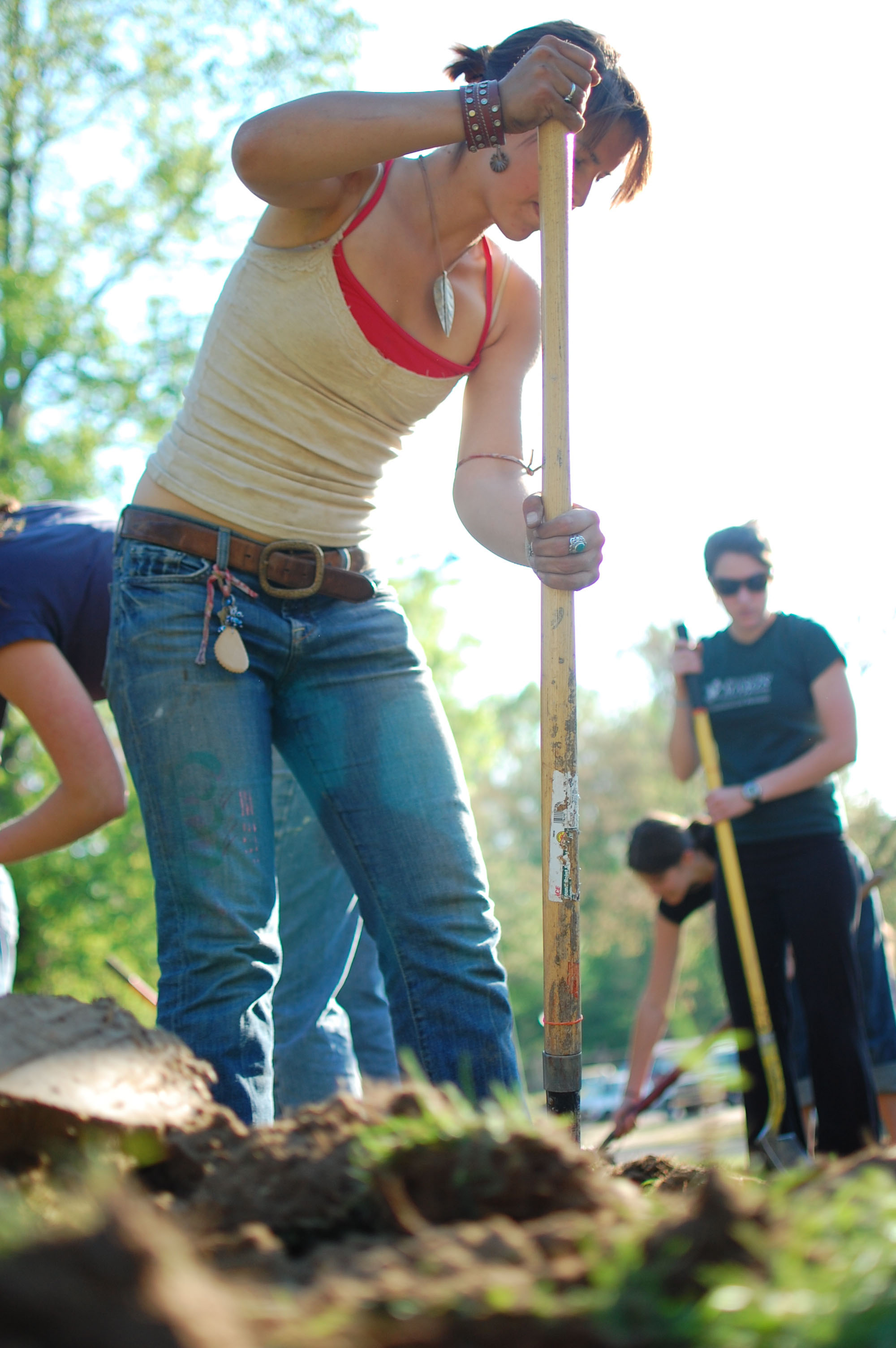 The campus gardens were started in 2007 by a group of William & Mary students who also started the Farmers and Gardeners Club.

Morris, a sustainable systems major and community studies minor, has big plans for what will become of the space behind the Caf.  She wants to create the garden, which will contain native plants and vegetables, as something unique on campus.  Morris also hopes that the garden will become a more frequently visited spot by the students.
"It's a place to just relax, a place that's outside, made by the students for the students," said Morris, who spent her first year after high school in Oregon working for the sustainable architecture and eco-cultural restoration firm Autopoiesis, LLC.,  learning the ins and outs of eco-friendly building, making structures out of all natural materials. 
Morris' work won't stop at summer's end. She and other students and faculty members involved with sustainability efforts on campus plan to build a natural structure in the garden that will seat six to eight people who can study, relax, and enjoy nature. Morris hopes the progress made in the garden this summer will encourage others to participate.
"There's so many people who have helped me on this project, there's no way I can name them all," she said. "It's really a community project, and I would really love for this (project) to include as many people as possible."
 With a grant of only $1,000, Morris is making every dollar count, and saving where she can, by getting building materials donated.  The structure will have a foundation made from parts of campus buildings removed during the construction of the Tribe Square Project, giving it a little piece of W&M's history. The walls will be made of cob, a natural building material made from clay, sand, straw, and water.  The ceiling will be pine tiling. 
During her time in Oregon, Morris served on the council of a nonprofit called City Repair, which reclaims urban spaces for community use, much like her vision for the garden on campus.
In addition to making a great new spot on campus for students, Morris said that the garden will produce vegetables for Campus Kitchens -- an organization that makes meals for low-income families using local resources.  With the garden located right behind the Caf, these families will be able to get meals with fresher produce than ever before.
 "I wanted to make the garden more accessible, active, and educational," said Morris. She also wants this project to serve as a way to bring the community together.