William & Mary's 326-year tradition of academic excellence, unparalleled community engagement, and creative interdisciplinary partnerships have prepared the university well for meeting the challenges of a sustainable future. Drawing upon the strengths, passions, and expertise of its faculty, students and staff, W&M is creating a new model of sustainability for higher education.
From faculty/student research and student internships to innovative community partnerships and widespread volunteerism, the university is promoting sustainability by producing leaders for tomorrow's world who understand both the challenge and the opportunity in a sustainable future.
Have a question? Have an idea for a project? Want to get involved? Contact us! [[sustain]]
Upcoming Deadlines
Events/Happenings
Deadlines
2019 Spring Green Fee Proposal
Friday,
February 22
2019 Summer Research Grant
Friday,
February 22
2019-2020 Open Positions with Sustainability
Friday,
March 1
2019 Fall ENSP 490 Sustainability Advisors and Projects
Tuesday,
March 5
Last Call for Green Fee Proposal by Friday!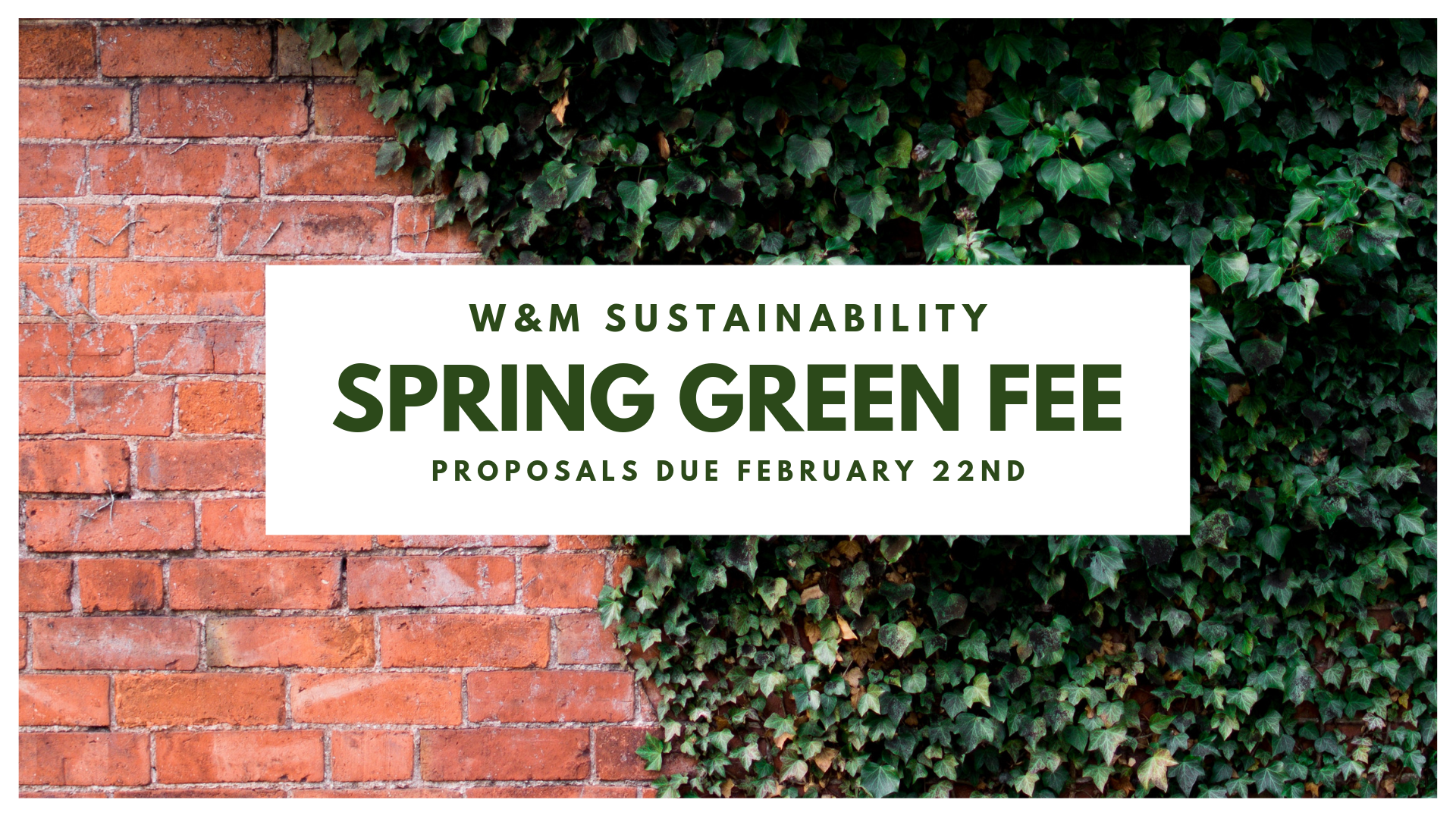 Have an idea that advances initiatives in W&M with environmental, social, and economic sustainability factors? We are currently accepting Green Fee Proposals from all undergraduate and graduate students, faculty, and staffs. Proposals are due February 22nd. 
Accepting Applications for Summer Research Grant 2019
Have sustainability-related research ideas that you would like to conduct? Apply for Green Fee Summer Research Grant 2019! W&M Sustainability supports and encourages students' close collaboration with W&M faculty and/or staff. Three awards will be made in amounts up to $5,000 each, plus housing on campus. An additional $450 will be awarded to the student's advisor. Applications are due February 22nd. 
Open Positions with Sustainability Available. Apply by March 1!
Are you interested in sustainability and would love to be more involved? W&M Sustainability is now hiring for multiple positions for 2019 Spring and the upcoming academic year. Apply to be a COS student representative, Garden Manager, or an intern at the Office of Sustainability!
Calling for ENSP 490 Sustainability Advisors and Projects for Fall 2019.
ENSP 490 Sustainability course is in search of advisors and associated projects for the upcoming 2019-2020 academic year. This program combines a 2-3 credit undergraduate sustainability course taught by the Director of Sustainability, with an advisor coordinated sustainability project. The advisors can be staff, administrative, or adjunct/tenured faculty whose primary role would be to oversee the student in the sustainability project of the advisor`s choosing.
Want to Contribute to Creating a Green Events Guide?
W&M Sustainability is currently working towards creating a green events guide for campus users and suggest/explore possible areas for improvement. Meetings are open to any interested and contributing faculty, staff or students. 
Join the W&M Sustainability Team
W&M Sustainability is accepting applications! Volunteer, lead, learn and create with W&M Sustainability!