MSNBC host Melissa Harris-Perry to speak at King commemoration
Students to engage in service in honor of King's legacy
The William & Mary community is expected to honor the legacy of Martin Luther King Jr. in January with a series of events, including service opportunities for students and a commemoration program with guest speaker Melissa Harris-Perry, an MSNBC host and Wake Forest University professor.
The commemoration program, hosted by the Center for Student Diversity, is scheduled for Jan. 21 at 7 p.m. in the Sadler Center's Commonwealth Auditorium. The event is free and open to the public. The service opportunities for students, coordinated by the Office of Community Engagement, begin the weekend of Jan. 15 and culminate in a day of service on Jan. 19.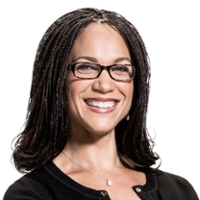 In addition to hosting a self-titled MSNBC show, Harris-Perry is the Presidential Endowed Professor of Politics and International Affairs at Wake Forest University. She also directs the Anna Julia Cooper Center on Gender, Race and Politics in the South and is the executive director of the Pro Humanitate Institute.
She has written several books, including Sister Citizen: Shame, Stereotypes, and Black Women in America and Barbershops, Bibles, and BET: Everyday Talk and Black Political Thought, which won the 2005 W. E. B. Du Bois Book Award from the National Conference of Black Political Scientists and 2005 Best Book Award from the Race and Ethnic Politics Section of the American Political Science Association. She also writes for The Nation and Essence magazines.
The Center for Student Diversity hosts the commemoration event annually, and past speakers have included Marc Lamont Hill, Roslyn M. Brock, Julianne Malveaux and Cornel West.
"Recent events at institutions like the University of Missouri, Yale, as well as our own institution have pushed us to elevate the dialogue and action around diversity and inclusion within the higher education context, as well as society as a whole," said Vernon Hurte, senior associate dean of students and director of the Center for Student Diversity. "I believe Professor Harris-Perry is well-positioned to contribute in a major way to the ongoing dialogue we are engaged in here at William & Mary."
The MLK programs offered through the Office of Community Engagement give students a chance to conduct issue-focused service in small groups, according to the OCE website.
This year, through OCE's Branch Out Alternative Breaks, students will participate in three service trips over Martin Luther King Jr. weekend, Jan. 15-18: one focusing on refugee resettlement (Newport News), one on the needs of the critically ill (Richmond) and one on the William & Mary Lemon Project (Williamsburg).
On Jan. 19, approximately 40 students will participate in a day of learning and service in the Williamsburg area. The students will split into small groups that will each address a local social-justice issue, including hunger, access to housing, healthy families and youth empowerment, said Elizabeth Miller, assistant director of the Office of Community Engagement.
Throughout the day, the students will work with non-profit organizations including Head Start, Habitat ReStore, Child Development Resources and Grove Christian Outreach. In the evening, the students will converge for dinner, a panel discussion about the school-to-prison pipeline and a reflection session on their own role in furthering King's legacy, Miller said.
Students interested in participating should email Arvin Alaigh (
aalaigh@wm.edu
), fellow for local engagement by Dec. 21.