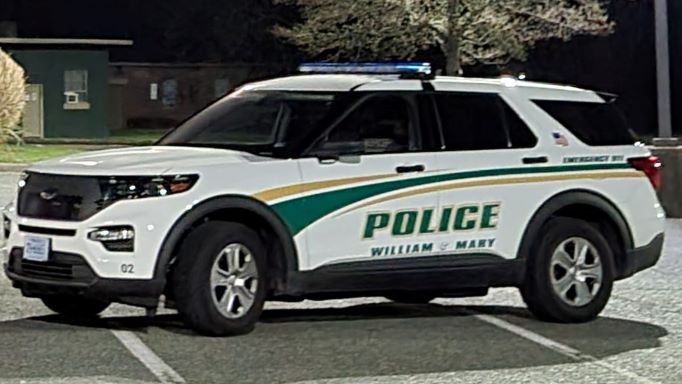 Role of W&M Police Department
William & Mary police officers have the same training and police authority, including powers of arrest, as do all other police officers in Virginia.  The W&M Police Department provides professional police, public safety, emergency communications, and emergency management services that include active police patrol 24 hours-a-day, 7 days-a-week; crime prevention services; critical incident response; criminal investigation; security technology systems; student training on Response to an Active Shooter Incident, Alcohol and Other Drugs Awareness, Rape Aggression Defense; and victim/witness support services. 
The fundamental approach to policing is specifically college based. We work to protect our community and to enhance their quality of life consistent within the context and mission of an institution of higher education.    
Department police officers, security officers, communications officers and staff work diligently every day to:
Protect the lives, property and constitutional rights of all people;
Maintain an environment consistent with the educational process;
Enforce the criminal laws in a reasonable and impartial manner, without personal or professional bias;
Cultivate a campus environment where people feel safe in their surroundings allowing them to better focus on education, research, teaching, job assignment, social and/or recreational endeavors;  
Establish and maintain community partnerships as safety and security are shared responsibilities and only through this mutual understanding can we be successful;
Employ the proper balance of education, enforcement, problem-solving and service to the community;
Adhere to police-related compliance standards as set forth by the Virginia Department of Criminal Justice Services, U.S. Department of Education, and U.S. Department of Justice. 
Policing Philosophy and Approach
There are 7 key factors that influence relative success as it relates to the safety, security and normal operations of a college campus.  Each factor is discussed below as it relates to the William & Mary policing approach.
1.  Base daily operations on a dynamic philosophy of community policing.
This is a philosophy and leadership style that promotes full-service personalized policing through the systematic use of community partnerships, proactive problem solving, crime prevention techniques and appropriate law enforcement to assertively and positively impact crime, fear of crime, personal safety, asset security, and quality of life issues within the community.
Our police and public safety mission is defined in a broader context than just enforcing the law.  We emphasize crime prevention. We recognize the importance of quality of life issues to the community. We strive to gain voluntary compliance from people through proper planning, communications, and education. While the enforcement actions are still very necessary they become only one of the many tools police and public safety use in our jobs. 
To be effective, we must use a problem-solving approach to positively impact individual and community issues. We value long term problem solving above repetitive enforcement action in the same situations, with the same people, week after week.  Police are learning problem solving models, team problem solving dynamics, methods for using external expertise in the problem solving process, and ways to evaluate outcomes.
Police officers are "generalists" in the field. Officers can respond to, and handle, just about any type of service, referral, problem or crime. It is not officer dependent. Our officers have to be just as comfortable and well trained in conducting parent orientation programs and community meetings, as they are in responding to a criminal complaint. Individual officers are continuously evaluated for any additional training needs to develop this needed range of expertise. This does not eliminate the need for some specialized training for selected officers, it just increases the core training threshold for all of the officers. 
2.  Leverage safety and security technology across the campus to the extent possible. 
Members of the W&M Police Department work in various ways with other W&M Departments to help develop, install, test, operate and/or maintain alarm systems, access control systems, closed circuit television, emergency communications equipment, in-car video systems, and other technology that adds tremendous value to the overall comprehensive security for the campus. Technology is used to prevent and solve criminal activities on campus; record activities in areas of vulnerability where officers cannot be posted all the time and to enhance emergency communications and notifications capabilities.  
3.  Utilize Crime Prevention Through Environmental Design (CPTED) where possible. 
Proper site and building planning can significantly help with crime prevention, fear of crime and individual safety. Fear of crime, opportunities for crime and vulnerabilities to personal injury can be reduced through specific architectural design concepts applied to buildings, roadways, and parking lots/structures. We can assess campus areas to identify where we may be able to "target harden" locations; provide safer patterns/practices for pedestrian and vehicular traffic; increase lighting; increase natural visibility of people/actions by reducing physical obstructions, eliminate alcoves/isolated areas, and minimize the potential for landscaping to provide cover to an assailant or block desired visibility.
4.  Assess and Use Proper Police Resource Allocation and Response
Members of the department review available information, campus activities, crime statistics, and other environmental factors to properly allocate patrol, security and investigative resources. When W&M Police officers are used to monitor a sensitive situation, they act in accordance with prevention and de-escalation techniques. Everything possible is done to promote and maintain the peace, without the police becoming a focal point. 
5.  Promote a shared campus community responsibility for safety.
W&M Police work across the university community when it comes to safety, security and normal campus operations.  We are actively involved in educating community members on personal safety and security. We promote the need for "eyes and ears" across the campus to help us in our mission. We use alerts, media releases, e-mail, websites, and other means to keep members of the community updated from the police perspective. 
Members of the W&M Police Department have specific liaison assignments to facilitate steady communication around "hot" topics.  We are attentive to the questions that arise as to whether something should be handled through university administrative procedures and/or should be handled as criminal matters.
6.  Ensure proper emergency plans, preparedness, and response.
W&M has a comprehensive overall All Hazards Emergency Plan in place and communicated throughout the university community.  The university has an Emergency Operations Center equipped and ready to activate immediately, if needed.  W&M Police provide support for the Emergency Management Team.
7.  Establish and maintain proper relationships with other police agencies. 
Many university crime statistics reflect the greater city or neighboring jurisdiction statistics. Generally, several recurring problems on campuses are caused by persons not affiliated with the university.  In order to be better prepared for our encounters with people or respond to crime, W&M Police maintain constant communication and collaboration with other local police agencies.