Teams Calls provides a wide range of possibilities for those who need assistance hearing, including those individuals with hearing aids.
As every reduced hearing situation is different, we recommend that you try out equipment before buying.  A demo area for equipment is located in Swem Library at the Circulation Desk. If you need to conduct more extensive or comprehensive testing, please contact [[support]] for trial equipment.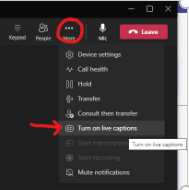 Captioning 
All participants of MS Teams meetings and phone calls can enable live captioning.  Simply click the "… More" button and select "Turn on live captions".  The captions of all callers/meeting participants will appear in the bottom of the screen. 
Speaker Phone, Computer Speakers, External Speakers 
If you are in a private office and can shut your door for privacy, a simple option is to take your phone calls on either your desk phone's speaker phone option, the built-in speakers on your computer, or an external speaker connected to your computer.  These devices allow you to control the volume of your phone call without needing to hold a headset or handset near your ear. 
 


Telecoil Hearing Aid Compatibility (HAC)
Some hearing aids use a tiny electromagnetic receiver (telecoil) to aid in hearing.  The Blackwire series of the Poly brand of headsets provides telecoil hearing aid compatibility (pdf). 
 
Bluetooth Hearing Aids 
For those using Bluetooth hearing aids, many options exist. If your hearing aids are already paired with your personal cell phone, our recommendation is to install the Teams mobile app on your cell phone and take your W&M phone calls through the Teams mobile app.  This should allow you to use Bluetooth functionality without needing to pair to a device other than your mobile device. 
Bluetooth hearing aids can also connect directly to a Poly Bluetooth USB BT700 Adapter.
 
Need Further Assistance? 
If further accommodations are needed, please submit a request or contact Human Resources.