Zoom is a cloud-based conferencing solution that provides both video and audio conferencing, mobile collaboration, screen sharing capabilities and online meetings.
In a hurry?  Download our Zoom Quick Start Guide (pdf).  Or you can keep reading to learn more about Zoom.
All W&M users (faculty, staff, and students) have Zoom Pro accounts!  Zoom Pro offers meetings of unlimited number of minutes for up to 300 participants. 
Access Zoom
Collapsible table
First Time Users
Go to https://cwm.zoom.us/ and sign-in with your W&M credentials
Select your meeting preference to get started (either schedule, join, or host a meeting)
The first time you launch a meeting, the Zoom launcher will download the desktop application. This will allow you to schedule meetings by logging in through your computer.  
Sign In with the Desktop Application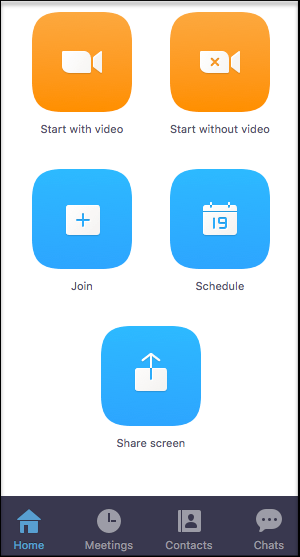 Go to the Zoom desktop icon on your computer
Click Sign in
Then click on Sign in with SSO
In the Enter SSO site URL box, type cwm.  (https://cwm.zoom.us)

Click Continue
Sign in with your W&M credentials
Logging into Zoom Desktop Application (pdf instructions)
Accessibility 
Collapsible table
Accessibility Features 
Subtitles & Transcript

Beginning on 1/24/21, Zoom will offer a free live transcription service.  Choose between subtitles or a live transcript. To enable the service: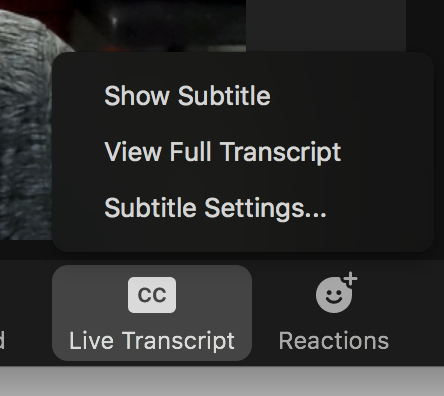 Meeting host: Click on the Live Transcript button at the bottom of the window. Choose Enable Auto-Transcription.
Meeting participants will receive a notification stating Live transcription is available.
Host and participants can click on Live Transcript and choose between subtitles or a full transcript.
Use Zoom
Collapsible table
Host/Join a Meeting
Only a host can start/schedule meetings. Use your W&M credentials to sign in to host a meeting. However, anyone in the world can join a Zoom meeting by:
Invitation: The host of a meeting may send you an invitation with a link to the meeting.  Click on that link when you are ready to join.
Web Access: Or join a meeting

using the

 Meeting ID. The meeting ID is a 9, 10, or 11-digit number.
Zoom Tutorials
Regular training sessions are conducted weekly to familiarize Zoom meeting hosts and attendees with emphasis on best practices. These training sessions are hosted by Zoom and are held online via Zoom Webinar Meeting. You are welcome to register for any live session or view the recording of a previous session. The webinar session schedule can be found https://cwm.zoom.us/livetraining.
Looking for additional resources about Zoom Web Conferencing?   Visit the Zoom Help Center page at https://support.zoom.us
Find an extensive array of Zoom Tutorials on W&M's Studio for Teaching and Learning Innovation Instructional Resilience website.
Use in your Blackboard Course

Instructors will be able to utilize Zoom within their Blackboard courses by using the Blackboard building block to connect a Zoom session.
Go to content area where you would like to add the Zoom link
In Edit Mode, select Tools
Select More Tools
Choose Zoom Meeting
Students can also connect to Zoom meetings:
 Go to the Tools area within the Blackboard course
Choose Zoom Meeting
Integrating with Other Software
We will only consider Zoom integration requests with existing enterprise licensed software products.  Requests for integrations should be submitted to [[support]] and should include:
Application Name
Reason for desired integration
Integration requests will then undergo a committee review to evaluate feasibility and security.
Recordings
Collapsible table
Zoom Recordings & Storage
Meeting sessions can be recorded for viewing at a later time. This feature allows instructors to create useful study material and share meeting content with students who could not attend the live session.
Recordings may be uploaded or embedded in sites such as YouTube, Blackboard and/or Panopto. As with any technology, our office encourages you to make backup copies of any recording you wish to preserve. 
Recordings created after 3/13/20 are automatically stored in Panopto.
Manage Your Recordings 
Zoom Cloud Recording is a university-wide shared resource that has a finite storage limit.  Please delete any unneeded Zoom Cloud Storage recordings. See Manage Your Zoom Cloud Recordings (pdf) for directions.  
Automatic Deletions
On the 1st of each month, content older than 30 days will automatically be deleted from Zoom (beginning Oct. 2020), but can still be accessed via Panopto if created after 3/13/20.
Recording Security

Think before recording!  When a meeting is recorded, it becomes subject to the same rules as all records.  Also, your meeting may be recorded without your permission.  But there are ways to limit and prevent recordings.  Use these Security Options to Limit Recordings (pdf) while using Zoom. 

And always remember another Zoom participant could use another device (smartphone, etc.) to record any meeting or capture images of chat exchanges.
Video Recording Guidelines
Please see the Classroom Recordings Guidelines (.pdf) on the University Registrar website.
Security & Privacy
Collapsible table
Keep your Client Up to Date
Be sure your Zoom software client is up to date.  Zoom is continually releasing updates that bolster security.  To find the update option:
Open your Zoom client
Click the icon in the upper right corner with your picture or initials
Select Check for Updates   
Secure your Meetings
When possible, we recommend adding any or all of the following settings to your zoom meeting to help secure your online session.
A password, waiting room, or authentication is now required for all meetings.
A complete list of controls for hosts and co-hosts is available on the Zoom website.
Find security settings tailored to William & Mary in our Zoom Best Practices (pdf) guide.
Moderator Tips
Check out our Moderator Quick Tips Guide!
Privacy
Additional Recommendations
Do not make meetings or classrooms public. Require a meeting password or use the waiting room feature and control the admittance of guests.
Do not share a link to a meeting or classroom on an unrestricted, publicly available platform (social media post, public webpages, W&M Events calendar, etc.) Provide the link directly to specific people. For events, you can use an RSVP form or a contact email address to provide the Zoom link to participants.
Do not use your personal Zoom ID for meetings, but instead use the randomly-generated Zoom Meeting ID.
Think before recording! Use these Security Options to Limit Recordings (pdf) while using Zoom. Details above in Zoom Recording Section.
Questions
For technical issues, contact William & Mary Information Technology's Technology Support Center at [[support]], or call 757-221-HELP during regular business hours. 
Zoom Help Center is available 24x7. Or contact Zoom Technical Support.