W&M scholars hope declassified Argentinian documents will bring 'the disappeared' back into focus
The only photos that Lucila Quieto has with her father are the ones she created, standing against a wall next to a projected image of him — the closest she's ever been to the man who disappeared five months before her birth.
Carlos Quieto was a guerilla leader in Argentina who was one of approximately 30,000 people who were abducted during Argentina's last dictatorship between 1976 and 1983. Some were eventually released. Some were found dead. Some were never heard from again. Such was the case with Quieto , but Silvia Tandeciarz hopes that his story — and more like his — may soon be revealed as the U.S. government releases thousands of declassified intelligence documents related to Argentina's "disappeared."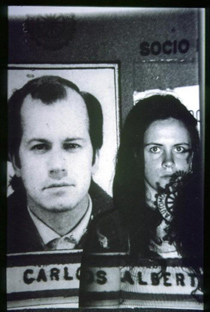 Tandeciarz is a professor of Hispanic studies and chair of the Department of Modern Languages & Literatures at William & Mary. Throughout the year, she and Carlos Osorio of the National Security Archive have been working with W&M student interns to prepare for the release of those documents, which happened today.
Archivist of the United States David S. Ferriero presented Argentina's minister of justice and human rights with the records during an event this morning at the National Archives and Records Administration in Washington, D.C. Tandeciarz and Osorio attended the event. Two W&M alumni also participated, John Powers '89, an archivist for the National Archives, and John Fitzpatrick '84, senior director for records access and information security at the National Security Council.
"The idea that William & Mary students and I are playing a small part in helping tell the story, helping get at what was known, what was happening during this period and also helping bring those who were responsible for really horrific human rights abuses to justice, that to me is so important," said Tandeciarz.
Preparing for the release
The declassification project began under U.S. President Barack Obama in March 2016 and was continued by President Donald Trump. But W&M students and faculty have been engaged in related archival work on campus, in Washington, D.C., and in Argentina for 10 years under Tandeciarz and Associate Professor of History and Latin American Studies Betsy Konefal.
Throughout that time, students interning with the National Security Archive in D.C. or participating in W&M's La Plata study-abroad program have sifted through both U.S. and Argentinian documents to learn more about what happened in Argentina during the dictatorship and what role the U.S. may have played. The Argentinian government has already used some of that work in its prosecution of accused perpetrators of human rights abuses.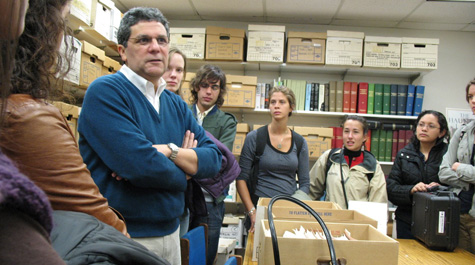 Throughout this year, the latest group of interns has been preparing for the release of the new documents, originally expected two years ago and then again last December. The records are from intelligence, defense and law enforcement agencies, with some of the most keenly anticipated being the FBI, according to Tandeciarz.
"They are our intelligence operation abroad, and their job is to be connected with the intelligence apparatus in these other countries for all sorts of good reasons, but because of that, they are also privy to all sorts of intelligence that does not necessarily make it to the department of state or the embassy," she said. "So the FBI documents that we are expecting we hope will help fill in stories that, right now, we don't have answers to."
The student interns learned about the acronyms, codes and conventions used by the various agencies, and they learned how to determine what sources were credible and what new information would be valuable.
"Everything initially seemed very interesting to use, but we learned to focus on what would actually be useful for our ongoing human rights cases or trials," said Megan Leu '20, a history and Hispanic studies major who previously participated in the La Plata program. "We definitely focus on the human component or if the U.S. was involved in any way that was unknown."
Completing the stories
During the fall semester, students identified what documents would be targeted when the declassification happened, some of which were previously released but heavily — or completely — redacted.
With Osorio and Tandeciarz's help, they also identified five individual cases to look at first, including that of Carlos Quieto's brother, Roberto.
"All of the stories – pregnant women abducted, disappeared, their bodies later found, their children sometimes not, stories of diplomats that were disappeared and later found in cement barrels – this is information that would circulate in the intelligence community, which is why we expect to find it with the declassification," said Tandeciarz.
As those stories are completed, the students will help compile briefing books to be published on the National Security Agency's website.
"It's definitely super important because it's really not that far along," said intern Molly Keck '19, a Global Studies and Hispanic studies major. "Most of the people in their middle age were alive for these dictatorships, so it's really important to not just pass them off as history but to continue these fights for justice and establish the truth and have a firm declaration that these human rights abuses did occur and that justice still needs to be carried out even if it's several decades later."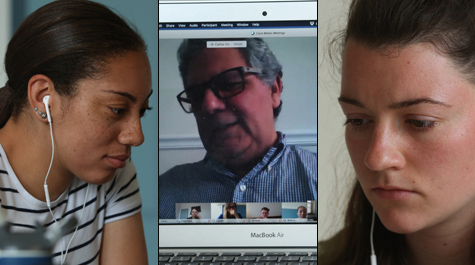 In addition to providing answers to the families of those who were disappeared and helping the Argentine government bring perpetrators to justice, one of the reasons this work is so important is because there are discrepancies between what human rights agencies and others claim to have happened during the period, said Tandeciarz.
For instance, human rights groups put the number of disappeared at 30,000 whereas an Argentine commission documented just under 9,000. But declassified records have already begun to help shine light on the truth.
"Among these is a document from Argentine military intelligence itself indicating that between 1975 and July of 1978 they had disappeared, assassinated, killed 22,000 people," said Tandeciarz. "So there you have another number that supports the number that human rights organizations were tracking but that the published official report didn't get to.
"Because there has been that discrepancy in the public record, you get the equivalent of Holocaust deniers. You get officials stating publicly that 30,000 is a made-up number as a way of denying the horror of what happened. That figure of 22,000 was never meant to be made public and nobody meant to quantify, for the purposes of history, what happened, but having access to it helps us tell that story."
A learning experience
The interns have learned much from the experience, they said, in addition to the topic of their research. They have learned research skills, teamwork and flexible time management as they have had to respond to the real-world, changing timeline of the release.
"You realize you can't just go by a syllabus," said Keck. "You have to schedule around real-life events, so that means being flexible, learning that your workflow might pick up unexpectedly all of a sudden and keeping up with current events, which is very cool because your work feels very relevant and powerful in that regard."
Keck thinks the internship has been invaluable to her goal of working in the field of immigration.
"I think it's really important to study the backgrounds of countries of where people are immigrating from because it's important to understand why people are fleeing violence," she said. "I also hope to go to law school in the future, and I think that learning these research skills and going through hundreds of documents to find a few pieces of evidence can be really useful and is an important skill that you don't always get in class."
For Leu, the internship has prompted her to consider working in a related field.
"I like seeing the human rights component and the real-world implications of what we are doing, and it makes me think I would like to work in some sort of human rights capacity or in reaching out to these foreign governments and trying to reconcile the past," she said.
But for now, the interns are focused on diving into the newly released documents to see what they might reveal.
"It's definitely exciting because we weren't sure if or when this was going to happen," said Leu. "We've had all of this build up to it. I feel like we're all prepared, but I don't know what exactly we'll find."
More than a photo
While the documents will likely reveal the stories of many of the disappeared, Tandeciarz hopes that Carlos and Roberto Quieto's are among those.
Carlos's daughter, now a photographer, joined with other children of the disappeared to create the family photos the dictatorship denied them using projected images of their missing loved ones. Tandeciarz teaches Lucila Quieto's "Archaeology of Absence" in her classes and wrote about it in her most recent book, Citizens of Memory: Affect, Representation, and Human Rights in Postdictatorship Argentina.
"It's such a beautiful, evocative project," she said. "That story has been very central to the way I've thought about post-dictatorship memory.
"To think that now, we might be able tell the story of her uncle and her father, of what happened to them, and to give that story back to their children so that they can come to terms with it, because right now it's just a black hole, it's an unknown … to be able to fill in that story that really shaped the child's adult creative life, I'm really interested in that."