W&M recognized for workplace wellness
William & Mary's recently established health and wellness program for faculty and staff has earned the university a state certification.

The school is now CommonHealth Worksite Certified, a designation awarded by CommonHealth — Virginia's employee wellness program — to recognize excellence in workplace wellness.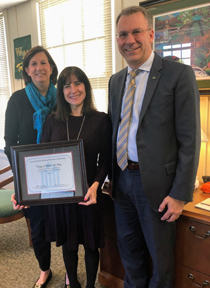 To earn the certification, state agencies must "create cultures that are conducive to a healthy workforce through policies and programs, managerial support and innovative ideas that further the mission of employee wellness in the Commonwealth," according to the CommonHealth website.
Mary Louise Gerdes, CommonHealth regional coordinator, presented a certificate to Mane Pada, training and instructional design specialist, and John Poma, chief human resources officer, on Wednesday in recognition of the university becoming CommonHealth Worksite Certified.
According to Gerdes, the CommonHealth wellness program was started as a pilot at W&M in 1986.

Pada leads the employee wellness program at the W&M in coordination with Babs Bengtson, director of training and development.

Although Bengtson leads development programs for managers and other campus leaders, "we recognized the need to fill the gap with a variety of other options for our employees by offering a spectrum of targeted services" said Pada, who started in the position in late 2016.

"With the new student health and wellness center, I thought what a great way to try to do the same for our employees and go beyond that because there is a need for professional development, and also for personal growth" she said.

As she developed the program, Pada decided to focus on six areas: financial, health and wellness (physical and mental), legal, occupational, personal growth and technology training.

The program launched in 2017 and since then has offered dozens of sessions on topics ranging from digital presentation design and tools for effective communication to managing income and debt. Some of the most popular sessions have been on Excel, nutrition and finance.

Next year, Pada plans on adding one more area of focus: family. Those sessions will include topics like internet information for parents and parenting teens.

Pada is quick to note that the program is still new and will be a work in progress.

"None of this is set in stone," she said. "My plan is to determine what works for us and to discover what our real needs are and then try to put together the groundwork to develop a program that fits our particular requirements."

In addition to the feedback that Pada seeks, the Professional and Professional Faculty Assembly is planning to launch a professional development needs assessment survey at the beginning of next semester.

"It's baby steps," she said. "The key is to be able to identify what are our professional development needs and personal-related areas of interest so I can continue to bring workshops, sessions and seminars that help us and are useful, not just something generic. This is something that will evolve through the years because it's going to depend on what our employees are looking for."

As the program moves forward, Pada is working closely with the staff housed in the McLeod Tyler Wellness Center, which opened this semester, to identify even more learning opportunities for faculty and staff. She is coordinating with the campus dietician, Stephanie May, to develop cooking classes, and Eric Garrison, the assistant director of health promotion, will lead a session on sleeping habits. Garrison and Pada are also collaborating on the 2019 Wellness Summit, to be held at W&M next summer.

Pada is also a member of the Employee Appreciation Committee and is helping to organize the 2019 Employee Resource Expo, which will provide faculty and staff a chance to learn more about the benefits and resources available to them.

In the future, Pada hopes to identify through different initiatives even more resources or organizations that can help expand the topics covered in the wellness program. But for now — while the program is "still in diapers," according to Pada — she just hopes it is helping W&M employees become more knowledgeable, empowered and proactive.

"I'm excited to offer these opportunities to learn about these areas that are important to us as people," Pada said. "There are studies that show that employees who are mentally, emotionally and physically healthy make for a happier, less stressed and more effective employee, so that's my goal at the end."

Learn more about the program's offerings and sign up for them in Cornerstone.