Longtime special events supervisor hands over keys to the Wren
Unseen but certainly integral to the proceedings, Raymond Bernard Bowman Sr. usually watched William & Mary Convocation from the Wren Building's passage or piazza.
His spot will sit unoccupied at this year's Aug. 29 event, as the longtime caretaker of the Wren has handed over his keys to complete a 36-year commitment to tending the space.
Bowman oversaw every major event there, locking and unlocking doors in between shepherding attendees through weddings, receptions, dinners and countless occasions. W&M officials estimate he helped facilitate more than 1,000 weddings.
"I really enjoyed working in this building when I took the job because I was doing all the weddings and all the events in here," said Bowman, sitting in the Wren Great Hall this summer. "They made me special events supervisor, and I enjoy all of that in this building."
Bowman, 85, took on the part-time job at the Wren in 1991 after retiring with 25 years in custodial services at Colonial Williamsburg, where he had gained some experience with the Wren as CW back then had responsibility for its upkeep. Once on staff at W&M, he quickly picked up the nuances of managing events there, and said he stayed so long because he loved the job so much.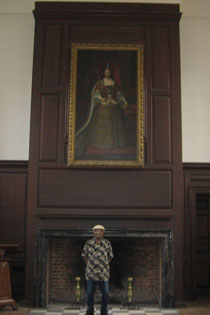 Bowman especially enjoyed big, student-filled days such as Convocation and Commencement. But on many nights and weekends, he would oversee smaller and nonetheless important functions — especially weddings.
"My job was I had to be here, unlock the doors, make sure they were in on time, and get out on time," Bowman said. "I lit the candles for them, and I put the cross on the table. And after everything was over, I check out, made sure it was clean, put the cross back in place, and whatever, and made sure the chapel was locked up."
His familiar and reliable presence spanned generations, even as he weathered cancer and heart surgery.
"I got along very nicely with the guests and the tourists coming in," Bowman said. "Because you know everybody knew me that was coming here years ago. And I'm still here when they come in and say: 'Bernard, you're still here?' And I say, 'Yeah, I'm still holding on.'"
His former supervisor Louise Kale described Bowman's knack for getting a bride's dress train just inside the rear door of the Wren Chapel, fluffed out appropriately and ready to go up the aisle. Vice President for Student Affairs Ginger Ambler described the night she was sure he was ready to lock up the building, when a group of students wanted to see the Great Hall. As they stood in a circle, holding hands and singing "Amazing Grace," she heard Bowman's well-known harmonica playing start up and join in from the corner of the room.
Sometimes managing multiple weddings in an afternoon, Bowman said he was firm and thorough.
He occasionally had guests who would bring in decorations that weren't allowed, or try to put things where they weren't permitted, and he would have to put the brakes on that. Guests were expected to clean up behind themselves and remove all of their items, and catering staff for dinners had to pack up and leave as well before Bowman checked to make sure all candles were extinguished and locked all the doors.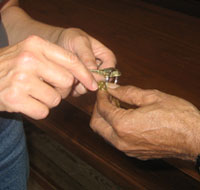 "I didn't miss a door," he said. "I never left a door unlocked the whole time that I was here."
Mishaps were few, but there was one that stuck with him.
Two weddings were scheduled for the chapel, but the second one had been canceled for that day. Just as Bowman was getting ready to lock up, people arrived for the second wedding. They became so aggressive fussing at him as he tried to sort it out, he said, he had to call campus police for backup.
"I'm trying to get to the altar to make a telephone call," Bowman said. "Man, one woman was up in my face, and she was calling me everything in the book. I said lady, please don't do that. Get out of my face, I told her, because I don't want to get into trouble. I said, I'm going to call the campus police."
As he moves to the next phase, Bowman, married for 65 years with nine children, said he plans to remain busy visiting with family and friends. Working ever since he started at age 12 as a dishwasher, he has no intention of slowing down.
He let Susan Kern, executive director of the Historic Campus, know that he wouldn't by any means disappear in retirement.
"I said, 'Ms. Kern, you're not going to miss me because I'm going to be coming in here to look around and just to see everybody, you know,'" Bowman said. "Because everybody on campus knows me, just about. So I'm not going to be sitting at home. I've got something to do.
"I can come in here look around and walk around the building, talk to the students, whoever. … But I'm still going to be moving, though. I'll still be getting exercise."