Congresswoman Stephanie Murphy '00 to speak at W&M's 2018 Opening Convocation
Event marks the beginning of 100 years of coeducation commemoration at the university
Rep. Stephanie Murphy '00 (D-Fla.), the first Vietnamese-American woman elected to U.S. Congress, will welcome William & Mary's newest students to campus and help launch the 100th anniversary of coeducation at William & Mary during the university's 2018 Opening Convocation ceremony.
The event, which marks the beginning of the academic year, will take place Aug. 29 at 5:15 p.m. in the Wren Yard. The ceremony also launches a yearlong celebration of women at the university, 100 years after the first women were admitted as students in 1918. The ceremony will also be the first for William & Mary President Katherine Rowe, who was sworn in as the university's 28th president earlier this month.
"The William & Mary community is so excited to welcome Congresswoman Murphy back to alma mater," Rowe said. "Her public leadership and career of service to our nation reflect William & Mary's most enduring values. She is the perfect choice to welcome the entering class and to kick off the 100th anniversary of women at William & Mary. We look forward to her visit and her address to students."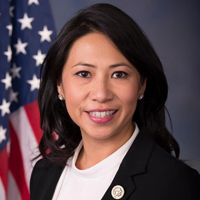 Murphy represents Florida's Seventh Congressional District, which includes Seminole County and much of northern Orange County, including downtown Orlando, in the U.S. House of Representatives. She is a member of the House Armed Services Committee and the House Small Business Committee, serving as ranking member on the subcommittee on contracting and workforce.
An immigrant and refugee from Vietnam, Murphy is the first woman in her family to attend college. During her time at William & Mary, she was a member of the Chi Omega sorority, a Japanese House resident and a research assistant. She also studied abroad and served on the Student Alumni Council. After graduating from W&M with a bachelor's degree in economics, she went on to receive a master's degree in foreign service from Georgetown University.
Before being elected to Congress, Murphy worked as a college instructor and, before that, as a national security specialist in the Office of the U.S. Secretary of Defense where she tackled issues from counterterrorism to strategic planning. Her accolades include the Secretary of Defense Medal for Exceptional Civilian Service. Previously, Murphy served as a strategy consultant for Deloitte Consulting.
In February, she cosponsored a resolution to recognize William & Mary's 325-year history as well as the accomplishments of President Emeritus Taylor Reveley, who retired at the end of June.
"As it has for so many others, William & Mary changed my life," said Murphy. "I learned so much during my four years on campus, creating friendships and making memories to last a lifetime. As a refugee from Vietnam, I was the first woman in my family to attend college. Now, as William & Mary celebrates 100 years of coeducation, I am honored to have been chosen as the Opening Convocation speaker. I look forward to addressing members of the freshman class and other new students and to sharing stories and offering guidance as they begin this exciting journey."
The 100 years of women commemoration at William & Mary will include a variety of special events and programs, including a Women's Weekend for alumnae in September. Last year, the university marked the 50th anniversary of its first African-American students in residence with another yearlong commemoration.
Murphy lives in Winter Park, Florida, with her husband and two children.