Freshmen profiles: a preview of the class of 2022
Gabrielle Bozeman
Unique about me: I am the founder and president of the Empowering Black Women club at my high school. I had a hand in drafting an amendment to the county's school code of conduct that would allow for cultural headdress.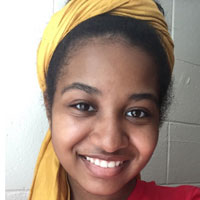 Hometown: Spotsylvania, Virginia.
Why William & Mary: I chose William & Mary because of the amazing opportunities it has for me to have a fulfilling college experience and for the community here.
You should also know: I am going to contribute to the Tribe in a positive way while I'm here. I plan to actively look for ways to help others around me, as well as those who will come after me.
Katie English
Unique about me: I'm the creator of "Color me Sheboygan," a coloring book that features attractions in the Sheboygan, Wisconsin area. Sales of more than 11,000 books are funding my newest venture to create a community mural and develop programs at the Sheboygan Children's Museum.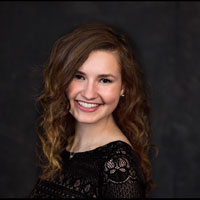 Hometown: Sheboygan, Wisconsin.
Why William & Mary:  I first visited William & Mary as a seventh grader with my grandparents, and I absolutely fell in love with William & Mary that day.
You should also know: I use coloring books as a form of advocacy for topics that I care about, including children's education and Alzheimer's research.
Catherine Jones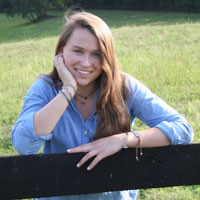 Unique about me: I'm founder and president of my high school's Microfinance Club, which has loaned more than $11,000 to 350 women in 65 developing nations, empowering women and managing finances.
Hometown: Charlottesville, Virginia.
Why William & Mary: I chose William & Mary for its academic rigor and the great sense of community I felt while visiting campus.
You should also know: I love playing guitar.
Madison Lee
Unique about me: I formed a free speech group to defend teachers who were suspended by the school board for allowing student expression and teaching diverse viewpoints.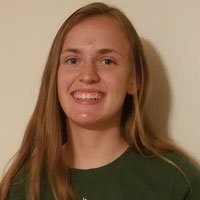 Hometown: Mechanicsville, Virginia.
Why William & Mary: It seems like a supportive community that offers an academic challenge, as well as incredible opportunities outside of the classroom.
You should also know: I'm pretty much always outside, whether it's climbing up a waterfall, horseback riding or just reading on the deck.
Sam Sluslavich
Unique about me: I'm a certified private pilot and working to receive multi-engine certification as well as a certified advanced open water diver, a cavern diver and an enriched air diver.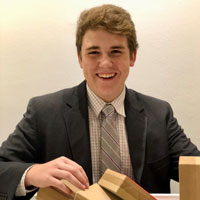 Hometown: Ennis, Montana. 
Why William & Mary: It had the right blend of academic rigor and relaxed social life.
You should also know: I have been involved in dramatic theater for the past few years, and enjoy the works of William Shakespeare both from a theatrical and literary standpoint.
Kirsten Sweigart
Unique about me: I'm an Irish Dance World Championships qualifier living in Oman and originally from Harrisonburg, Virginia.
Hometown: Muscat, Oman.
Why William & Mary: I believe that it provides all the specific non-academic pursuits I am looking to continue throughout college while still offering rigorous academics.
You should also know: I wrote my admissions essay about my nose and somehow they still accepted me.