Get to know William & Mary's new students
This story includes expected enrollment numbers as of Aug. 21, 2018. Those figures may change slightly by the beginning of the academic year. - Ed.

The William & Mary campus will be awakened from its summertime slumber Friday as the university's freshmen move into their residence halls. While undergraduate classes start Aug. 29, some of the graduate schools have already begun.
All of the new students — undergraduate and graduate — will be welcomed to campus on Aug. 29 at W&M's Opening Convocation ceremony. As they enter the 325-year-old university, they bring with them a vast range of experiences, talents and interests.
"This is an exciting time to be at William & Mary, and we know this group of incoming students is ready to make the most of all of the opportunities that will be placed in front of them," said Tim Wolfe, associate provost for enrollment and dean of admission.
"As we learned through their applications and their stories, this is a group of students poised to make an impact. I have no doubt that the experiences and talents they have to share with our community will make W&M a better, stronger place. At the same time, I know they are ready to learn and grow. I look forward to seeing what they will accomplish as members of the Tribe in the coming years."
Undergraduates
Freshmen
William & Mary anticipates enrolling 1,540 undergraduates in the Class of 2022, including 28 in the St Andrews William & Mary Joint Degree Programme. The freshmen were selected from a pool of 14,644 applicants.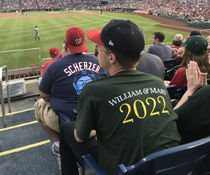 The group is diverse and academically accomplished. Students of color make up 31 percent of the class, and 10 percent are first-generation students. Additionally, 7 percent of the class is made up of international students. The SAT middle 50th percentile is 1310-1490. The ACT composite score middle 50th percentile is 30-33, and 77 percent of students with class rank graduated in the top 10 percent of their classes.
Transfer students
In addition to the entering freshmen, William & Mary expects to welcome 180 new transfer students to campus this semester.
Graduate students
Arts & Sciences
This fall, 85 new students will be entering graduate programs in Arts & Sciences, including American studies, anthropology, applied science, biology, chemistry, computer science, computational operations research, history, physics, psychological sciences and public policy.
Eighty percent of those students conducted research as undergraduates, with most receiving awards or honors for their scholarship. Approximately 89 percent have contributed to their communities through volunteer service, and more than 56 percent have been teachers or mentors to preschoolers through senior citizens.
Twenty percent of the entering Arts & Sciences graduate students self-identified as students of color, including international students from 15 countries. Among the new students are a researcher who uncovered a previously unknown parchment Declaration of Independence, a scientist turned policy maker, a Cherokee language researcher, a research arborist, a quantum mechanical researcher and several digital humanities scholars.
Business
Master of Business Administration
The full-time MBA Class of 2020 includes 112 degree candidates, including 10 in the Major General James Wright fellowship program, a partnership with the U.S. Army. Twenty-five percent of the Class of 2020 is made up of women, and 41 percent of the students are from international locations. Additionally, 22 percent of the group's members served or currently serve in the military.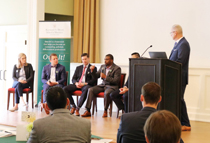 The average GPA of the cohort is 3.3, and they boast an average GMAT score of 617.
The students received their undergraduate degrees from a wide range of universities, including W&M, Arizona State, Cornell, Clemson, George Mason, Northwestern, Purdue, Stanford and the U.S. Military Academy.
They come to W&M with an average of 60 months business experience, working for such companies and organizations as Accenture, Apex Clean Energy, Banco de Credito in Bolivia, Bank Rakyat in Indonesia, Barclays, Deloitte, JP Morgan, Northwestern Mutual, the U.S. Peace Corps and the U.S. Department of State.
Master of Science in Business Analytics
The Master of Science in Business Analytics program is enrolling 79 students this fall, selected from a pool of 480 applicants. The average undergraduate GPA for the group is 3.4.
Students of color make up 11 percent of the class, and international students —representing Canada, China, Georgia and Taiwan — make up 39 percent.
Master of Accounting
The Master of Accounting program is welcoming 87 students with an average undergraduate GPA of 3.57.
Eleven percent of the group, which was selected from a pool of 350 applicants, is made up of students of color. International students representing Bulgaria, China, Japan, Kenya, South Africa and South Korea, make up 18 percent of the class.
Flex MBA
The fall 2018 Flex MBA cohort includes 43 students, including three students through the Flex FastStart non-degree-seeking option. The 40 fully admitted students in the part-time, evening program for working professionals boast a mean undergraduate GPA of 3.2 and an average of eight years of professional experience.
Fifty-three percent of the group is made up of women, and six of the students hail from international locations, including Brazil, India, Kenya, Nigeria and Turkey. Students of color make up approximately 28 percent of the group.
The students represent 33 different companies — such as Booz Allen Hamilton, the cities of Newport News and Virginia Beach, the Federal Bank of Richmond, Ferguson Enterprises, Riverside Health System, the U.S. Coast Guard and Navy and even W&M — and 13 industries, including construction, consulting, consumer products, K-12 and higher education, government services, military, non-profit and manufacturing.
Executive MBA
The latest Executive MBA cohort, which began in January 2018, includes about 30 students with an average of 15 years managerial experience and 17 years of working experience. The students, with an average age of 40 and average salary of $101,000, attend classes on campus Fridays and Saturdays every two weeks. The students also complete two one-week domestic residencies and two 10-day international residencies through the program.
Students hail from a radius of about 200 miles of Hampton Roads, including professionals from as far away as Washington, D.C., and Raleigh, North Carolina.
Applications for the program's Class of 2020, which will begin in January 2019, are due Sept. 15.
Online programs
Online programs at the Raymond A. Mason School of Business continue to thrive. The programs have grown to 295 students who hail from 32 states and five countries.
The Online MBA program is beginning its fourth year by welcoming 69 new students this fall. Thirty-nine percent are women and 26 percent are students of color from the United States. The students average 11 years of professional work experience and represent 65 companies. Twenty-three percent have already earned an advanced degree, including three Doctorates of Philosophy (Ph.D.), a Juris Doctorate (J.D.) and one Doctorate of Medicine (M.D.).
The Mason School is also pleased to welcome the inaugural class for the Online Masters of Business Analytics program. Fifteen student will begin the program on Aug. 27.  The students average 11 years of work experience and represent 14 companies. Forty percent of the class has already earned an advanced degree, including one Ph.D. and three Masters of Business Administration. Students of color from the United States make up 40 percent of the class.
Online programs at the Mason School accept new students in the fall, spring and summer.
Education
The W&M School of Education received 531 applications for its graduate programs, and a total of 230 students are expected to enroll this fall — an admission rate of 56 percent.
Among those enrolling the average age is 31.8, the average undergraduate GPA is 3.3 and the average graduate GPA is 3.76. The average GRE verbal percentile is 68th for the group, and the average MAT percentile is 69th.
Thirty-two percent of the students are from out of state, with 5 percent coming from international locations. The counseling programs in particular saw an increase in international students this admission cycle.
Looking further into the programs in which the students enrolled, 39 are in doctoral programs and 186 are in master's programs.
New at the School of Education this year are a certificate in autism spectrum disorders, a master's program in ELS/bilingual education, a gifted education administration concentration within the Executive Doctorate of Education (Ed.D.) program and a new online counseling program that just launched with concentrations in clinical mental health counseling and school counseling. The school had 42 applications for that program this fall and the first cohort begins at the end of August.
The students represent diverse backgrounds of experience, including a retired Army colonel, a Colonial Williamsburg historical interpreter, and an elections manager. Forty-one percent will be part-time students, and 25 percent self-identified as students of color.
Law
William & Mary Law School welcomed the newest class of students on Aug. 20th. The 195 members of the Juris Doctor (J.D.) Class of 2021 hail from 39 states, the District of Columbia and six countries from around the world including Canada, China, Jamaica, Saudi Arabia, Taiwan and Venezuela. Additionally, three hold dual citizenship with the U.S. and Ecuador, Italy and Nigeria. The Class of 2021 boasts a median undergraduate GPA of 3.76 and a median LSAT score of 162, the 85th percentile. 
Thirteen members of the class have graduate degrees including a Master of Arts (M.A.) in educational leadership & policy studies from the University of Virginia, an M.A. in conflict security and development from King's College of London, a Master of Social Work from New York University, and an M.A. in English from Stanford. Fifteen students join us with the honor of Phi Beta Kappa from their undergraduate institutions; 45 have graduated summa cum laude.
More than half of the class have full-time work experience within the field of law and elsewhere; many have served as paralegals, legal assistants and legislative aides.
Forty-three members of the class have either participated in study-abroad programs or have received one or more degrees from international institutions; more than 60 speak 21 unique languages. These global pursuits have led to both employment and internship opportunities abroad.
The students also have a passion for serving their communities through their involvement in the military and service organizations such as AmeriCorps and City Year.
In addition to the entering J.D. students, 28 students have chosen William & Mary to continue their legal education through our Master of Laws (LL.M.) program. These students come from China, England, Korea, Nigeria, and Saudi Arabia, and one is a permanent resident from Bulgaria.
Marine science
William & Mary's Virginia Institute of Marine Science is expecting to enroll 14 new graduate students this semester, with five of them pursuing doctoral degrees while the others work toward their master's. Two of the doctoral students received their master's degrees from W&M.
Two of the enrolling students are from China, and the rest are from locations within the United States, from Virginia to Illinois. Eight of the students are women.
The students bring with them a diverse set of experiences, including research at the Rocky Mountain Laboratory and Scripps Institution of Oceanography as well as internships with NOAA and the Save the Bay Exploration Center.