Robert Gates' papers open to public
The personal papers of William & Mary Chancellor and former U.S. Secretary of Defense Robert M. Gates '65, L.H.D. '98 are now open to researchers and the public. The collection, consisting of 106 boxes of materials upon arrival, reached its new home in Swem Library's Special Collections Research Center last fall.
"We are really excited about opening this collection to the public, and about working with Dr. Gates. It's been an honor to process his papers," said Kim Sims, university archivist.
Three years ago, Gates announced that he would be donating his personal papers to his undergraduate alma mater upon completion of his memoirs. Gates and his wife, Rebecca, also committed from their estate a gift of $50,000 to catalog and digitize the papers. Plans to digitize the papers are forthcoming.  
"I am pleased that my papers are now housed in Swem Library, where they are being expertly preserved, organized and made accessible to scholars," said Gates. "I hope the materials will prove useful to researchers and provide insight into a recent period in our nation's history."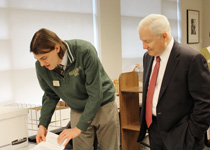 Gates' personal papers encompass his time at the CIA, his service at the National Security Council under four presidents, his Texas A&M University presidency and his term as Secretary of Defense. The papers do not include classified materials from the CIA or Department of Defense, but they do include Gates' handwritten notes through the years, photographs, and various materials he accumulated over the course of a long and distinguished career in public service.
Over the past eight months, Sims and graduate student assistant Jim Rick M.A. '17, Ph.D. '22  have diligently prepared the papers for public use – a process that involves organizing the materials by topic, creating catalog records, segregating acidic news print, removing rusty staples and other actions.
"In my office I kept a white board with a list of possible topics to categorize the papers. I suspect there will be scholars who will research one part of Dr. Gates' career, while others may want to look at the whole span of his career," said Sims. "Also, when I came across a certain distinguished signature of someone, like Ronald Reagan, I would acknowledge that in the record. You want to make sure you capture these details to make the materials more useful to researchers."
Although thrilled to be assigned to this project, Rick, first-year graduate student in W&M's history Ph.D. program, said the sheer size of the collection was quite daunting. 
"It is a rather large collection, certainly the largest collection I have ever worked on processing," Rick said. "Figuring out how everything related to each other and how to fit things into different series in order for them to be presented in an intelligible manner in the archive has been a bit of a challenge."
Processing the papers has been insightful for both Rick and Sims.
"This has been an emotional journey that I wasn't expecting," said Sims. "Dr. Gates' papers from his time in the DOD don't just show the enormity of the job he had, they also show his humanity."
Gates visited Special Collections in February during Charter Day weekend to see the progress made in cataloging his papers and ask questions about the process. Reflecting on materials displayed during his visit, he reminisced about his long and varied career in public service. The visit, he said, was the highlight of the weekend.
From the moment Gates announced his intention of donating his papers, the collection has drawn a lot of interest from those at William & Mary and beyond.
"We've received a lot of requests to access the collection. Several ROTC students inquired about when it would be open," said Sims. "But this collection's reach goes much further than military science and history. I believe it will bring in scholars from international relations, public policy, sociology, leadership and other areas of research. This is really an amazing collection and will appeal to so many different departments."
"I'm excited for the day I might get to read a paper citing something from the Gates collection," Rick added.
The papers are available by visiting Swem Library's Special Collections Research Center. Researchers can search the collection via the library's
online portal
.